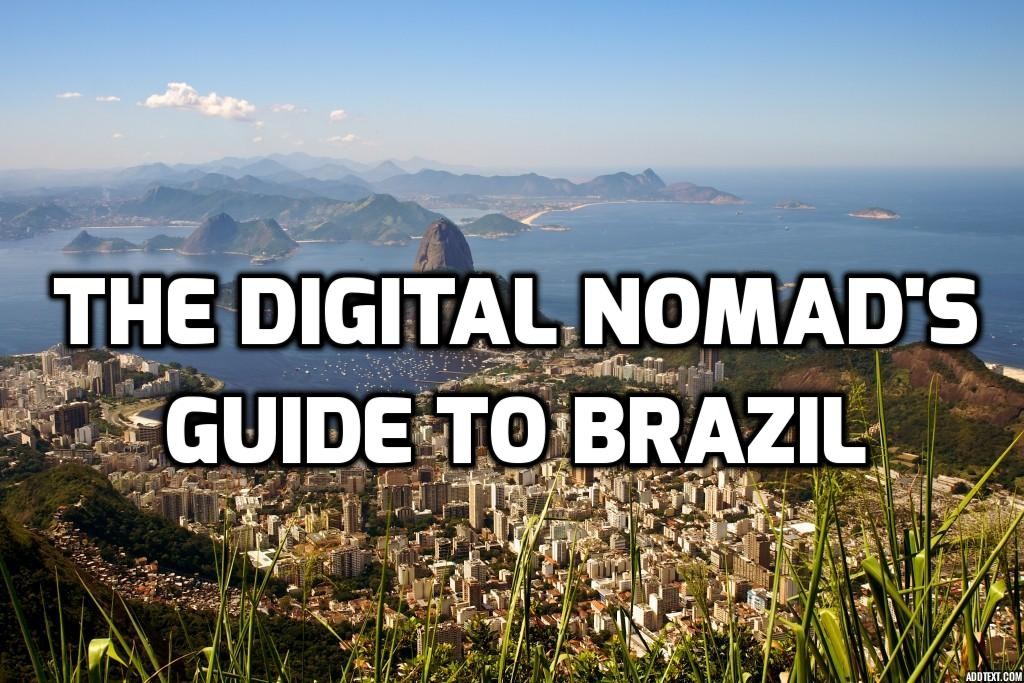 This post is for all the digital nomads, location independent entrepreneurs, remote workers, freelancers, perpetual travelers, lifestyle designers and any other person whose work doesn't require them to be in any particular place and can largely be done online.
Depending on who you ask, Brazil is either the greatest country in the world or a nightmare that should be avoided at all costs. Since you're asking a fellow digital nomad here, I'll give you a balanced perspective to help guide your decision making process.
Spending a few months in Brazil can be a life affirming experience that forever alters the way you view the world. At the same time, this experience is not going to come without its challenges. You must have a high tolerance for uncertainty if you expect to leave Brazil with high spirits.
This post will cover the issues that are most important to digital nomads, such as wifi accessibility, cost of living, ease of movement and ease of integration into the local scene.
There are substantial logistical and cultural challenges that you will face in Brazil. If you can overcome these challenges then you'll have a great time in Brazil.
By the end you'll have a better idea of whether or not you should go to Brazil or if you should take a pass this time around.
Let's start with the good news, shall we?
Why Digital Nomads Will Like Brazil
Super friendly people
The number one attraction of Brazil is the Brazilian people. Brazilians are confident social beings who love making new friends and enjoy good conversation. Brazilians have a zest for life that is infectious. It's hard not to be happy when you're surrounded by Brazilian friends.
If you've ever felt like, on your travels, you were disconnected from the local people, Brazil will forever change the way you look at the world. Brazilians love meeting foreigners and you'll have no trouble making new friends in Brazil.
Ease of adaptation
In Asia you'll always be a foreigner no matter how well you adapt to their culture and no matter how well you learn the language. In Brazil just about anybody can be mistaken for a local on their first day.
Throughout Brazil's history it has received waves of immigrants from Europe, Africa, Asia, and the Americas. It also boasts the largest population of Japanese outside of Japan.
All it takes to be confused for Brazilian is to change your body language and clothes to match the Brazilian style. Though, unless your Portuguese is on point, people will realize you're a foreigner once you open your mouth.
Aside from physical appearances, Brazilian culture is relatively easier to adapt to than Asian cultures, and you can be accepted as Brazilian within a relatively short amount of time living here if you desire.
Diversity of cities
The differences between Brazil's cities can be vast, to the point where it feels like you're in a different country. You won't be without for things to do on the weekend and their are countless adventures to be had in your free time.
Business opportunities
Brazil has a ton of problems. Entrepreneurs solve problems. Your problem solving brain will enjoy the process of thinking about how to solve Brazil's problems.
If you act on any of them though, you'll likely get frustrated since Brazil's bureaucracy is legendary for crushing the hopes of entrepreneurial gringos.
Brazil's online world however does not require as much finesse in order to navigate. It used to be that Brazil's online world was about 5 years behind where the US is at. That gap has lessened to about 2 years, but there is still tremendous opportunity to innovate in Brazil if you have cultural savvy.
Cultural Experiences
In all likelihood it's Brazilian culture that draws you to Brazil and is what will be the focus of your free time here.
Brazil has a rich cultural legacy that enraptures all of those whom it grasps. From popular dances like Samba, Forró and Carimbo to martial arts like Jiu Jitsu and Capoeira to traditional foods like feijoada and moqueca, there are vast worlds waiting to be explored.
These are a few of the things that Brazil has going for it, but there are also considerable disadvantages to basing yourself in Brazil
Disadvantages of Brazil
Unstable economy
At the time of writing [Nov 2015] the Brazilian Real is hovering around R$4=$1. This same time last year it was hovering around R$2=$1. [Oct 2016 Update: The Real is closer to R$3=$1 now.]
It's a good situation right now if you have dollars and are spending in Reais. A year ago it meant that Brazil was expensive and you didn't feel like you got good value for what you purchased.
Will things stay the same or will the economy worsen? It's hard to say. If you're sticking around for more than a few months though, just don't expect anything to remain constant.
Cost of Living
If you're coming from other countries in South America and you expect Brazil to be as cheap as the nearby countries you're in for a surprise. While living in Brazil has become more attractive for those who have dollars to spend, it's still more expensive than you think it would be.
São Paulo and Rio de Janeiro used to be the 10th and 12th most expensive cities in the world for expats to live in, according to the Mercer's Cost of Living Ranking. With the devalued Real they've fallen to 40 and 67.
If you're curious about the cost of living in Brazil, the data at Numbeo and Nomadlist are pretty accurate.
Confusing Bureaucracy
Things that should be simple, like getting a SIM card and extending your visa require more steps than you'd think they would.
Government websites often have incomplete or inaccurate information. People at government offices give you the run around. Brazil is so renowned for its bureaucracy that there is even a movie about a dystopian bureaucratic society named after it.
This applies to even simple things like going to the grocery store. You'll constantly find yourself wondering why everything takes so long. And why did the woman at the cash register ask you for your tax ID number when you bought a bowl of açaí?
Language Barrier
While many Brazilians are doing their best to learn English, they are still struggling to reach the level that the rest of the world expects them to be at.
You will miraculously find a Brazilian who speaks English the first few times you really need them, but after that your luck will start to run out and you'll have to rely on Portuguese.
This isn't actually a bad thing, since you've read the 4 Hour Work Week and have been dying to do a mini vacation in Brazil where you learn as much Portuguese as you can in 3 months. Just make sure you subscribe to Semantica and you'll be speaking like a carioca in no time.
Distance from other hubs in the region
Brazil is a huge country. Flying from Rio to Buenos Aires is at least a 3 hour flight. São Paulo to Medellin is at least 8 hours. When you're in Brazil you won't be hopping around South America like you could in South East Asia.
Lack of wifi hotspots
This might be a deal breaker for you.
Your biggest challenge is going to be finding a place with reliable wi-fi that you can work out of.
Rio de Janeiro and São Paulo are the only states in Brazil that have Starbucks.
Some restaurants have wifi, but you'll struggle to find one that you can consistently and reliably work out of.
Your options are: work from home, befriend a local startup and use their wifi, pay for a co-working space, or get access to the wi-fi code at a university.
It sounds easy in theory to get connected to Wi-Fi, but in practice it somehow becomes a lot more complicated. Don't plan on getting a whole lot of work done during the first 2 weeks while you're still figuring out your routine.
Safety

 in Brazil
If you ask most Brazilians they'll tell you that their country is dangerous and many will even tell you not to come.If you ask enough Brazilians to map out which neighborhoods are too dangerous to visit, you'll soon have the entire country mapped out.
If you look in the news about Brazil you'll hear countless stories of death and  violence. Compared to most countries, Brazil is a dangerous place.
On the other hand, Brazil is not as dangerous as many people make it out to be. Most of the violence is related to the drug trade and is contained to certain areas. If you are aware of your surroundings and maintain a strong presence you can avoid most crimes against you.
Always keep your guard up when walking around on the streets, especially in tourist areas in Rio de Janeiro. Always take a taxi or an Uber when going out at night. Avoid talking loudly in English in unfamiliar areas when walking down the street with other gringos. For good measure, keep a R$20 note in your shoe so you can still take a taxi home at night in case you spent all of your money.
Visa process
You can only stay a maximum of 180 days per 1 year period on your tourist visa. You will initially be given up to 90 days. To stay longer you have to go to the Policia Federal and ask for an extension before your 90 days are up.
You can get a student visa to stay for 1 year, but you have to apply in Brazil, then go back home, then reenter Brazil under your new visa. If you want to stay long term the easiest options are basically to get married, have a kid or invest R$150,000 for an investor visa.
Digital Nomad Destinations in Brazil

While there are many cities in Brazil that are worth checking out, I believe that these four cities will suit the needs of most digital nomads who are thinking about coming to Brazil for the first time.
Each of these four cities has a distinct experience to offer and depending on what you're looking to get out of your experience one should jump out at you more than others. At a basic level they all have a local community of digital entrepreneurs to connect with, a big city infrastructure with diverse nightlife and culinary options, and easy enough access to public wi-fi to ensure that you can get work done.
I'm sure that some Brazilians who read this post will have an opinion of why their city would be a good place for a digital nomad to visit. We'd love to hear why you think so in the comments section.
Rio de Janeiro for Digital Nomads
Rio is a polarizing city. You'll either love Rio or hate Rio. It's been a popular tourist destination for more than a century for good reason.
If you go to Rio you'll have a hard time getting serious work done, but somehow you won't seem to mind. You'll end up meeting a lot of really cool people and you'll have a lot of unforgettable experiences that will make you look back and feel like it was all worth it.
If you're unsure of where to go in Brazil you'll probably get pulled into Rio de Janeiro. Just make sure to keep your wits about you and don't become a victim of crime.
If you go anywhere else in Brazil people will ask if you've been to Rio, so it's worth checking out even if you're not planning on staying.
Advantages:
Established infrastructure for foreigners.
Home to Startup Brazil and 6 startup accelerators.
Numerous co-working spaces for you to work out of.
A handful of coffee shops that have wi-fi
Large international community to network with.
Local people are used to dealing with foreigners.
You can take a picture in front of Christ the Redeemer and use it in blog posts when you talk about Brazil.
Disadvantages: 
You'll end up spending more money than you budgeted for.
Many taxi drivers are dishonest and will take you for a ride if they think you don't know where you're going.
Poor infrastructure means you'll spend a lot of time waiting for buses and people to show up.
If you don't live in the Zona Sul you'll spend a lot of time moving between areas.
Too many opportunities for fun means that you'll have a hard time getting work done.
The local culture will whisper to you that you should slow down, work less, show up late and miss deadlines.
The weather is unpredictable and unreliable
São Paulo for Digital Nomads
São Paulo makes sense for digital nomads who want to enjoy the quirks of Brazil while still enjoying a big city infrastructure. At first glance it can seem overwhelming due to its size, but once you get the feel of the city it starts getting a lot smaller.
São Paulo wins out for having the most places to work out of and the most options for things to do.
If you're interested in doing business in Brazil you may find that you can be more successful here due to greater access to opportunities, a stronger network of service providers, a larger talent pool and better infrastructure.
Advantages:
Diverse cuisine and a plethora of nightlife options.
It's the business capital of South America so you can find a lot of opportunities here.
Finding a coffee shop to work out of is easy to do here.
The public transportation system is decent so you won't need to rent a car to manage the city's massive size.
Strong local startup community.
An increasing number of service providers catering to English speaking foreigners.
The work culture here is very serious, so you'll have an easy time maintaining your work ethic.
Disadvantages
It can be overwhelmingly large and hard to manage.
The traffic is really bad. Plan your movement around rush hour so you don't get caught in the worst of it.
The entrepreneur community is spread out all over, so you'll struggle to maintain connections.
It is one of the most expensive cities in the world.
The attitude here seems less Brazilian and more American, so it's not the best place if you want to be completely immersed in Brazilian culture.
It rains a lot.
Belo Horizonte for Digital Nomads
Belo Horizonte strikes a good balance for those who are looking to get serious work done, yet still want to fully immerse themselves in Brazilian culture.
It's the 6th largest city in Brazil, yet it feels like a small town. Mineiro people have the much deserved reputation for being the friendliest people in Brazil.
There has been a strong effort by the local entrepreneurial community to brand Belo Horizonte as an entrepreneurial hub. The local government even got involved and launched a program called SEED Minas, which was similar to Startup Chile in that it gave $40,000 to 40 teams of entrepreneurs who moved to BH to participate in the program. The program was shut down and is back up again creating an impact in the community.
For more information check out the guide to living in Belo Horizonte.
Advantages
Easy to get connected to the local entrepreneur community. Just reach out to anyone on the San Pedro Valley map and they'll connect you.
A strong internet marketer community centered around Hotmart.
Home to Google South America
Reasonable cost of living
Friendliest people in Brazil with a strong work ethic
Manageable city size
Traffic never gets thaaat bad
Disadvantages
Lack of services catering to foreigners due to small foreigner community.
Portuguese is spoken here at a faster rate than other regions, which could be challenging while you're still learning.
You may find the lack of international cuisine to be boring for your palette if you don't like the local cuisine. You'll be branded as a heretic if you tell people you don't like their food.
There are only a handful of scattered malls, restaurants and coffee shops that sometimes have working wifi. Your best bet is to make friends with a local startup that has extra desk space
Florianópolis for Digital Nomads
Florianópolis, or Floripa as it's known, is in the south of Brazil, where many people pride themselves on their European heritage. Arguably things work better in Floripa due to this cultural influence.
Floripa has the highest quality of living for any of Brazil's capitals, and has the second lowest homicide rate. If safety is your number one issue, put Florianópolis at the top of your list.
Technology and tourism are the largest industries in Floripa. Digital entrepreneurship is starting to blossom in this island paradise, in part due to the fact that it is like a mini Rio, with the beauty, vibrance, nature and nightlife, but not the crime and congestion. You can find a number of things to do to suit an active lifestyle to balance out all of of the keyboard crunching you'll do at one of the city's 4 coworking spaces.
Check out the guide to living in Florianópolis for more information on this city.
Advantages
The level of spoken English seems to be higher amongst people here
Access to Wifi is widespread in the Centro and Lagoa.
4 co-working spaces to choose from.
Lots of opportunity to network in the tech industry once you speak Portuguese.
Lots of gyms, crossfit, muay thai and outdoor activities to provide balance once you leave the keyboard.
Disadvantages
There was a confused city planning effort, so if you aren't on a motorbike you can anticipate traffic at peak hours.
Like Rio, the potential for distraction here is very high.
As a blossoming international destination with a history of European colonization, you may feel a less immersed here than you would elsewhere.
Conclusion
At the end of the day Brazil can be a great place for digital nomads, but it's not going to come without its challenges. You will have to put in the work to make Brazil work for you.
If you plan on sticking around for more than a few weeks you should make learning Portuguese a priority. If you're planning on coming to Brazil for more than a few weeks and you don't learn even basic Portuguese you're shooting yourself in the foot. It's pretty much required since few people here speak English.
You'll have to sacrifice some of your productivity and get used to a different pace of life when you come here. Don't schedule any major projects for completion while you're in Brazil until you learn how to manage the systems here.
If you have any more questions about how to manage life in Brazil as a digital nomad, feel free to ask in the comments down below or email me directly.
You should also sign up to the mailing list so you can stay up to date with what's going on in Brazil and in this community. Thanks for reading.
Which city do you think is the best for digital nomads in Brazil?