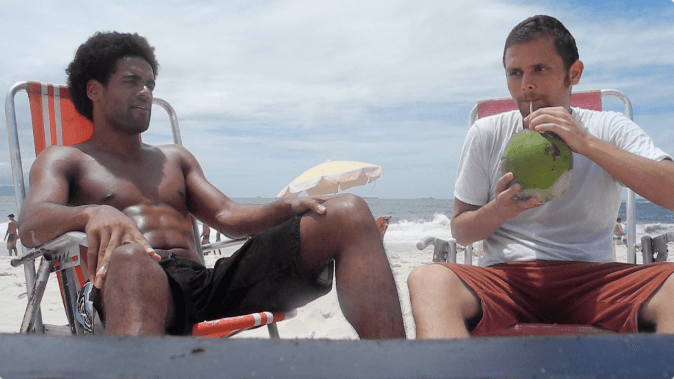 I had the pleasure of chatting with Idahosa Ness on Copacabana beach to talk about learning Portuguese and teaching English. Idahosa is an internet sensation for this rap video he made to demonstrate his language learning program, the Mimic Method. In the video he raps in 8 languages, 4 of which he didn't speak when he wrote the song.
He also made an appearance in this epic video of 17 polyglots singing a cover of Call Me Maybe in 32 languages.
I took this opportunity to talk to Idahosa about his Flow of Portuguese Course, which takes Portuguese learners of all levels and helps them reduce their anglo accent.
Idahosa teaches over 700 students online in less than 1 hour a day and he also offers a course that shows how an enterprising English teacher can do the same.
:27 How can you rap in 8 languages?
1:30 What is the Mimic Method all about
2:02 I'm a total fanboy for the Skype Me Maybe video
2:50 What its like being mistaken for a Brazilian because your accent is so good
4:15 Why did Idahosa come to Brazil?
5:20 How did he learn Portuguese without speaking any before he arrived
6:00 Switching between Spanish and Portuguese, is it possible?
6:40 Advice for spanish speakers learning portuguese
7:50 How anyone can use the Mimic Method to improve their Portuguese
8:40 how much time do you have to put in order to speak Portuguese without an accent
11:00 I'm blown away by Mimic Method and commit to using it to improve my accent
11:25 We switch to Portuguese
11:50 Idahosa explains how the Cloud tutoring system works
12:30 Back to English to talk about Idahosa's course on Udemy for English teachers.
This is the best part of the interview. You wont believe how you can use Soundcloud to revolutionize your English teaching practice.
15:10 Idahos has 700 students and spends an hour a day teaching them
15:55 How you can teach English to hundreds of students with a few hours a day, without experience or technical knowledge
16:40 Idahosa's favourite thing about Brazil
17:56 Experience living in different cities in Brazil, Bahia
20:32 Talking about Carnaval
22:04 How mimic method is going to save the world
22:40 What is the only thing that divides people in this world?
23:10 The advantages of speaking without an accent
23:38 Advice for first timers to Brazil
24:45 A trick for making a lot of friends quickly in Brazil