The recent election of Jair Bolsonaro as Brazil's next president has brought on a deluge of speculation about what this means for the future. Is the world ending or is this just business as usual for Brazilian politics?
The endless debates surrounding Bolsonaro's campaign are now in the past, leaving us to speculate on what could happen during a Bolsonaro presidency. 
Nothing will officially change until he starts implementing his agenda after taking office on January 1, 2019. He's begun to select members of his cabinet, however nothing is set in stone until he assumes the office of president. Until then, our best guess of what he will do comes from some of his statements, history, and interviews.
While our primary focus has never been politics, this president is likely to make some big changes that could affect life in Brazil for foreigners for many years to come. Here's 7 areas that we found that are likely to be impacted. 
A safer Brazil? Bolsonaro will allow the population to arm themselves
Providing security was a huge part of Bolsonaro's platform, and making gun ownership easier for law-abiding citizens seems to be at the top of his to-do list. 
Brazil has seen record numbers of homicides in recent years. To combat this, Bolsonaro will ease restrictions on gun ownership. He believes that guns guarantee freedom and are the best way for Brazilians to regain control of their country from out-of-control violence in Brazil.
The situation was so bad in Rio de Janeiro that the military took over in early in 2018. Residents say the presence changed nothing and are hoping that Bolsonaro can improve the security situation. 
Bolsonaro says "the carrying of firearms has to be relaxed." According to his plan, he outlines countries, like Austria, Germany, the USA, Israel, and more, where firearms are in "the majority of homes" and the number of murder per firearm is "much lower than Brazil."
In the US, where mass shootings and gun abuse gain international attention, the number of murders is about twenty-five percent of the national total in Brazil.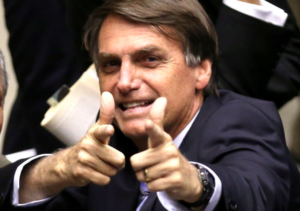 A Weaker Real (Better Exchange Rates for Gringos)
Just four years ago the Brazilian Real was hovering around R$2 for every $1USD. In March of 2015, the currency passed the three to one mark and hasn't climbed down since. 
During this period of declining value, the Brazilian coin reached 4 to 1 against the dollar in early 2016 and went there again recently. At the time of writing, it sits at R$3.7 to $1USD.
Many forecasters (1, 2) believe the currency to drop back below 4:1 and go down as far as 4.5:1 by 2020. There is some speculation that it could go even further down to 5:1.
Economic strength is one of the reasons Brazilians are eager for a change in government, as they are disadvantaged by a declining real. For those that earn in Dollars and Euros and spend in Brazil they could see their money going farther under Bolsonaro if things don't change.
Less Gay-friendly – A president who is not shy about his anti-gay positions
The vibrant culture and accepting people of Brazil have earned the country (and it's many beaches) a reputation as an international destination for gay travelers.
This year, Florianópolis appeared on lists of best gay-friendly destinations (1, 2) of 2018.
In light of the barrage of homophobic and hateful statements made by Brazil's newly elected president and some incidents in the wake of the first election round, this could change.
However, when asked the day after the election about what he had to say to his voters who want to attack others simply for being gay, the president-elect said:
Aggression against a fellow man has to be punished according to the law. And if it is for a reason like this [a hate crime], it must be an aggravated sentence.
It is yet to be seen whether acts of prejudice against gays will rise under Bolsonaro. It is something to be cautious about in the meantime.
Tighter Controls on Immigration from Some Countries
Under the previous administration, the PT government saw Brazil open its arms to refugees from a variety of nations, like Syria, Haiti, and Senegal.
Bolsonaro, however, has made it clear that he has no intention of continuing such practices. He even went so far as calling the beneficiaries scum and terrorists. As if it wasn't enough that his statements were recorded (you can listen here), Bolsonaro chose to take it a step further and send the message out over social media.
Entrada d estrangeiros, s/qualquer controle, permite q infiltrados (ESCÓRIA) levem terror p/ o seio dos acolhedores. pic.twitter.com/6BpWLKZBxa

— Jair M. Bolsonaro (@jairbolsonaro) November 14, 2015
Reduced Exchange Program Openings
For anyone looking to study abroad in Brazil, things may be getting more complicated.
Bolsonaro's plan aims to overhaul education, including charging for Federal Universities which are currently free – a plan which is technically unconstitutional.
Nothing has been directly outlined yet to make us think that things will get more difficult for exchange students. However, Bolsonaro's intent to make significant changes at the university level mixed with his discriminatory position means, like visas, he could make it harder for some and (perhaps) easier for others.
Keep an eye on this topic if you plan to come in 2019 and we'll be sure to follow up as more information becomes available.
An Increase in Border Security?
Considering Bolsonaro's comments about foreigners (mentioned above), volatile behavior and close alignment with Donald Trump, it's possible we will see processes tighten up at the border.
On the other hand, considering his intense focus on economic stimulation, a Bolsonaro government could make it easier for travelers to come to spend money in Brazil, as long as they are countries that they believe will bring benefit to the country and not threaten their security or take away jobs from Brazilians.
With the new e-visa implemented earlier this year, the tourist visa process has already improved for a small list of countries.
Even if you are only entering with a tourist visa, be prepared in case things get stricter at the borders.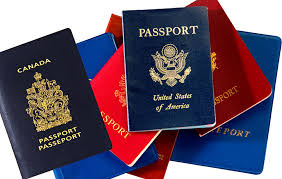 Closer Relationship With The US
Bolsonaro has made it clear he is a big fan of Trump, and the two are already talking. Trump called Bolsonaro after his victory Sunday to congratulate him.
Aside from the admiration for Trump, Bolsonaro has his eyes set on aligning with the US and cutting ties with China. Take a look at what Bolsonaro said about the matter in a recent interview.
China isn't buying in Brazil, China is buying Brazil
From foreign policy to trade, Bolsonaro leans to the position of the US.
Now that the e-visa gets Americans into Brazil faster and the dollar goes further once a tourist arrives, more benefits to visitors from the US aren't clear.
Unless, of course, you have a company positioned to benefit from investment, trade or agribusiness. Changes in this area could make starting a business in Brazil as a foreigner much easier.
Conclusion
It's still too early to say what is going to come from a Bolsonaro presidency, but we shall see.
Many Brazilians are worried about the future of their country. And rightfully so given Bolsonaro's track record of firing off aggressive and offensive comments in an undiplomatic way.
However millions of others – angered by lack of security and the economic recession following a large period of growth – are focused on rebuilding economically and reasserting security.
If you are interested in reading Bolsonaro's official plan, you can find it here.
We'd like to hear from you. How do you think Bolsonaro's presidency is going to change the lives of us living in Brazil? Share your thoughts in the comments (and do keep it civil).