No matter where you go in the world, food gives you an incredible view of the culture and its people.
Aside from what they eat, you witness how they interact, how they serve themselves (or others), what music they listen to, and heaps of other minutiae that you won't catch in an everyday setting.
These little glimpses get us closer to the authentic core of our hosts.
If a meal is like a window into a culture, then an authentic Brazilian churrasco is like a big bay window. Attending one will show you a Brazil most gringos never even know exists.
This post details 9 things to keep your eye out for next time you head to a Brazilian churrasco.
Disclaimer: this post doesn't talk about what it's like to go to a churrascaria, or churrasco restaurant. They are spectacular, so much that it's reserved for another post.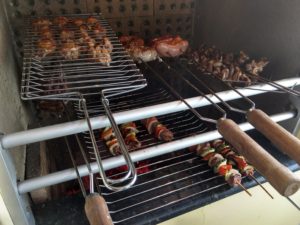 Shoe Ha What? Churrasco… 
That being said, let's get our terms straight before we dive in churrasco is the event; a barbecue. But, as English speakers will say barbecue for the event and the place where you cook the meat, Brazilians do not share this quality.
A churrasqueira is where you light the charcoal and grill the beef, chicken, pork, and maybe even a whole pineapple smothered in cinnamon (trust me, it's amazing).
Lastly, as mentioned above, a churrascaria is a restaurant that focuses solely on – yup, that's right – churrasco. In other words, it's a like steakhouse that does an elaborate all-you-can-eat buffet.
Okay, now I'm starting to crave some picanha, so let's get into what you need to know before your next Brazilian churrasco.
1. You don't need patience
Growing up, I always remember barbecues like this – everything got put out on a table and we all waited for the grillmaster to finish the meat. Then we made up plates. Brazil is the opposite.
The person manning the barbecue attentively cooks a variety of meat to their succulent sweet spots. As the meat reaches this point, he slices them off the skewer and you eat (basically) straight from the knife.
Expect the linguica and chicken thighs to start it off, red meat to follow. And making a full plate comes much later or may not come at all.
To get the best of what the grill master slices off, pay attention to his drink.
2. How (and when) to serve others
Brazilians are super attentive and always paying attention to others around them. You won't find any place which makes this more apparent than a Brazilian churrasco.
Need something to drink? Someone else likely already noticed and it's arriving in your hand as soon as you realize it's time to refill.
Again, pay special attention to the person on the barbecue. Keep his glass topped up with whatever he's drinking and he'll return the favor when a fresh round of meat comes off.
Thinking you'd like another piece of meat? You guessed it… The communal meat plate is already arriving. But what's that white powder?
3. Don't forget to powder your meat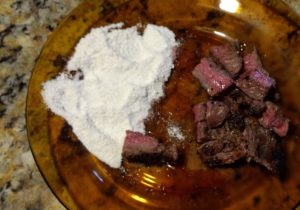 As provocative as that sounds, it's serious.
At a churrasco, you are likely to see a white powder on the plate (or cutting board) with the meat. Don't be alarmed.
Passing a light coating of wheat flour on your meat is normal. But why do people do it? I seriously asked once and the answer I got was,
Because it's good.
When the meat is juicy, it'll soak up the flour and you likely won't even notice. But if you don't like your meat juicy, you need to know how to ask for your preference.
4. How would you like your meat cooked?
Rare, medium rare, well done… These are important things to know if you feel like beef that is too red makes you hear a distant sound of mooing.
Here are the three most common choices to ensure you get what you want: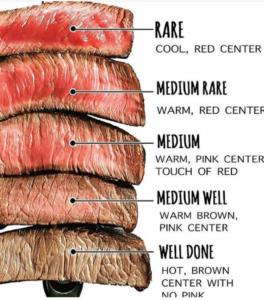 Mal passada – rare to medium rare (depends on the cook)

Ao ponto – medium rare to medium (depends on the cook)

Bem passada – well done, always
One surprising benefit that'll come from knowing how to say the way you'd like your meat cooked brings us to our next item.
5. Only hot dogs and hamburgers
Knowing how to say the way you like your meat cooked will show Brazilians at a churrasco that you know more about meat than hotdogs and hamburgers.
Thanks to the work of Hollywood, a backyard barbecue in films is almost always a stereotypical wiener and patty cookout.
The first few times I heard Brazilians ask me if I'd ever seen a real barbecue, I was baffled. They'd ask something to the effect of:
Americans just cook hamburgers and hot dogs, right?
No harm, no foul. Besides, once I realized they were creating expectations from movies, it all made sense.
Brazilians who went and studied abroad in the US ever said anything like this. However, they did still have one thing off.
6. I'm feeling a little gassy
Convenience culture has made gas grills incredibly common.
Brazilians I talked to at my first few churrascos – even the ones that spent quite a bit of time in the US – assumed that all Americans only use gas barbecues. This false belief actually made less sense to me than the last one because I grew up on charcoal barbecues.
Though many Brazilians (unfortunately) believe gringos all use gas barbecues, it's an exploration into cultural difference… and differences is what number seven is all about.
7. Cachaça for drinking vs. caipirinhas
When my parents came to visit for the first time, I had a field day trying to teach my dad these words. He kept saying every combination of the sounds and never got it right. I should've made a GIF.
Whether you say these words right or not, someone is likely to break out the limes, sugar, and cachaça to get the sweet pucker of the national drink a go. And here's what you'll notice:
Some cachaça is for caipirinhas, but others are just for drinking straight. Typically it's the aged stuff that would be akin to top-shelf spirits in another setting.
A quick rule of thumb is if it's 51, Velho Barreiro, or Ypioca… grab the limes and sugar! Anything else, ask.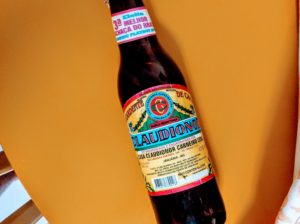 8. How to make caipirinhas
Start with the classic, then work yourself around the tropical fruit cornucopia.
Because sharing is so important in Brazilian settings, especially at a churrasco, someone is likely to pull you aside to show you what makes the caipirinha so delicious. Don't be shy!
Take the reins and put it into action, then you'll know how to make them for your next party. Which brings us to the last item on the list.
9. One big happy family
I feel like Brazilian churrasco shares a soul with Olive Garden. Let me explain.
People are always looking out for you, drinks and food are constantly being refilled, and it's normal to leave with a stomach so packed full you ask if the host can roll you out. Plus…
The slogan could easily be, "When you're here, you're family."
As if you are around the table at a quintessential holiday dinner, everyone is talking, sharing, and enjoying the time together like tomorrow might not come.
Conclusion
As gringos in Brazil, we have the privilege of learning new things daily. Just stepping out the street is enough for you to pick up a cultural lesson or two.
There's the more obvious stuff you'll pick up no matter where you go or what you do in Brazil, like new vocabulary. And then there are those unique moments where you see a culture from a window seat typically reserved for locals only.
A Brazilian churrasco is one of those experiences – ripe with the gems most gringos will never lay eyes on. The amount you pick up at a churrasco casts a shadow over most social events.
And what about you? Have you discovered any cool cultural insights at a Brazilian churrasco? Share in the comments.