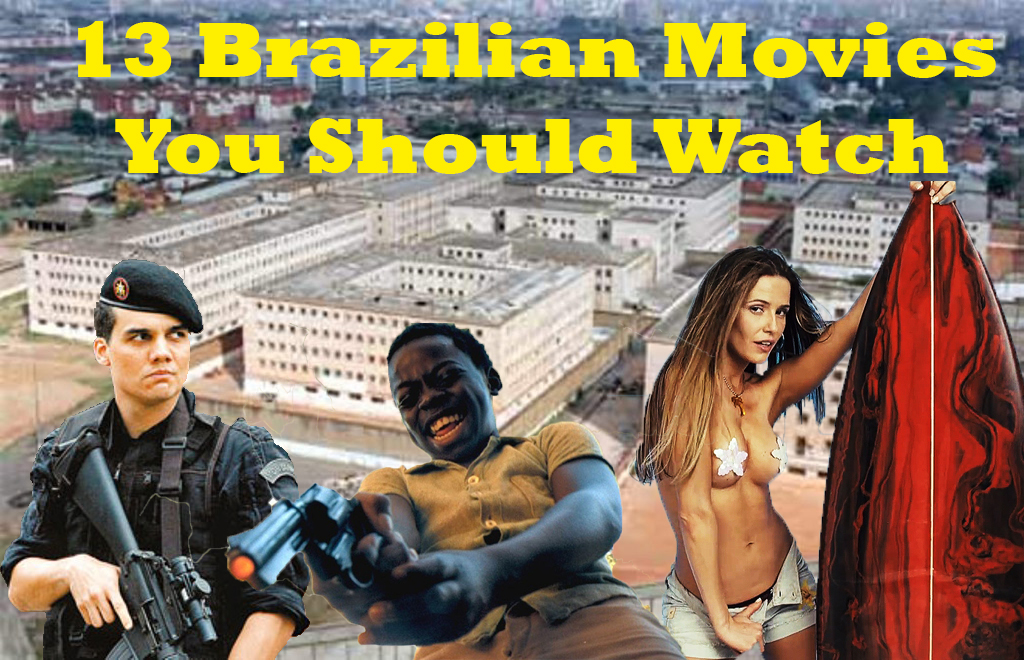 The best way to learn Portuguese is to immerse yourself in Brazilian culture. A lot of people think that the only way you can get fluent in a language is to live in the country where that is spoken, but that's not true at all.
It is possible to recreate an immersion type environment wherever you are in the world that will ease you towards your language learning goals.
One powerful way to improve your Portuguese is to watch Brazilian movies. Even if you don't speak a word of Portuguese, there are several benefits to watching these movies.
Watching Brazilian movies will give you greater familiarity with the sounds of Brazilian Portuguese. A good trick is to pretend that you're 5 years old again and repeat every word from the movie that sounds funny to your ears.
Another benefit is that you'll get a better understanding of what life is like in Brazil. Now some of these movies are old and don't paint a realistic picture of what Brazil is like, nor do they show you the whole picture. If you're on the other side of the world though it can be difficult to conceptualize what Brazil actually is, and these movies will start to fill in the blanks for you.
Watching those movies also gives you another way to connect with your Brazilian friends. As you watch Brazilian movies, take note of confusing words and other interesting scenes so you can ask your friends about them later.
To help you start your career as a Brazilian film buff, here are 13 Brazilian movies that I recommend.
Some of these are available on Netflix with English subtitles. Others you will have to download elsewhere and find subtitles with Opensubtitles.
If 13 isn't enough Brazil for you, then check out this comprehensive list made by Adam, who has seen more than 200 Brazilian movies.
If 200 isn't enough for you, here's a Youtube channel with more than 1000 Brazilian movies.
Tropa de Elite – Elite Squad
From IMDB: During a brutal campaign to secure the Pope's 1997 visit to Rio de Janeiro, Captain Nascimento struggles to find a suitable replacement who will continue the BOPE's merciless efforts to infiltrate the favelas and wage war against their dominant drug underworld.
Tropa de Elite: O Enemigo agora e outro – Elite Squad: The Enemy Within
From IMDB: After a prison riot, former-Captain Nascimento, now a high ranking security officer in Rio de Janeiro, is swept into a bloody political dispute that involves government officials and paramilitary groups.
Cidade de Deus – City of God
From IMDB: Two boys growing up in a violent neighborhood of Rio de Janeiro take different paths: one becomes a photographer, the other a drug dealer.
Cidade de Homens – City of Men
From IMDB: Best buddies Acerola and Laranjinha, about to turn 18, discover things about their missing fathers' pasts which will shatter their solid friendship, in the middle of a war between rival drug gangs from Rio's favelas.
Central do Brasil – Central Station
From IMDB: An emotive journey of a former school teacher, who write letters for illiterate people, and a young boy, whose mother has just died, in search for the father he never knew.
Bruna Surfistinha – Little Surfer Girl
From IMDB: Raquel is a girl, adopted by an upper middle class family, who rebelled at 17 and left her family and studies at a traditional college in São Paulo to become a call girl. Shortly after starting work, she decided to write a blog about her experiences. Since some clients thought she looked like a surfer she adopted the name "Surfistinha" which means little surfer girl. This blog became a sensation, and quickly became one of the most popular blogs in Brazil. Becoming famous, her life changed significantly. She went on to be interviewed on Brazilian talk shows similar to Oprah and David Letterman, all the while continuing her blog about her racy exploits. She wrote a book about these experiences: "O Doce Veneno Do Escorpião".
Madame Satã
From IMDB: Loose portrait of João Francisco dos Santos, also known as Madame Satã, a sometime chef, transvestite, lover, father, hero and convict from Rio de Janeiro.
Bicho de 7 Cabeças – Brainstorm
From IMDB: A trip to the mental institution hell. This odyssey is lived by Neto, a middle class teenager, who lives a normal life until his father sends him to a mental institution after finding drugs on his pocket. The marijuana cigarette is just the final drop that exposes the family tragedy. Send to a mental institution, Neto gets to know a completely absurd, inhumane reality in which the people are devoured by a corrupt and cruel institution system. The documentary type language used by the director give this movie a sensation of realty that increases even more the impact of the emotions Neto goes through. In the mental institution, Neto is forced to mature. The transformations that he goes through change this relations with his father.
Carandiru
From IMDB: Film based on real life experiences of doctor Drauzio Varella inside dreadful State penitentiary Carandiru, in São Paulo, Brazil, while he was doing a social work of Aids prevention. There he found hundreds of convicts living under degrading conditions. The situation came to a climax in 1992, when in order to smother a rebellion, police force killed 111 men.
Última Parada 174 – Last Stop 174
From IMDB: A chronicle of a real-life bus hijacking in Rio de Janeiro that occurred on June 12, 2000.
Estômago – Estomago: A Gastronomic Story
From IMDB: The world is made of those who eat and those who get eaten. Raimundo Nonato, our protagonist, finds an alternative way: he cooks. He cooks first in a bar, then in an Italian Restaurant and then in prison – how did he end up in jail? He cooks and learns how to get by in a society divided in two between those who eat and those who get eaten. What he learns, are a series of rules he uses to his advantage: in the end, the cook must also get his share of food and only he knows which part tastes best. Estômago is an adult fable on power, sex and cooking.
Pixote
From IMDB: The life of a boy in the streets of Sao Paulo, involved with little crimes, prostitution, etc.
What is your favorite Brazilian movie?