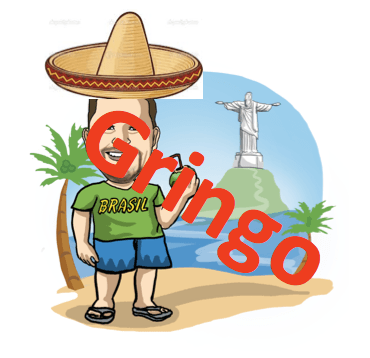 "Hey Gringo!"
As the word pierced my ears it sent an immediate reaction throughout my body. Adrenaline started pumping through my veins and I got ready for an altercation with the man who had just insulted me.
"Gringo get off your phone."
It was one of my first days in Brazil and I was out at a bar with some friends. I got tired of not understanding anything in Portuguese so I started playing on my phone. But being on my phone was no reason for this guy I had just met to insult me by calling me a gringo.
"Why did you call me gringo? That's not cool."
I didn't know this guy very well but I figured he must have a problem with Americans if he is calling me a gringo. I resigned myself to receiving yet another round of verbal abuse over US foreign policy like I had received elsewhere in South America. Is this guy really going to blame me for the actions of a president who I did not support and who I played no role in electing?
"Are you Brazilian?" That wasn't the answer I was expecting. Cautiously I opened my mouth and said no.
"Then that means you are gringo."
How Brazilians Define Gringo
It hit me that I was no longer in Latin America, I was in Brazil, a country whose culture bears little resemblance to it's Spanish speaking neighbors, a country that hasn't had their government toppled by a US backed coup, a country that has remained relatively isolated and outside of world affairs until recently.
This Brazilian was seeming to suggest that all foreigners are gringos in Brazil, but could that really be the case?
"Do you call Mexicans gringos as well?"
"Yes."
"What about Cubans?"
"Yeah."
"And Colombians?"
"Of course."
"Wait, are Argentinians considered Gringo as well?"
"Is the pope catholic?"
"But they're your neighbors!"
"They're still gringos."
This was really hard for me to accept. For the past 6 months as I was traveling through Latin America I was cautious not to do anything that would justify a Mexican, Cuban or Colombian calling me a gringo. And now that I had come to Brazil I find out that those people are gringos too? Something just seemed wrong about the whole situation.
"But why are they all considered gringos? They speak Spanish."
"That doesn't matter. They're not Brazilian. That makes them gringos."
How the Rest of the World Defines Gringo
For someone who grew up in California the idea that someone who spoke Spanish could be called a gringo was just absurd. Gringo is the name Mexicans give to those Yankee imperialists who went to war and took their land. Gringo is what the Cubans call the CIA agents who tried to invade their country at the Bay of Pigs. Gringo is what Colombian drug lords call the DEA agents who stop drug shipments from getting to Miami.
For these people Gringo doesn't just mean foreigner; the word has so much more meaning attached to it. When Latinos use the word gringo there is almost certainly some hate attached to the word. Its similar to the words kike, gook and spic in that you can't use the word neutrally because the word carries with it some baggage.
As a traveler in Latin America I was given the benefit of the doubt as an extranjero, but if I proved myself to be a gringo then I would be in trouble.  Gringo is the last thing I wanted to be called in Colombia. If someone called me a gringo in Colombia I would fear that someone was going to hurt me or try to kidnap me. My first reaction would be to start looking around to see if there were any blunt objects lying around that I could use as a weapon.
My friend didn't understand any of this and he just laughed when I shared the part about being kidnapped. But it wasn't funny to me at all. It stung when he called me a gringo and I resented him for it. I even doubted that he was being sincere about those other countries being gringos as well, thinking that he made up that story to cover his ass.
As more and more people called me gringo over the following weeks I continued to be offended at the insinuation that I was there to overthrow the Brazilian government by force. I kept having the same conversation where I tried to convince Brazilians that they were being rude by calling me a gringo. And every time that I did this I was met with the same innocent sounding response of "In Brazil gringo and estrangeiro have the same meaning of foreigner."
Eventually I started to accept that there wasn't some big conspiracy and that gringo really did just mean foreigner. My instinctual reaction upon hearing the word gringo went away until it became just another word. After a while I even started to feel silly that I had overreacted so much to being called a gringo in those early days.
Every now and then I'll meet a gringo who is fresh off the boat and I'll ask them how they feel about being called a gringo. Most have no problem being called a gringo, but some take offense to the word like I did. They wish that Brazilians wouldn't use the word gringo with them. But it's easier said than done when it comes to accepting a new meaning for a word that you've only associated one meaning with for your entire life, just because you've hopped on a plane and landed in another country.
How do You Define Yourself?
It is confusing that a word that is so full of hate in most countries where it is used could be completely harmless in another. It would be nice if there were one unified meaning across all countries, but that is not going to happen. As gringos in Brazil we have to get used to the meaning of the word as it is defined by the people around us.
One of the reasons this site is named Brazilian Gringo is to help my fellow gringos understand that it is ok to be a gringo. Brazilians don't hate you just because they call you a gringo, quite the opposite in fact. Gringos are often looked upon with curiosity and bemusement and not with anger and hostility.
It's ok to be a gringo in Brazil. Once people find out that you are one they will take an interest in you and barrage you with a bunch of questions. They'll make sure you're having a good time in Brazil and will take care of you if you seem like you're lost. They may even invite you to a barbeque with their family so you can experience their culture.
Being called a gringo in most situations in Latin America is not a good thing. If a Spanish speaker calls you a gringo you've probably did something ugly like commit a cultural faux pa, used drugs or contracted the services of a sex professional. Don't be disrespectful in that country and don't give anyone a reason to call you a gringo.
Being a Gringo in Brazil is not a bad thing. If a Brazilian calls you gringo it's because they don't know your name. Introduce yourself to your new friend and don't make them call you gringo anymore. And most importantly, be proud of who you are. Be proud to be a Brazilian Gringo.
How did you react the first time a Brazilian called you gringo?