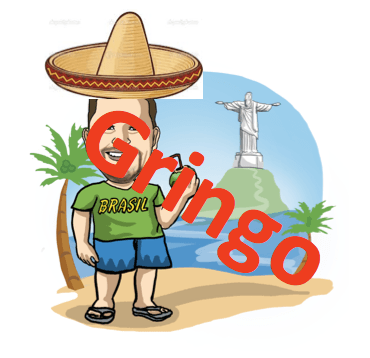 "Hey Gringo!"
As the word pierced my ears it sent an immediate reaction throughout my body. Adrenaline started pumping through my veins and I got ready for an altercation with the man who had just insulted me.
"Gringo get off your phone."
It was one of my first days in Brazil and I was out at a bar with some friends. I got tired of not understanding anything in Portuguese so I started playing on my phone. But being on my phone was no reason for this guy I had just met to insult me by calling me a gringo.
"Why did you call me gringo? That's not cool."
I didn't know this guy very well but I figured he must have a problem with Americans if he is calling me a gringo. I resigned myself to receiving yet another round of verbal abuse over US foreign policy like I had received elsewhere in South America. Is this guy really going to blame me for the actions of a president who I did not support and who I played no role in electing?
"Are you Brazilian?" That wasn't the answer I was expecting. Cautiously I opened my mouth and said no.
"Then that means you are gringo."
How Brazilians Define Gringo
It hit me that I was no longer in Latin America, I was in Brazil, a country whose culture bears little resemblance to it's Spanish speaking neighbors, a country that hasn't had their government toppled by a US backed coup, a country that has remained relatively isolated and outside of world affairs until recently.
This Brazilian was seeming to suggest that all foreigners are gringos in Brazil, but could that really be the case?
"Do you call Mexicans gringos as well?"
"Yes."
"What about Cubans?"
"Yeah."
"And Colombians?"
"Of course."
"Wait, are Argentinians considered Gringo as well?"
"Is the pope catholic?"
"But they're your neighbors!"
"They're still gringos."
This was really hard for me to accept. For the past 6 months as I was traveling through Latin America I was cautious not to do anything that would justify a Mexican, Cuban or Colombian calling me a gringo. And now that I had come to Brazil I find out that those people are gringos too? Something just seemed wrong about the whole situation.
"But why are they all considered gringos? They speak Spanish."
"That doesn't matter. They're not Brazilian. That makes them gringos."
Gringo Meaning: Is Gringo Offensive?
For someone who grew up in California the idea that someone who spoke Spanish could be called a gringo was just absurd. Gringo is the name Mexicans give to those Yankee imperialists who went to war and took their land. Gringo is what the Cubans call the CIA agents who tried to invade their country at the Bay of Pigs. Gringo is what Colombian drug lords call the DEA agents who stop drug shipments from getting to Miami.
For these people Gringo doesn't just mean foreigner; the word has so much more meaning attached to it. When Latinos use the word gringo there is almost certainly some hate attached to the word. Its similar to the words kike, gook and spic in that you can't use the word neutrally because the word carries with it some baggage.
As a traveler in Latin America I was given the benefit of the doubt as an extranjero, but if I proved myself to be a gringo then I would be in trouble.  Gringo is the last thing I wanted to be called in Colombia. If someone called me a gringo in Colombia I would fear that someone was going to hurt me or try to kidnap me. My first reaction would be to start looking around to see if there were any blunt objects lying around that I could use as a weapon.
My friend didn't understand any of this and he just laughed when I shared the part about being kidnapped. But it wasn't funny to me at all. It stung when he called me a gringo and I resented him for it. I even doubted that he was being sincere about those other countries being gringos as well, thinking that he made up that story to cover his ass.
As more and more people called me gringo over the following weeks I continued to be offended at the insinuation that I was there to overthrow the Brazilian government by force. I kept having the same conversation where I tried to convince Brazilians that they were being rude by calling me a gringo. And every time that I did this I was met with the same innocent sounding response of "In Brazil gringo and estrangeiro have the same meaning of foreigner."
Eventually I started to accept that there wasn't some big conspiracy and that gringo really did just mean foreigner. My instinctual reaction upon hearing the word gringo went away until it became just another word. After a while I even started to feel silly that I had overreacted so much to being called a gringo in those early days.
Every now and then I'll meet a gringo who is fresh off the boat and I'll ask them how they feel about being called a gringo. Most have no problem being called a gringo, but some take offense to the word like I did. They wish that Brazilians wouldn't use the word gringo with them. But it's easier said than done when it comes to accepting a new meaning for a word that you've only associated one meaning with for your entire life, just because you've hopped on a plane and landed in another country.
Gringo Meaning in Portuguese
It is confusing that a word that is so full of hate in most countries where it is used could be completely harmless in another. It would be nice if there were one unified meaning across all countries, but that is not going to happen. As gringos in Brazil we have to get used to the meaning of the word as it is defined by the people around us.
One of the reasons this site is named Brazilian Gringo is to help my fellow gringos understand that it is ok to be a gringo. Brazilians don't hate you just because they call you a gringo, quite the opposite in fact. Gringos are often looked upon with curiosity and bemusement and not with anger and hostility.
It's ok to be a gringo in Brazil. Once people find out that you are one they will take an interest in you and barrage you with a bunch of questions. They'll make sure you're having a good time in Brazil and will take care of you if you seem like you're lost. They may even invite you to a barbeque with their family so you can experience their culture.
Being called a gringo in most situations in Latin America is not a good thing. If a Spanish speaker calls you a gringo you've probably did something ugly like commit a cultural faux pa, used drugs or contracted the services of a sex professional. Don't be disrespectful in that country and don't give anyone a reason to call you a gringo.
Being a Gringo in Brazil is not a bad thing. If a Brazilian calls you gringo it's because they don't know your name. Introduce yourself to your new friend and don't make them call you gringo anymore. And most importantly, be proud of who you are. Be proud to be a Brazilian Gringo.
What does 'gringo' mean in Brazilian Portuguese?
In Brazil, the term "gringo" is used to describe foreigners, irrespective of their nationality. Unlike its usage in many Spanish-speaking countries, where "gringo" often refers specifically to U.S. nationals, the Brazilian context is broader. It encompasses individuals from Europe, North America, and other non-Latin American regions. The term's origin is debated, with theories tracing it back to Spain's Andalusian region or even connections to the U.S.-Mexican War. However, in the Brazilian Portuguese lexicon, its connotations are generally neutral.
It's worth noting that Brazil's diverse cultural fabric and history of immigration have shaped the word's perception. In everyday conversations, "gringo" might be used affectionately or playfully. Tourists, expatriates, or even international celebrities might be referred to as "gringos" in media or casual chats. Furthermore, the distinction between "gringo" and its feminine counterpart "gringa" is maintained, reflecting the gendered structure of the Portuguese language.
Over time, as Brazil continues its trajectory on the global stage and its cultural exchanges intensify, the nuances associated with "gringo" may evolve. Yet, its core essence as a descriptor for foreigners remains a constant in the Brazilian vernacular.
What does 'gringo' mean in Spanish?
The term 'gringo' in Spanish primarily refers to a foreigner, especially from the United States or Europe. Its origins are debated, with some theories suggesting it emerged in Spain to describe someone speaking the Castilian language poorly or with a foreign accent. Over time, especially in Latin American contexts, 'gringo' has taken on nuanced connotations. In many Spanish-speaking countries, it is used casually to denote someone from the U.S., but the term can carry varied implications based on context.
For instance, while 'gringo' and its feminine counterpart, 'gringa', might be used affectionately in daily conversations, they can also reflect historical tensions or power dynamics in discussions about U.S. policies or cultural interactions.
Meaning of gringa vs gringo meaning
The terms 'gringo' and 'gringa' both find their roots in Spanish and Portuguese lexicons, denoting foreigners, often from the U.S. or Europe. However, there's a distinct gender nuance between them. The 'gringo meaning' typically refers to a male foreigner, especially in Spanish-speaking countries. Over time, its usage has been broadened to represent outsiders or those unfamiliar with local customs, making 'gringo' a term rife with historical and socio-cultural connotations.
On the other hand, 'gringa' is the feminine counterpart. Delving into the 'meaning of gringa', it denotes a female foreigner. Just like 'gringo', 'gringa' carries its set of cultural baggage and perceptions. In certain contexts, especially in popular media and songs, the 'gringa' figure is sometimes romanticized, symbolizing novelty or exotic allure. In everyday conversations, 'gringa' might be used affectionately or playfully, much like its male counterpart.
What are the origins of the term 'gringo'?
The origins of the term 'gringo' are shrouded in various theories and stories, making its etymology a topic of intrigue. One commonly cited theory is that 'gringo' stemmed from Spain, where it was used to describe someone speaking Castilian with a foreign accent. The term might be a derivative of "griego," the Spanish word for "Greek," implying something foreign or incomprehensible, as in the English phrase "It's Greek to me."
Another popular but often-debated narrative traces the term to the U.S.-Mexican War. Here, the story goes that Mexican locals, hearing American soldiers sing the song "Green Grow the Lilacs," began referring to them as "Green-goes" or "gringos." This association with Americans led to the term 'gringo' becoming synonymous with U.S. nationals in many Spanish-speaking countries.
Further, in the realm of 'gringo etymology', some believe the word was used in the Andalusian region of Spain to describe foreigners or those unfamiliar with local customs. Over time, as the term traveled to Latin America, it absorbed new connotations, influenced by the region's colonial history and socio-political dynamics.
How is the term 'gringo' used in Spanish-speaking countries?
In Spanish-speaking countries, the term 'gringo' primarily denotes a foreigner, especially someone from the United States or Europe. Its usage, however, is nuanced and varies across regions. In Mexico, for instance, 'gringo' is often specifically associated with U.S. nationals, reflecting the country's proximity and historical interactions with the USA. This direct association has led to a distinctive 'gringo meaning' in Mexican culture, sometimes referencing the socio-political dynamics between the two nations.
In other parts of Latin America, such as Argentina and Chile, while 'gringo' still refers to foreigners, it doesn't always imply Americans. It can sometimes be used more broadly to denote someone not native to that specific country or region. This variation in 'gringo vs. gringa' usage can also be gender-specific, with 'gringa' referring to a female foreigner.
Furthermore, the term's connotation can range from neutral to affectionate to derogatory, depending on the context. In many urban settings or among younger generations, 'gringo' is often employed in a light-hearted or neutral manner. However, in certain contexts, it might carry subtle undertones of criticism or jest, especially when discussing topics like cultural differences or historical tensions.
Is the term 'gringo' considered offensive in certain contexts?
The term 'gringo' carries varied connotations, depending largely on the context of its usage and the region in which it's spoken. In many Latin American countries, 'gringo' simply refers to foreigners, especially those from the U.S. or Europe, without inherently negative implications. For instance, in daily interactions or travel discussions, you might hear phrases like "gringo prices" or "gringo tourists," merely indicating something related to foreigners.
However, there are contexts where 'gringo' can be perceived as derogatory. Historically, in regions with past tensions or conflicts with foreign powers, particularly the U.S., the term may carry undertones of resentment or distrust. In political or heated debates about U.S. policies or interventions in Latin America, 'gringo' can transition from a casual descriptor to a term of critique. Here, it might be used to emphasize disagreements or frustrations with perceived 'gringo imperialism' or external influence.
Furthermore, the term's reception can be influenced by personal experiences. While many foreigners living in Latin America might adopt the label 'gringo' with a sense of humor or camaraderie, others might feel it accentuates their outsider status.
How do you say Gringo in English?
In English, the term "gringo" is commonly translated as "foreigner." The closer the country is to the United States, the more typically that it is used interchangeably with "American." Depending on the context, "gringo" can be neutral, affectionate, or derogatory, so understanding its nuanced usage in different regions is crucial.