Have you been looking for a city that is a not so common destination for Gringos in Brazil? While well traveled cities have a lot to offer, sometimes you've got to get off the beaten trail to experience a different kind of connection to Brazilian culture.
As with most things, the best recommendations come from those that have taken the time to explore the lesser-known nooks and crannies of Brazil. Among experienced travelers in Brazil there are a number of routes and cities that are often cited as "must see."
One must-see city is Ouro Preto. If you haven't yet heard of this city you surely will once you start meeting fellow travelers in Brazil and ask them for travel recommendations.
Ouro Preto is the perfect trifecta of tourism: history, colonial traditions and natural beauty. People travel from all over to hike the trails, climb the peaks, and wander through the national parks just as much as to snap photos of the preserved seventeenth century architecture.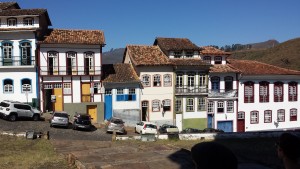 This World Heritage Site is also a city where small town culture collides with university life for a robust blend and lively mix of fun, exploration and education.
Whether you're still a long way away from visiting Ouro Preto or if you're on your way there now, this post will help you plan the best visit possible. You're going to get a brief history of Ouro Preto, learn what makes the city so special, as well as get practical tips like how to get there, where to stay, and when you should go to get the most out of your visit.
A Brief History of Ouro Preto
Today it's known as Ouro Preto but originally it was called Vila Rica. And what better name for a place that is sitting on top of massive quantities of gold than Rich Village? This was back in the eighteenth century when the Portuguese crown was investing heavily into making Ouro Preto a hub for it's gold mining operations in Minas Gerais.
At a time when São Paulo was less than ten thousand people and New York was yet to reach fifty thousand, Vila Rica was the largest city in the Americas with over one hundred thousand inhabitants. The city was populated by nobles and fortune seekers who were intent on extracting all of the gold out and taking it across the Atlantic to Portugal.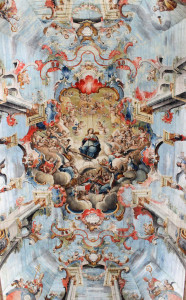 Beautiful Baroque houses and buildings were constructed and the prosperity of the city attracted artists and intellectuals to live in the flourishing environment. This lead to the creation of many works of art and architecture that remain intact today in the city's museums and churches.
Ouro Preto plays an important role in the story of Brazil's independence from the Portuguese crown. Towards the end of the eighteenth century, there was a movement known as the Inconfidência Mineira, which sought to gain independence from Portugal. Though the attempt failed, Ouro Preto and many of the movement's leaders became important symbols of the struggle for Brazilian independence. There is a monument in the center of the city's main square commemorating the movement's leader, Tiradentes.
In the nineteenth century, Ouro Preto became home to what some people refer to as Brazil's first universities. The pharmacy school was opened at a time when the city's elite were still sending their children back to Europe to be educated, and the mining school, based on a French model for such schools, is now a nationally celebrated engineering school. The mining school's original building still functions as a secondary campus to the federal university, and as a museum that houses a world renowned display of precious gems and minerals.
This is just a taste of the rich history that makes Ouro Preto such an important place for Brazil, Brazilians and tourists alike.
Why Visit Ouro Preto?
Of all the things that make Ouro Preto special, the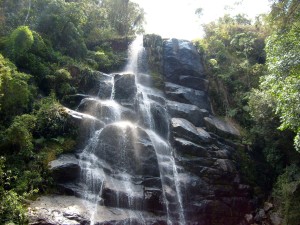 blend of small town and student cultures make it a place where people of all ages and backgrounds can feel welcome.
It doesn't take long to realize that the main draw and economic driver of the city is tourism, but a glance past the architecture and museums will draw your attention to other points that make the city worth your attention.
Nature is highly accessible, so the balance of inside and outside tourism is perfect. Go hike to the top of Pico Itacolomi and explore the Serra Gandarela National Park, then the next day stick around the historic center to visit museums and take photos. Make sure to grab some gemstones the shops or street vendors in Tiradentes square, then some soap stone souvenirs at the little craft market next to the Saint Francis of Assisi church.
For some more ideas for what to do during your stay, check out this post about 10 must do things during your visit to Ouro Preto.
Arriving In Ouro Preto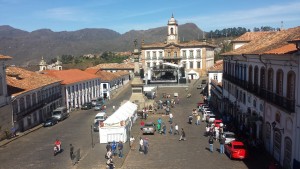 There isn't an airport next to the city, so if you plan to fly you'll have to head to Confins airport in Belo Horizonte and arrange for ground transport to Ouro Preto. Here is how to do that if it's your plan:
You can take a taxi directly from the airport to Ouro Preto with fares between R$300 and R$500 depending on the company. However, it's recommended that you take the Unir transit bus (about R$12) to the central bus station in Belo Horizonte and from there take another bus to Ouro Preto. The Confins-Belo Horizonte bus leaves about every 15 minutes to one hour, depending on the time of day.
All bus travel to Belo Horizonte ends up at the central bus station. From there you can buy a ticket to Ouro Preto from Pássaro Verde (about R$34), which leaves every hour. These are comfortable busses that have reclining seats, so you can catch some shut eye during the two-hour ride. You can check bus schedules here. Also be sure to read the 10 commandments of bus travel in Brazil before your trip.
When you arrive in Ouro Preto via bus, you'll be at the edge of town. To get to the city's main plaza you can take a bus (R$2.70), grab a taxi or arrange a ride to your accommodation from there.
Where to Stay in Ouro Preto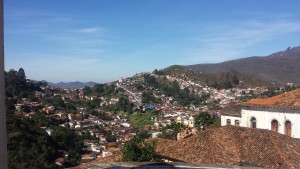 Considering that the city is stretched out over a landscape of hills, finding a the right location is crucial in order to avoid tiring yourself out from walking up hills.
There are a number of great accommodations options in Ouro Preto. Pousadas are plenty and spread over the entire city, with many of them located in the central historic area. If you prefer hotels, the Grande Hotel de Ouro Preto, designed by Oscar Niemeyer, is the perfect option and sits just a two minute walk from Praça Tiradentes. A little further from town, but another swanky option, is the Hotel Solar do Rosários.
If you don't mind walking, you may find better prices a little further from Praça Tiradentes, but if it's important to have the convenience of being in the nucleus of the cultural and historic attractions, stay closer. Use this list of 30 great places to stay in Ouro Preto to find your accommodations.
For young travelers and college students, you want to stay in a república.
Staying at a República
When it was decided that Belo Horizonte would be the next state capitol, everyone packed up and left Ouro Preto and just abandoned their houses to relocate. These great big houses, some of which have three levels and around ten rooms, were vacant and left for the taking.
With the owners three days away by horse in Belo Horizonte, students of the pharmacy and mining universities moved in with the expectation that the owners didn't have any intention of returning.
Nowadays, many university cities and areas have repúblicas as a result of their presence in Ouro Preto. The repúblicas of Ouro Preto are a self-sustaining system made up of over three hundred houses in the city. These houses fill up with self-elected residents that share domestic responsibilities, kind of like fraternity and sorority houses in the US.
Divided in two groups, the federal repúblicas are the oldest, most traditional in the system, and are stricter because the federal university owns them and residents live in them for free. On the other hand, the particulares, or private repúblicas are newer to the system and require residents to pay rent and bills.
If you are coming to Ouro Preto as a student, you've got to live in a república. This is the best way to immerse in the student and city life, get more contact with Portuguese and get into the community in a deeper way.
If you have any trouble finding a república check this Facebook group dedicated to finding open rooms in repúblicas.
Special Times To Visit
It's only natural that people think of Rio when they hear the word carnaval. However, wherever you find a large amount of college students, you are bound to find a wild time.
There are a number of legendary carnival parties that take place in Ouro Preto's repúblicas that are certain to please anyone looking to keep the good times rolling during the world-famous festival. This group is a great place for you to get started if want to experience carnaval in Ouro Preto, and there is more info on the city's carnaval website.
Another popular time of year to visit Ouro Preto is in July, when the city celebrates its birthday and hosts the annual winter festival. The cities birthday brings artists to shows in the main square in downtown, and the winter festival attracts various artists, including the famous Ouro Preto Orchestra, from around the country to do concerts.
Lastly, the Tudo é Jazz music festival draws national and
international artists and crowds to the city in
December, when the weather is warm and the skies are clear. The festival offers free and paid shows, and even caters to the patrons interests with daily activities.
Aside from that, come when the sky is clear and the weather is warm so that you can maximize the growing ecotourism industry by going rock climbing, hiking, visit waterfalls, and taking a bunch of photos.
Relaxing in Ouro Preto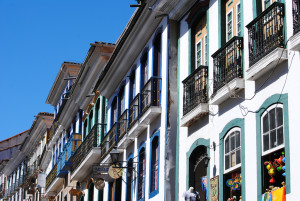 After a day of walking around the city, it's important to get a satisfying and relaxing experience that wraps up the day the right way.
If you are looking to grab a cold beer and a snack, look no further than Barroco in the Barra neighborhood. It's a little dive bar with writing all over the walls and basic wooden stools around small tables, but it has a famous coxinha that will have you asking for mais uma. If you want to stick closer to Praça Tiradentes, head over to Satélite on rua direita.
For a nice meal check out O Passo, a great Italian place. Nestled up against a creek and a museum, it has fantastic quality dishes and perfectly relaxing jazzy ambience. If you are in town on a Tuesday, their highly sought out rodízio gets the line started at about 7, which should tell you something if you are familiar with how late most Brazilians eat. Best to make a reservation.
Conclusion
Ouro Preto is a great place to visit if you are looking to get away from where the foreigners are. That doesn't mean there aren't tourists, it just means that the tourists are Brazilians. This makes for a damn good time whether you are an adventure seeker, amateur photographer, party animal or all of the above.
Ouro Preto isn't a place with a lot of foreign residents, nor foreign visitors, so it's best to use Facebook groups, like Foreigners in Brazil or Network for Foreigners in Brazil to get in touch with people who can answer any of your questions.
Have you already been to Ouro Preto? Are you planning to go? Comment below to say what you thought of your visit, or connect with other Brazilian Gringos that might be passing through Ouro Preto.