Do you want to have your phone ringing off the hook with people wanting to take English classes from you? Do you want to have private students lined up even before you enter the country? Do you want to teach to students who share the same passions as you?
Its possible to accomplish all of this when you create a website to position yourself as an authority of a niche English teaching topic. The way to do this is relatively simple and just about anybody can accomplish this.
Select a Niche
The first step is to determine what your specialization is going to be. Take stock of what you know, what hobbies you have, what training you've been through and other relevant life experiences that can be converted into a niche English teaching topic. You may already have chosen the niche you want to go into because you've been doing it for several years, but what if you don't have any idea what your niche should be?
You can market your services based on the geographical area that you were born in. There is strong belief amongst many English learners that one country's English is preferable to another and you can use this to your advantage. Brand yourself as a British, Australian or AmericanEnglish teacher. If you're from a popular state in the US like California or New York you could emphasis that over being an American.
Another way of branding yourself is to take an interest that you have and incorporate it into your teaching. Most people watch TV, movies and listen to music but they don't normally do so within the context of English learning. If you use music to teach all of your classes, not only will this be a strong branding move but it will make your classes a lot more fun for you and your students. You could even take an entire television series and base your lessons around that. Use one episode to teach each class and you will have lessons for years to come.
Any professional training and experience that you have can be pivoted into an English teaching specialization. If you worked as a doctor, medical assistant, pharmacist or nurse then you can specialize in medical English. If you graduated in Engineering, Law, Biology, Economics or even Philosophy you can use that to brand yourself and teach students who share that similar interest. You wont have any competition because most English teachers who go abroad don't take this step.
Branding yourself with a professional edge is a good way to position yourself to move beyond English teaching. If you specialize in import-export English teaching, you will naturally attract clients who work with import-export. Teaching English is the perfect way to make contacts and learn about an industry. Teaching English is probably the best way to extract information from someone because they are required to talk about themselves and what they know during each class. If I was a CIA agent gathering intel I would use English teaching as my cover since it so naturally leads into information sharing.
There are specific aspects of the language that you can capitalize on to incorporate into your branding. Grammar, pronunciation, accent reduction, phrasal verbs, slang are all topics that you can specialize in to attract students. If you like reading and want to attract more cerebral students then you can specialize in literary English.
If you really want to be a busy English teacher then all you have to do is brand yourself as the Football English guy. Football is a big part of peoples lives in most countries, but especially in Brazil. Using football to teach your classes will pretty much guarantee that your students will show up to every class.
I could go on and on about potential niches to specialize in, but I think you get the idea. I hope you've realized that there is pretty much endless potential in how you can brand yourself as an English teacher and escape the English teacher rat race. So now that you've got a niche what do you do next?
Start A Website
After deciding what your specialty is going to be, its time to set up a website. If you want to be taken seriously you need to have your own website with your own domain and not yourdomain.someoneelsesdomain.com. Its not the purpose of this guide to hold your hand through every step of the website building since many thousands of tutorials already exist on this topic. If you get stuck though you can email me.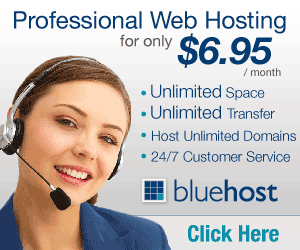 First you need to pick a domain name. Based on the niche you picked you should have a good idea of what you want your domain to be. If your ideal domain name is available in English it might be a good idea to grab that domain since it opens you up to an international market and doesn't restrict you to one country. If you're committed to one particular place then you should get the domain in that language. InglesParaEconomistas.com.br, InglesComFilmes.com and InglesBritanico.com are all some examples. Buy your domain with Namecheap and not Godaddy since Godaddy doesn't support internet freedom.
With your domain you will also need webhosting. I've gone through a half dozen web hosts over the last few years and recently I've found Bluehost to have the lowest down time and fastest customer support response time.  At this point you'll need to link up your domain to your web host.
Once you've got your domain and hosting figured out you need to set up the website. I recommend using WordPress because of how easy it is to use and the vast amounts of customizations that you can make with it. You can find hundreds of free themes online to customize the look of your site, as well as use many free tutorials to figure out what you want.
Create Content
Congratulations for making it this far! Now that you've got your site up and running its time to start filling it in with content. The content on your website will be divided into a few parts. You'll need to have an About page, a page where prospective students can learn more about how to hire you, a resources page as well as a blog.
The most important content on your website is what is on your blog. When you start your site you should have at least 5 pieces of incredibly useful content that is specific to your niche. Create 5 pieces of content that will position yourself as the authority on that topic. This should be content that everybody who is interested in that niche will want to share with their friends. The content should be timeless too so that you can share it with all future students.
These pieces of content are going to be like sales letters. They are your chance to show your students what you are all about and to give them an idea of the material that they will learn in class. Give away your best content and people will want to take class with you because nobody else gives away content like that.
If you're specializing in California English, you might do a post about the differences between California and New York English, a post with all of the vocabulary that is unique to California, a post breaking down the accent and tonality of the California accent, a post talking about how not to speak like a Californian, etc. Think about the first couple of lessons that you would teach your students and make content around that.
Your about you page should have a picture of you, talk about where you are from and why you are teaching where you are teaching. You'll also want to play up your credentials to why you are qualified to speak on that topic. If you don't have years of experience, your simple interest in the topic will suffice.
Set up a page that talks about your classes and the prices. By putting the prices online you are ensuring that only people who are willing to pay that price are going to call you. You'll save a lot of time dealing with people who aren't serious this way. Make it easy for people to contact you by putting your email, phone number and skype username.
Last but not least, set up a resources page where you link out to other useful sites where people can learn more about your niche and other English related topics. You should be continually showing your market leadership by Seaking out new resources and adding them to this page.
Market Yourself
By this point you've figured out which niche you are going to be in, you've build a professional looking website and you've filled it with useful content that your ideal clients will find useful. Now its time to actually build up your clientele and start teaching. There are a few marketing strategies worth pursuing that we'll cover here now.
If you're outside of the country and are going in cold without any leads then Facebook ads is going to be your best bet. Facebook ads allow you to target a specific demographic based on age, location, gender and even by which page they've liked. If your target market is doctors in Belo Horizonte, then all you need to do is find a Facebook page that doctors in Belo Horizonte have liked and target ads to them. It may be the case that a page for that specific demographic exists, but more likely you'll need to target a broader interest page and hone in with the demographic targeting tools of Facebook.
Paid advertising can be complicated for beginners. An easier strategy is to guest post for other blogs related to English teaching. Look for blogs that are specific to the region that you want to teach in and send an email to the owner of the blog telling him you want to do a guest post for them. Before you do this you should look around on their site and get an idea for what kind of content they publish, and suggest several ideas based on what they already have published.
If you're going to be in this niche for a long time then you will need to think about search engine optimization. If you're covering a super niche topic then its not likely that you'll have much competition in this regard, and after a few weeks of continually producing content you can be ranked highly for relevant search terms with basic SEO. Use Google Keyword tool to see if anyone is searching for terms similar to your niche and target those keywords.
And of course once you actually get to the country that you want to teach in you can start marketing yourself to everyone that you meet. Create business cards, perhaps with a resource related to your specific niche on the back of the card, and give them out to everyone that you meet. Hang out where your target demographic hangs out, make friends with them and casually drop that you teach pilot English, or football English and within no time at all you'll be fighting your students off with a stick.
This stuff can be really complicated and it is by no means an overnight path to success. But if you stick with it for the long haul you can create an asset that will continue to provide you with students for years into the future.