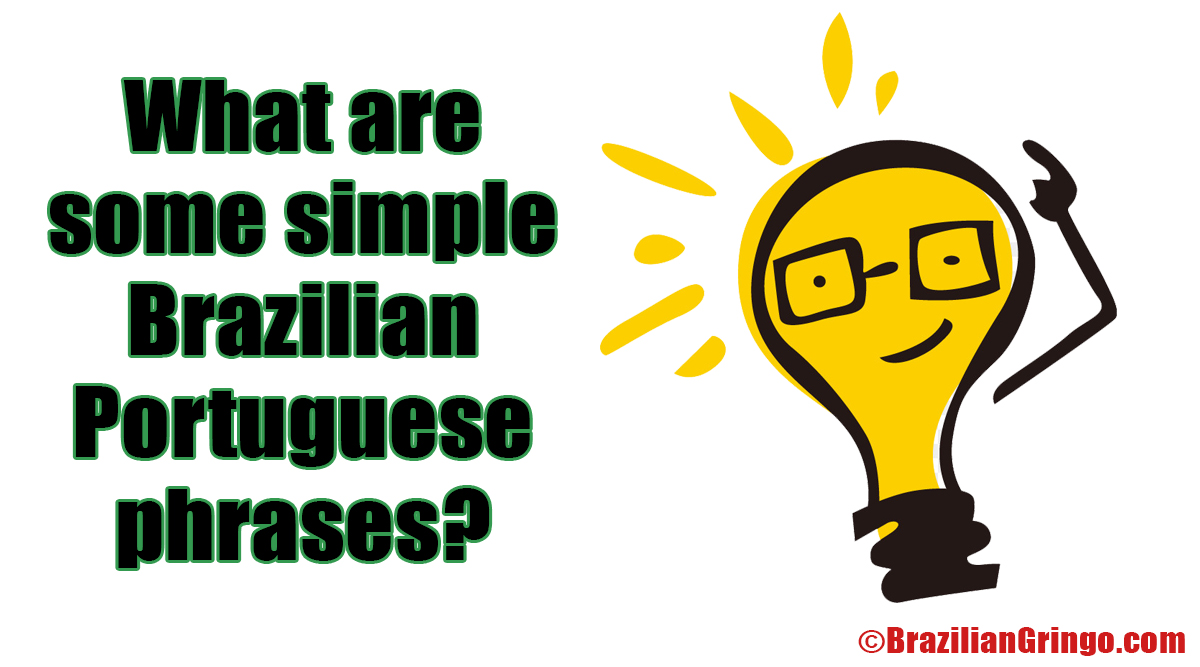 Here are some common and simple Portuguese phrases that are useful to know in Brazil:
Greetings:
Bom dia – Good morning
Boa tarde – Good afternoon
Boa noite – Good evening/night
Self-introductions:
Meu nome é [name]. – My name is [name].
Prazer em conhecê-lo. – Nice to meet you.
Asking questions:
Com licença/desculpe, onde fica o banheiro? – Excuse me, where is the bathroom?
Quantas horas são? – What time is it?
Expressing thanks:
Obrigado(a) – Thank you
Por favor – Please/You're welcome
Common responses:
Sim – Yes
Não – No
Claro – Of course
Talvez – Maybe
Numbers:
Um/uma – One
Dois/duas – Two
Três – Three
Quatro – Four
Cinco – Five
Food/drink-related:
Tenho fome/sede – I'm hungry/thirsty
Tem mais [item]? – Do you have any more [item]?
Quantos quilos? – How many kilos?
Here are some additional common Portuguese phrases that can be useful in Brazil:
Tchau/adeus – Goodbye
Com licença – Excuse me (when trying to get by or pass someone)
Desculpe – Sorry/Excuse me (when apologizing)
Obrigado(a) – Thank you
De nada – You're welcome
Como vai? – How's it going?
Bem, e você? – Good, and you?
Tudo bem? – Everything okay?
Mais ou menos – So-so
Não entendi – I didn't understand
Fala mais devagar – Speak more slowly please
Não falo português – I don't speak Portuguese
Não sei – I don't know
Onde? – Where?
Quanto custa? – How much does it cost?
Falta muito? – Is it much further?
Nota fiscal? – Receipt?
Pode repetir? – Can you repeat that?
Ajuda! – Help!
Socorro! – Help!
Cheguei – I've arrived
Some useful travel phrases:
Onde fica o aeroporto? – Where is the airport?
Como chego ao centro? – How do I get to the center?
Tem algum ônibus para…? – Is there any bus to…?
Onde fica o hostel/hotel? – Where is the hostel/hotel?
Posso ver o quarto? – Can I see the room?