In an attempt to simplify the lives of people who wish to travel to Brazil on a tourist visa I've created this page that should cover 99% of the questions that people have. Everything from how to apply for your Brazilian tourist visa, how to extend your visa, what happens if you overstay your visa, what you can do and can't do on a visa is covered in this post.
Please note that none of the following constitutes legal advice. Though every effort has been to provide accurate information based on official sources, consultations with legal professionals and hundreds of conversations with people who have been through the system, there are no guarantees when it comes to Brazil. Your mileage may vary.
Update November 2017: A new law went into effect that changed some of the laws governing the rights of foreigners in Brazil. This law also changes the fine for overstaying on a tourist visa from R$8.28 per day to R$100 per day, maxing out at R$10,000. See the law here:
Countries that do not require a tourist visa to Brazil
Holders of passports from the following 76 jurisdictions do not need to apply for a tourist visa before entering Brazil. For most South American countries it is possible to enter Brazil up to 90 days with just an ID card. Citizens of all other countries
Andora, Argentina, Austria, Bahamas, Barbados, Belgium, Bolivia, Bulgaria, Chile, Colombia, Costa Rica, Croatia, Cypress, Czech Republic, Denmark, El Salvador, Ecuador, Estonia, Finland, France, Germany, Greece, Guatemala, Guyana, Honduras, Hong Kong, Hungary, Iceland, Ireland. Israel, Italy, Latvia, Liechtenstein, Lithuania, Luxembourg, Malaysia. Malta, Macau, Monaco, Morocco, Namibia, Netherlands, New Zealand, Norway, Malta, Panama, Paraguay, Peru, Philippines, Poland, Portugal, Russia, Romania, Saint Marino, Serbia, Slovakia, Slovenia, South Africa, South Korea, Spain, Suriname, Sweden, Switzerland, Thailand, Trinidad and Tobago, Turkey, Tunisia. Ukraine, United Kingdom, Uruguay, Vatican, Venezuela.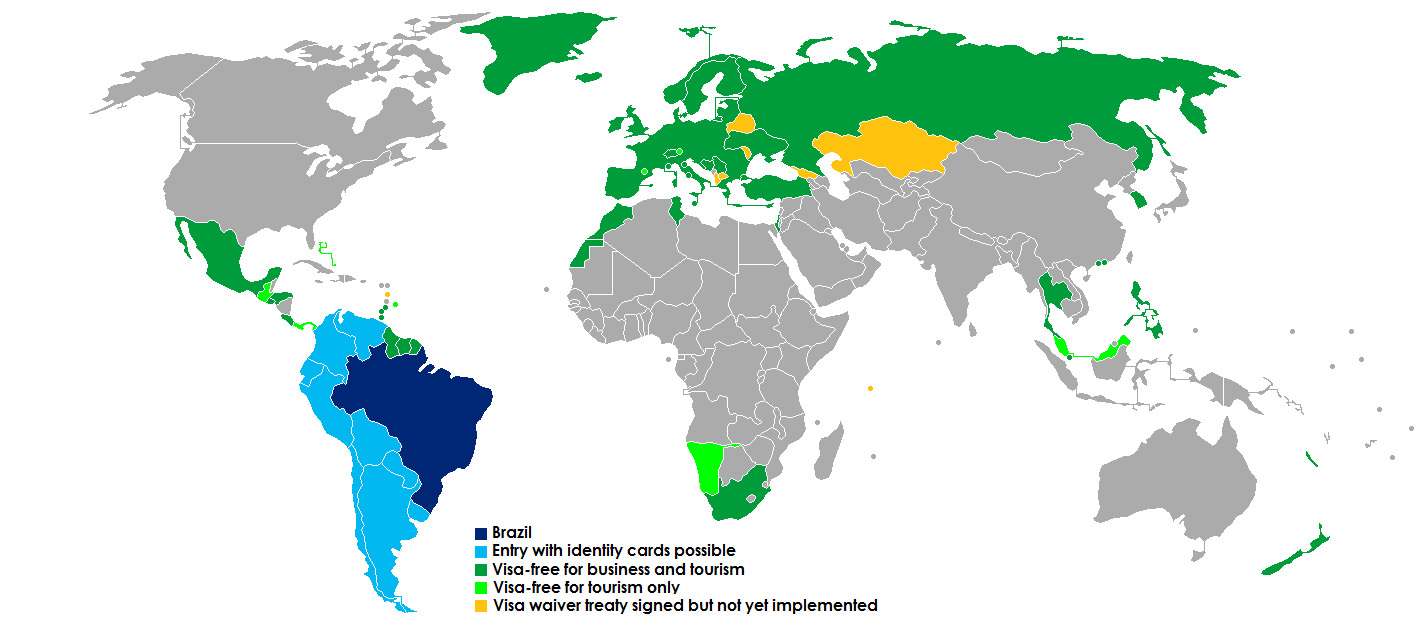 How to Apply for A Brazilian Tourist Visa
In general these are the documents you will need to apply for a Brazilian visa. Check the specific requirements of the Brazilian consulate in your jurisdiction.
A valid Passport with at least 6 months of eligibility and 2 blank pages left open
A signed Visa Application Form. You can get one from any consulate's website.
State ID or utility bill to prove residency in the jurisdiction you're applying in (US citizens)
1 recent 2″ x 2″ color passport-type photo showing the full front view of your face
Copy of your round trip ticket to Brazil (or other proof of outbound travel)
Money Order for Consular fees
Proof of yellow fever vaccination may be required if you've visited certain countries within 90 days before applying. Verify with your consulate.
You may also have to pay a fee, which is charged in reciprocity for an identical fee paid by Brazilian citizens who apply for a tourist visa to your country.
United States: US$ 160.00
Algeria: US$60.00;
Angola: US$100.00;
Australia: US$ 35.00;
Canada: US$ 65.00; CAD $81.50
Japan: US$ 25.00;
Nigeria: US$ 65.00;
United Arab Emirates: US$55.00;
United Kingdom: US$175.00 (only if stay is over 180 days);
all other countries: US$20.00.
You'll need to schedule an appointment in advance with your local Brazilian consulate or embassy in order to apply for a visa. It should take between 1-2 weeks for your visa application to be processed. Check the list below for your nearest consulate location.
Your closest Brazilian consulate may be very far away, in which case it's recommended you look into a visa expedition service to avoid having to make a 20 hour trek.
Time Restrictions on the Brazilian Tourist Visa
Brazilian tourist visas are typically valid for up to 10 years from the date of issue. Residents of some countries must enter Brazil within 90 days of the visa being issued in order for it to be valid. Countries on the list found here with (90) next to them have this requirement.
You are allowed to stay up to 90 days per visit to Brazil and a total of 180 days per year in the country as a tourist. You can stay 180 consecutive days in Brazil but you'll need to go to the Policia Federal and request an extension. More on that below.
How Does the 180 Day Thing Work?
A lot of confusion is generated by misunderstandings of how the 180 days are distributed, resulting in panic filled nights and people changing their travel plans. Some of the confusion can be cleared up by better understanding the terminology that we use.
There's 2 distinct pieces of paper that are often referred to as 'my tourist visa'.
1. Brazilian Travel Visa – A piece of paper that authorizes a passport holder from a non-visa exempt country to enter Brazil.
2. Arrival card – A piece of paper that you receive upon arrival authorizing your stay for a certain period. Never more than 90 days, but less can be given under the discretion of the Federal Police Agent.
During any one year period you are allowed to spend 180 days inside Brazil. This can be broken up any way that you want. 10 days here, 20 days there, 90 days here, 60 days there. Many people stay for 90 days, request a 90 day extension then leave once their second 90 day extension runs out.
The year is calculated based on the first time you enter Brazil, and not on the calendar year or some calendar that the Federal Police invented, as some people erroneously believe. So if you entered Brazil for the first time on June 15, 2014, you have 180 days to spend between June 15, 2014 and June 14, 2015, 180 days to spend between June 15, 2015 and June 14, 2016, etc.
What this means is that let's say you entered Brazil for the first time on February 12, 2010. You came to Brazil for a few weeks to see Carnival and haven't been back since. It's now November 14, 2014. Your period for this year started February 12, 2014 and ends February 11, 2015. You can spend the 90 days or so until your period starts over, at which time you have another 180 days to spend in Brazil between February 12, 2015 and February 11, 2016.
Keep in mind that the visa card you receive on arrival determines how long you have to stay until you have to apply for an extension or leave the country in order to have not overstayed. They may give you less than 90 days, but they will never give you more than 90 days at one time.
When leaving Brazil it's a good idea to ask the immigration officer at the airport to simulate a reentry in their computer to see how much time you really have left this period and when you'll be able to reenter if you've used up all of your time already.
In some cases people who have entered via land borders have found that their period started later than they thought due to computers not syncing up data with other immigration computers.
What if I'm a Dual Citizen?
While in the past you may have been able to enter Brazil using one passport, stay for 180 days, then leave and re-enter under another passport, this is no longer the case. It used to be that different passports were recorded differently in the system. Recently the Federal Police have been connecting all of the information in their systems in a process known as encruzamento de informações, and now everything shows up as the record of one person.
If you've heard somebody say that they were able to succeed in entering under a 2nd passport, this is likely due to the imprudente imperícia or negligência of the Policia Federal agent who received them at the border crossing. Sometimes there is an error in the system when processing entrances, and sometimes the person managing the system creates an error, resulting in someone doing something they shouldn't have been able to.
I heard about some special cases…
Due to the lack of uniformity in how procedures in Brazil are carried out, there is a lot of confusion about how things actually work.
There are the laws as they are written, the procedures by which organs of government apply those laws, and what actually happens on a day to day basis.
The systems are supposed to operate in a certain way, but sometimes there are unexplained errors in the system. People are supposed to do their jobs in a certain way, but sometimes they make mistakes. Sometimes people get results than differ from the norm because the person attending them that day made a mistake.
How to Extend Your Stay in Brazil
Requests to extend your tourist visa for an additional 90 days must be made at the local Federal Police office. A complete list of Policia Federal locations is found at the bottom of this post.
It's very important that you extend your stay before the initial 90 allotment has run out. If you stay 91 days and go to the Federal Police expecting to get an extension the Federal Police may give you a paper telling you that you have 7 days to leave the country instead.
You will need the following documents:
A filled out visa extension request form. Found here.
A printed bank statement or valid credit card to prove you will have sufficient money to spend another 90 days in the country; the bank statement has to be in your name.
Proof of outbound travel. For simplicity's sake, bring an airline ticket. A bus ticket will probably work without too much explaining. Having none of this, but having hotel bookings in a neighboring country may work with a bit of explaining done in your best Portuguese.
Your passport with the entrance stamp to Brazil.
Your tourist card (Cartão de Entrada), issued when entering Brazil.
Receipt of payment of visa fee. To do this you'll first need to fill out this online form (updated July 2018) and print out a receipt which you can pay at any bank. On the web form under Unidade Arrecadadora choose the city you'll be submitting your request to. If you're in a capital city you'll choose Superintendincia regional no estado de [whatever state you're in]. For codigo de receita STN use 140090, being the code for visa extentions. Then click 'gerar guia,' print out the form and pay the R$67 fee at the bank. Bring the receipt with you when you submit your visa application. Note that the website doesn't always work with all browsers, so if it does something funny for you then try in a different browser.
Can I Change From A Tourist Visa to Another Visa Type?
If you enter Brazil under a tourist visa you will not be able to change visa types from within Brazil. You will need to leave the country then reenter under your new visa type in order for it to take effect.
Applying for a Student Visa for example must be done at a Brazilian Consulate or Embassy outside of Brazil. Some Europeans have reported success in completing this process in nearby Argentina or Uruguay, while many Americans have been told they need to do this in their home country. You'll probably have to do this in your home country as well, but you may get lucky and succeed in getting your student visa without leaving the continent.
The exception to this is if you get married to a Brazilian in Brazil, or have a child born in Brazil you can apply for permanent residency at the Federal Police station without having to leave the country.
Overstaying a Brazilian Tourist Visa
Update November 2017:  The new Lei da Migração has increased the fine for overstaying from R$8.28 per day to R$100 per day. The new maximum fine is now R$10,000.
Overstaying your tourist visa can happen in two cases:
You've stayed beyond the 90 [or whatever they give you] days granted on your arrival card, or the 90 days granted by your extension.
You've stayed in excess of 180 days during your 1 year period.
Once you've overstayed your tourist visa you will be subject to a fine of R$100 per day that you overstay, with the maximum fine being R$10,000. Whether you overstay 100 days or 10 years the fine is the same.
When you leave Brazil via airport, if they notice that you've overstayed they will take you into the back room and make you sign a form acknowledging that you've overstayed and that you agree to paying the fine. They will also leave a nasty stamp in your passport saying that you've overstayed and that you have an outstanding fine. Make sure you have the form they give you with you when you return to Brazil in order to avoid complications. 
You're technically supposed to pay this fine at a Banco do Brasil outside of Brazil, but in practice you'll probably pay this fine when you try to reenter Brazil. If the immigration officer notices that you've overstayed he will hold onto your passport while you go to a bank or casa loterica to pay your fee. In some cases people have been sent back on the plane they came in on because their flight arrived in the middle of the night when banks were closed and the immigration officer didn't want to be responsible for them. To avoid complications, bring Reais with you and arrive during normal business hours.
It's also possible to go to the airport a day before your flight and pay the fine so that you don't have to do this on the way back.
It's worth noting that once you overstay your tourist visa you have committed an administrative infraction and have achieved irregular status. The penalty if you are caught is deportation and you will not be allowed back in until your period starts over.
On the rare occasion that a foreigner is caught by the authorities having overstayed their visa, they will typically be referred to the Federal Police and given between 3 and 8 days to leave the country.
Can I Get Married After Overstaying My Tourist Visa?
It is possible to marry to a Brazilian in Brazil regardless of how much time you have overstayed, as this is viewed as a fundamental human right. This is the law of the land, but cartórios in the state of Rio de Janeiro have decided to not process marriages where the foreigner has overstayed their tourist visa. In this case you will need a court order to override their incorrect interpretation of the law.
When is the Next Time They're Going to Give Amnesty?
There was a proposal that would've given amnesty to illegal foreigners in Brazil that was tabled on January 31, 2015. There is no indication as to when the motion will be considered again. View the proposal here.
Laws Governing the Brazilian Tourist Visa
Update:  A law passed in May 2017 that went into effect in November 2017 made some changes to the foreigner code. Previously,  LEI Nº 6.815, DE 19 DE AGOSTO DE 1980.  was the law which governed foreigner activities in Brazil. This law has been revoked and superceded by Projeito de Lei 13445 / 2017, which establishes the Lei da Migração or Migration Law.
A careful reading of this law would solve much of the confusion that people bring to this page. The rest of the confusion could be cleared up with uniform application of processes dictated by the laws as they are written.
What You Can and Can't Do on a Tourist Visa
Article 9 states that tourist visas are granted to those who don't intend on immigrating and aren't aiming to participate in paid activities in Brazil.
Article 98 clarifies that you're forbidden from partaking in paid activities in Brazil under a tourist visa.
Article 106 specifies a lot of things that foreigners can't do, such as be the captain of a Brazilian boat, provide religious service to the armed forces, be a public auctioneer, be the leader of a trade union and a lot of other things that most foreigners wouldn't think of doing.
Article 107 lays out the political activities that you're forbidden from partaking in, such as organizing a political party, organizing a parade or demonstration or performing acts of political espionage.
Rights and Restrictions of Tourists in Brazil
Here are some rough translations of selected parts of Title X
Article 95. The foreigner residing in Brazil enjoys all of the rights recognized by Brazilians under the terms of the Constitution and the law.
Article 96. The foreigner should present proof of their legal stay in Brazil whenever requested by any authority or their agent.
Contact Info For Official Offices
You can find a complete list of Brazilian consulates around the world here. Here's another list in case you can't find what you're looking for there.
Brazilian Consulates in the US
Washington, D.C. Brazilian Embassy
3006 Massachusetts Avenue, NW
Washington, DC 20008-3634
(202) 238-2700
Consular Service
3009 Whitehaven Street, N.W.
Washington, DC 20008-3634
(202) 238-2828
Email: consular@brasilemb.org
Jurisdiction: District of Columbia, Kentucky, Maryland, Ohio, Virginia and West Virginia
Consulate General of Brazil in Boston
The Statler Building
20 Park Plaza, Suite 810
Boston, MA 02116
(617) 542-4000
Email: cgbos@consulatebrazil.org
Jurisdiction:_Maine, Massachusetts, New Hampshire, Rhode Island and Vermont
Consulate General of Brazil in Chicago 
401 North Michigan Avenue, Suite 3050
Chicago, IL 60611
(312) 464-0244
Email: cgchgo@ix.netcom.com
Jurisdiction: Illinois, Indiana, Iowa, Michigan, Minnesota, Missouri, Nebraska, North Dakota, South Dakota and Wisconsin
Consulate General of Brazil in Houston
1233 West Loop South,
Park Tower North, Suite 1150
Houston, TX 77027
(713) 961-3063/64/65
Email: consbras@brazilhouston.org
Jurisdiction: Arkansas, Colorado, Kansas, Louisiana, New Mexico, Oklahoma and Texas
Consulate General of Brazil In Los Angeles
8484 Willshire Blvd., Suite 730 / 711
Beverly Hills, CA 90211
Phone # (323) 651-2664
Email: info@brazilian-consulate.org
Jurisdiction: Arizona, Hawaii, Idaho, Montana, Nevada, Utah, Wyoming, U.S. Pacific Islands (Johnston, Midway, Wake, Howland, Jarvis, Baker, Palmyra & Kingman), California counties of Imperial, Kern, Los Angeles, Orange, Riverside, San Bernardino, San Diego, San Luis
Obispo, Santa Barbara and Ventura
Consulate General of Brazil in Miami
80 SW 8th Street
26th Floor
Miami, FL 33130-3004
(305) 285 6200
Email: consbras@brazilmiami.org
Jurisdiction: Florida,  Puerto Rico, US Virgin Islands and the Bahamas
Consulate General of Brazil in New York
1185 Avenue of the Americas
21st Floor
New York, NY 10036-2601
(917) 777-7777
Email: consulado@brazilny.org
Jurisdiction: Connecticut, Delaware, New Jersey, New York, Pennsylvania and Bermuda
Consulate General of Brazil in San Francisco
300 Montgomery Street, Suite 900
San Francisco, CA 94104
(415) 981-8170
Email: brazilsf@brazilsf.org
Jurisdiction: Oregon, Washington, Alaska, and California counties of Alameda, Alpine, Amador, Butte, Calaveras, Colusa, Contra Costa, Del Norte, El Dorado, Fresno, Glenn, Humboldt, Inyo, Kings, Lake, Lassen, Ladera, Marin, Mariposa, Mendocino, Merced, Modoc, Mono, Monterey, Napa, Nevada, Placer, Plumas, Sacramento, San Benedito, San Francisco, San Joaquin, San Mateo, Santa Clara, Santa Cruz, Shasta, Sierra, Siskyou, Solano, Sonoma, Stanislau, Sutter,Tehama, Trinity, Tulare, Tuolunme, Yolo and Yuma
Brazilian Consulate General in Atlanta
3500 Lenox Road, Suite 800
Atlanta, GA 30326
Phone: (404) 949-2400
Email: consuladoatlanta@gmail.com
Jurisdiction: States of Alabama, Georgia, North Carolina, South Carolina, Mississippi and Tennessee.
Brazilian Consulates in Canada
Note that the Visa Requirements for Canadians are the same as mentioned above. The visa fee must be paid with money order from Canada Post or your local bank.
Consulate General of Brazil in Vancouver
666 Burrard Street – suite 2020
Vancouver, BC  V6C 2X8
Phone: 1 (604) 696-5311
Fax: 1 (604) 696-5366
visa.vancouver@itamaraty.gov.br
Jurisdiction: Serves British Columbia, Alberta, Saskatchewan, Yukon and Northwest Territories
450 Wilbrod Street,
Ottawa, ON, K1N 6M8
Phone: (613) 237-1090
Fax (613) 237-6144
consular.ottawa@itamaraty.gov.br
Brazilian Consulate General in Toronto
77 Bloor Street West, 1109
Toronto, Ontario.
Phone: (416) 922 2503
Fax:  (416) 922 1832.
info@consbrastoronto.org
Jurisdiction: Ontario, except Ottawa, Manitoba and Nunavut
Brazilian Consulate General in Montreal
1, Westmount Square, suite 1700
Montreal, QC H3Z 2P9
Phone: 514-499-0968
visa.montreal@itamaraty.gov.br
Jurisdiction: Quebec, New Brunswick, Nova Scotia, Prince Edward Island, Newfoundland
Federal Police Offices in Brazil
The official list can be found here. Note that they give the incorrect address for the Policia Federal in Belo Horizonte and you should instead go to the address I've indicated below.
ACRE
Rua Floriano Peixoto, 874
Centro
69908-030  Rio Branco AC
Phone: (55) (68) 3212-1200
Fax: (55) (68) 3223-3565
ALAGOAS
Av. Martin Luther King (Cais do Apolo), 321
Bairro do Recife
50030-230 Maceió AL
Phone: (55) (81) 2137-4000
Fax: (55) (81) 2137-4033
Av. Maceió S/N – Bairro Jaraguá
57025-080 Maceió AL
Phone: (55) (82)- 216-6767
AMAPÁ
Av. Ernestino Borges, 1402
Bairro Jesus de Nazaré
68908-010 Macapá AM
Phone (55) (96) 3213-7500/ 7504
AMAZONAS
Av. Domingos Jorge Velho, 40
Bairro Don Pedro II- Planalto
69042-470  Manaus AM
Phone: (55) (92) 3655-1515/ 1517
Fax: (55) (92) 3656- 7676
BAHIA
Av. Oscar Pontes, 339
Bairro Agua de Meninos
40460-130  Salvador BA
Phone: (55) (71) 3319-6000
Fax: (55) (71) 3321-3927
CEARÁ
Rua Dr. Laudelino Coelho, 55
Bairro de Fátima
60415-430 Fortaleza CE
Phone: (55) (85) 3392-4900
Fax: (55) (85) 3392-4973
DISTRITO FEDERAL
SAIS Quadra 7 – Lote 23
Setor Policial Sul
70610-902  Brasília DF
Phone: (55) (61) 2024-7500/ 7501/ 7502/ 7503/ 7678
Fax: (55) (61) 2024-7401
ESPÍRITO SANTO
Rua Vale do Rio Doce, 01
São Torguato – Vila Velha
29114-670  Vitória ES
Phone: (55) (27) 3041-8000/ 8002
Fax: (55) (27) 3041-8030
GOIÁS
Av. edmundo Pinheiro de Abreu, 826
Setor Bela Vista
74823-030 Goiânia GO
Phone: (55) (62) 3240-9600
Fax: (55) (62) 3240-9623
MARANHÃO
Av. Daniel de La Touche, 4000
Cohama
65074-115  São Luis MA
Phone: (55) (98) 3131-5100/ 5173
Fax: (55) (98) 3131-5103
MATO GROSSO
Av. Historiador Rubens de Mendonça, 1205
Araés
78008-000  Cuiabá MT
Phone: (55) (65) 3614-5600/ 5665
Fax: (55) (65) 3314-5506
E-mail: dpf.cm.nti.srmt@dpf.gov.br
MATO GROSSO DO SUL
Rua Fernando Luiz Fernandes, 322
Lar do Trabalhador
79110-901 Campo Grande MS
Phone: (55) (67) 3368-1100
Fax: (55) (67) 3368-1169
E-mail:  cm.nti.sms@dpf.gov.br
MINAS GERAIS
Rua Francisco Deslandes, 900 – Anchieta – in the 3rd floor of Shopping Plaza Anchieta (Note that the office has moved and and many official sources are outdated and mistakenly report that this is located at Francisco Holandes)
30310-530  Belo Horizonte MG
Phone: (55) (31) 3218-6420
Fax: (55) (31) 3335-8832
PARÁ
Av. Almirante Barroso, 4466
66610-000  Belém PA
Phone: (55) (91) 3214-8000/ 8014
Fax: (55) (91) 3214-8043
PARAÍBA
BR 230, Km 07, Via de Acesso Ponta de Campina
58310-000 Cabedelo PB
Phone: (55) (83) 3248-5900
Fax: (55) (83) 3248-5901
PARANÁ
Rua Professora Sandalia Monzon, 210
Santa Candida
82640-040  Curitiba PR
Phone: (55) (41) 3251-7500/ 7501
Fax: (55) (41) 3257-2738
E-mail: gab.srpr@dpf.gov.br
PIAUÍ
Rua Maranhão, 1022 – Norte – Centro
64000-010  Teresina PI
Phone: (55) (86) 2106-4924
Fax: (55) (86) 2106-4921
RIO DE JANEIRO
GIG International Airport – Av. Rodrigues Alves, 1 – 3º floor – Centro
20081-250  Rio de Janeiro RJ
Phone: (55) (21) 2203-4000
Fax: (55) (21) 2253-3454
RIO GRANDE DO NORTE
Rua Dr. Lauro Pinto, 155
Nova Lagoa
59064-250  Natal RN
Phone: (55) (84) 3204-5503/ 5500
Fax: (55) (84) 3204-5604
E-mail: gab.srm@dpf.gov.br and
sec.gab.srrn@dpf.gov.br
RIO GRANDE DO SUL
Av. Ipiranga, 1365 – Azenha
90160-093  Porto Alegre RS
Phone: (55) (51) 3235-9000/ 9001/ 9003/ 9007/ 9020
Fax: (55) (51) 3235-9004
RONDÔNIA
Av. Lauro Sodré, 2905 – Costa e Silva
Porto Velho RO 76802-449
Phone: (55) (69) 3216-6200/ 6225
Fax: (55) (69) 3216-6244/ 3229-3546
RORAIMA
Rua Fernao Dias Paes Lemos, 11
Calunga
69303-220  Boa Vista RR
Phone: (55) (95) 3621-1515
Fax: (55) (95) 3621-1525
SANTA CATARINA
Av. Paschoal Apostolo Pitsica, 4744
Agronômica
88025-255   Florianópolis SC
Phone/Fax: (55) (48) 3281-6500
SÃO PAULO
Rua Hugo D' Antola, 95 – Lapa
05038-090  São Paulo SP
Phone: (11) 3538-5000
Fax: (55) (11) 3538-5930/ 6187
E-mail: nutel.srsp@dpf.gov.br
SERGIPE
Av. Augusto Franco, 2260
Siqueira Campos
49075-100  Aracajú SE
Phone: (55) (79) 3234-8500/ 8579
Fax: (55) (79) 3234-8547
TOCANTINS
Av. Teotonio Segurado,
Qd 302 Norte QI 01 Lote 02
77006-332  Palmas TO
Phone: (55) (63) 3218-5700/ 5715
Fax: (55) (63) 3218-5715
Using a Visa Expedition Service
While this guide was written for people who like to figure things out by themselves, some people may prefer to use the services of a visa expedition company. In other cases there may be no other option but to use the services of such a company, as they often have connections and insights into the visa application process that mere mortals cannot hope to attain under short notice.
If you would rather pay someone to take care of all of the dirty work for you, here are three visa expedition services that come recommended by readers:
VisaHQ – The most popular option recommended by Brazilian Gringo readers.
Travel Visa Pro – These guys are supposedly pretty quick and they offer a lot of other services as well such as legalizations.
Passport Visa Express – Somewhat of a dinosaur in the visa expediting industry. Their website is really easy to use with a tool that shows you everything you need to know based on your zip code.
Final Note
Though I believe this to be the best information you'll find on this subject on the internet, nothing is guaranteed since this is Brazil after all, where bureaucrats can make up rules on the spot and deny your legal requests just because they can.
You may hear people disputing some of the assertions made above. I'm not going to say that they're wrong, because their experience might speak to the truth of a particular government office on a certain day when a specific person was working there and decided that things were going to be done differently that day.
I understand that people make significant life decisions based around their legal status in Brazil and I've gone to painstaking lengths to gather enough stories from people to be able to guarantee with reasonable certainty that what I've written is actually how things work in practice.
Best of luck to you out there. If you have any questions or want to share your experiences so we can all benefit from them, please do so below.
Before You Comment
I'm sure you have questions about your case. I assure you that there's nothing unique about your situation, and I've probably answered a question like yours several times before. Read through the comments thoroughly before asking another question.
If after reading you still feel like you need to ask a question, I'd like to ask you a question first. Is it information that you want from me, or are you hoping that I'll remove some of the uncertainty you're feeling about this process? At some point on your Brazilian journey you're going to have to learn how to proceed boldly in situations of uncertainty. If you don't start now, then when?
If you feel like your situation is really complex and you want help beyond what's written in the article, leave a comment so that I can answer your question in a place where others can read it.
If you have legal issues that go beyond needing simple help with your tourist visa, email me and I'll refer you to an immigration lawyer in Rio who can sort you out.