Having lived in Belo Horizonte for around a year and a half, I need to write a post explaining why I spent so much time in the city. Whenever I travel outside of BH and tell Brazilians how much time I spent in BH they get confused as to why I would hang up my hat in Belo. Even some mineiros are confused as to why a foreigner would choose to live in their city instead of the Paulistano and Carioca capitals.
Though I don't live in Belo Horizonte anymore, I have many fond memories of the place and plan on visiting as often as I can.  In order to help you understand what I think is so great about the city I want to share my top 11 reasons why I like living in Belo Horizonte.
Mineiro People
The people who live in Belo Horizonte are by far what makes the city such a great place to live. Brazilians are already a friendly and warm group of people, but there is something special about Mineiros that makes them even friendlier than other Brazilians, if its even possible for Brazilians to be beyond friendly.
I consider myself very lucky to have been able to make so many friends during my time in Belo Horizonte, something I'm not sure would have been so easy in other cities. Whenever I went out anywhere, whether to the grocery store, on the bus or at a party, people were always very friendly and open to me. When they found out I was a foreigner they went out of their way to make me feel at home.
I've traveled around Brazil enough to know that Mineiros are a special bunch and I look forward to random encounters I have with them outside Minas Gerais.
Minerês – Portuguese from Minas Gerais
The Portuguese spoken in Minas Gerais is distinct from Portuguese spoken in other states. When I first went to Belo Horizonte I already spoke conversational Portuguese, and when I first started talking to Mineiros I wasn't sure what language they were speaking.
Mineiros have the tendency to shorten words like você and onibus which can be tricky if you're not familiar with it. They also like to use the diminutive form of every word possible. My favorite word in minerês is trem, which can be any word you want it to be. This is especially useful if you forget a word or are unsure of its pronunciation, because you can just point at something and call it a train.
The Size of Belo Horizonte
When I started looking around Brazil for a city to park myself in for a while, I first went to São Paulo and Rio de Janeiro. What turned me off about those cities is that they are huge and you can easily lose half your day just getting around them. But Beagá is not like that.
What I like about Belo Horizonte is that it is a big city without feeling like a big city. Some 5 million people live in the metropolitan area of Belo Horizonte, but you would never guess that the city is that big when you live there.
There is a popular saying that "BH is an egg," which for some reason explains the frequency that you run into people that you know when walking around town. This also is used to describe the common occurrence of meeting someone and finding out that you have a random mutual connection.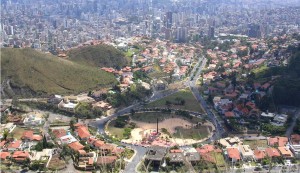 Lack of Foreigners in Belo Horizonte
One thing that initially attracted me to Belo Horizonte is the lack of foreigners living in the city as compared to Rio. Whereas in Rio you can play the "Spot the gringo" game and easily find someone within 5 minutes, in Belo Horizonte you might go weeks before you randomly come across a gringo.
If learning Portuguese is important to you then you should avoid speaking English as much as possible. Its very easy to do this in Belo Horizonte because there are so few foreigners around to tempt you into speaking English, and you will take your Portuguese studies more seriously.
Now, there is a pretty big downside in BH not having many foreigners living there, and that is that the city doesn't know how to accommodate foreigners. In the time I lived there I only met maybe 3 taxi drivers who spoke conversational English. If you don't have a Brazilian partner or a really good friend it will be almost impossible to rent an apartment on your own.
But again, I think this is part of the charm of Belo Horizonte. You live here because you want to be a local and not because you want to speak English all the time.
Real Life English
If you do want to take a break from your intensive Portuguese studies and speak some English then you'll find yourself at home with Real Life English. Real Life English was founded by a group of English teachers who wanted to give their students an opportunity to practice in a real life setting. The group has been going strong for almost two years now and boasts attendance of more than 150 people at their monthly events.
They have a Facebook group and website that are great resources for anyone who is learning or teaching English. If you're in BH make sure you join the group in order to get invitations to the parties they throw every month.
Low Cost of Living in Belo Horizonte
Brazil gets a lot of criticism by foreigners for being an expensive place to live. I'm not going to dispute this point because Brazil is way more expensive than it should be. That being said, it is possible to live in Brazil on the cheap if you're in a place like BH.
My monthly living expenses never went beyond R$2000 while living in Belo. I was paying R$650 for rent for an apartment that if it was in Rio I would be paying closer to R$1500. Restaurants in BH have this wonderful system called "Sem balança" which means you can stack your plate sky high with food and one piece of meat and pay a fixed price, usually around R$8.
BH's San Pedro Valley
You would never guess it, but Belo Horizonte is actually home to a burgeoning startup scene. The city was recently featured in the Economist because of all of the startup activity that goes on in Belo.
San Pedro Valley is the name given to the group of 54 startups that are based in BH, many of them in or near the São Pedro neighborhood. This group is determined to put Belo Horizonte on the map as the Silicon Valley of Brazil. They've even gone so far as to create an interactive map to make it easier to get a feel of the scene.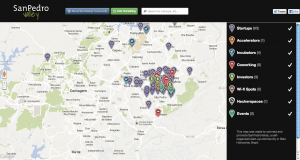 Free Shows and Concerts
Belo Horizonte always has something going on every day of the week. If you tune in to some local sites that publish happenings around the city you'll see that there is something going on every day of the week, with many free events and shows.
One of my favorite things that happens in BH during the summer is the Praia da Estação. I liked it so much that I included it in my Gringo Style parody.
Proximity to Nature
Belo Horizonte is centrally located in the state of Minas Gerais, which is home to an abundance of natural beauty. Waterfalls, caves, parks and a bunch of other cool places are to be found around BH. If you venture out a bit further you can visit colonial towns like Ouro Preto, Diamantina, and Tiradentes.
Rei do Pastel
As one of the few places in the city open 24 hours, Rei do Pastel is my late night go to spot. In addition to the disgustingly greasy pastels that taste especially delicious after a night of drinking, they offer a wide range of fresh juices. Whenever I passed by one of the three locations I would always grab a refreshing glass of Caldo de Cana with lime to help cool down.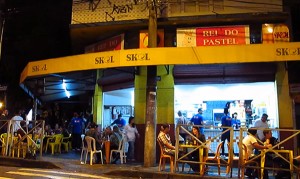 Clube Atletico Mineiro
I must confess that I'm not a very big sports fan, which must be a big surprise coming from an American. One thing that impressed me about Belo Horizonte is the enthusiasm that people show towards their football teams. Any time there is a football game, you'll know about it because the whole city will erupt into roars of "GALOOOOOOO" and your neighbors will light off fireworks to celebrate the start, middle and end of every game.
I didn't plan on getting interested in football, but living in Belo Horizonte I had no choice. Now I'm Galo doido like a good mineiro should be.
So that's my 11 things that I like about living in Belo Horizonte. I had to leave out a lot of little things that I love about the city to keep this post short, but hopefully I've sparked your curiosity about Beagá and you'll consider checking it out.
Have you been to Belo Horizonte? What do you like most about the city?