By far the biggest challenge that foreigners face when moving to Brazil is the lack of reliable information for which to plan their lives around. When you move to a 2nd tier city like Belo Horizonte you may at times feel like you're the only foreigner in town. While this can be good for learning Portuguese, it will ultimately make your life more difficult because businesses wont be used to accommodating foreigners.
The purpose of this guide is to make life easier for foreigners moving to Belo Horizonte by assembling all of the information that foreigners would need in one place. If you have a tip that you think would be useful for foreigners in Belo leave a comment below.
Networking in Belo Horizonte
If you're moving to Belo Horizonte you should make an effort to network with people here before you come. Its likely that whatever difficulties you have other gringos have gone through as well. Believe it or not, there actually are a good number of foreigners living in Belo Horizonte. Here's how you can find them:
BH Gringos Network – This is a Facebook group with many foreigners and Brazilians who like helping foreigners. Feel free to introduce yourself and ask questions.
Real Life English – The Real Life Guys are a group of English teachers in Belo Horizonte who throw monthly English only events to give Brazilians a chance to practice English and to give foreigners the chance to speak to other English speakers. Join their Facebook group in order to get information about their next party.
Minas International – This group is oriented for families with kids and for business networking founded by American expats. They have frequent meetups posted on their website.
Bar do John – Bar do John is an Irish/Australian pub run by an Australian expat. Because its the only gringo owned bar in the city it is frequently trafficked by foreigners. Go here on almost any night and you're sure to run into someone who speaks your language.
Café com Letras – I like to hang out here because I can sit for several hours on my laptop without someone constantly asking me if I want something. Many times I have been here and I'll hear someone giving an English class. If you want to lounge around somewhere with an increased chance of meeting another foreigner, here is the place to go.
If you're looking to rent an apartment in Belo Horizonte there are a few things you must take into consideration. Most rentals will require you to sign a contract for at least a year, sometimes up to three years. They will also require you to have fiadores, which is like a cosigner, but they require much more information from them, such as their complete financial history. There exist some companies who will be your fiador, but they charge you several months rent up front for this service.
Here are some sites where you can find apartment listings. All in Portuguese of course.
Aluguel Temporada – A site that specializes in short term leases.
OLX – OLX is kind of like the Brazilian equivalent of craigslist. They have a housing section.
VivaStreet – Another classified board with apartment listings.
Zap – Temporary apartment rentals
What if you're just looking for a cheap room, perhaps in an apartment with Brazilians so that you can improve your Portuguese? There are a few ways you can do this.
Easyquarto – This is the best site to use if you are just looking for a room to rent. You can find reasonably priced rooms in good locations with Easyquarto. Check out my tutorial on how to use Easyquarto.
Another way you can find a room for rent is by posting in one of these many facebook "republica" groups. Republica is a term often mistranslated as dormitory that is basically a boarding house, or a place where someone has rooms that they rent out usually to students. Group 1. Group 2. Group 3. Group 4. Make sure you post in Portuguese. Look around to see what other people are posting, use google translator and change details to fit your situation.
Best Neighborhoods to Live in Belo Horizonte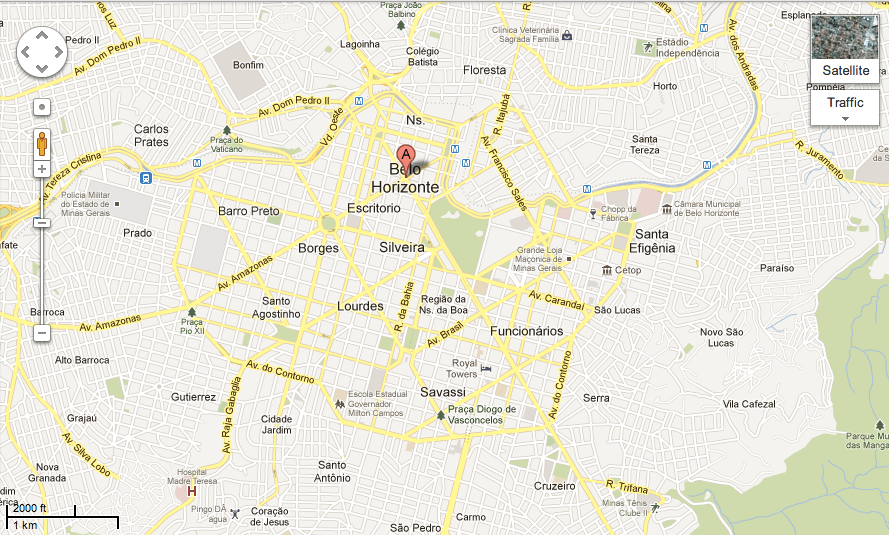 So you've looked at a bunch of apartment listings and now you're wondering if the apartment you like is in a good location. I'll give you my recommendations for neighborhoods but note that I'm a 20 something male who doesn't like long commutes and wants to be centrally located.
Savassi/Funcionarios/Lourdes – These neighborhoods are right in the center of the city, close to the business district and much of the nightlife. You'll pay more to live here but you'll be closer to everything that goes on in the city. This is my preferred place to live.
Santa Tereza/Floresta – About a 20 minute bus ride to the Savassi area. This is one of the oldest neighborhoods in Belo Horizonte and most of the residences here are houses. It has a more bohemian vibe with a rich cultural history and lots of cool bars. I lived here for almost a year and had a positive experience here.
Centro – This is the center of the city and you'll be able to tell because its dirtier and with a high number of people living on the street. If you're really bootstrapping this is the neighborhood to live in. Cheap rent and central location.
Serra – Another cheap bairro with a good location. It neighbors a favela and the closer you get to it the less safe you may feel.
Gutierrez – I've lived here a few months and found it a pleasant place to live. Its a bit more middle class with higher prices. I liked living here because its got an upper class grocery store with harder to find international ingredients, and an outdoor foodcourt with free wifi. 20-30 minute bus ride to Savassi.
Pampulha – If you're going to be taking classes at UFMG or want to be in an area filled with more students, Pampulha is the neighborhood to be in. Rent is cheaper here but its far away from Savassi. I've never been out in this direction much but it seems like there is a lot to do out there.
Mangabeiras – One of the richest neighborhoods in Belo Horizonte. If you want to live in a 3,000 square foot house this is the neighborhood for you. You'll find going up and down the hill to be inconvenient if you don't have a car, but if you're living up there you can probably afford one anyway.
Coworking Spaces
If you're a freelancer and you need a place to work in Belo Horizonte, there are several options for you.
CWK Coworking located in Savassi on Contorno.
Space 4 Me Coworking in Lourdes.
Desk Coworking in Santa Efigenia.
Elo Coworking in Belvedere.
Portuguese for Foreigners Classes in Belo Horizonte
UFMG Portuguese for Foreigners Class – The Universidade Federal de Minas Gerais offers Portuguese for foreigners classes twice a year. Classes start in March and September, but you can join up to two months late. You can also get a student visa if you take classes here.
English Language Solutions – ELS is an school with all native English speaking teachers and they're also the leader in BH for Portuguese for foreigners classes. They are able to help you out with the paper work to get a student visa with less bureaucracy than UFMG.
10 Kilos of Açaí Delivery
Did you know you can order 10 kilos of açaí at a time? Call Marcelo 9665-2401 any time before noon and he should deliver 10 kilos of açaí to you later that afternoon. Costs R$70 and 1 kilo of granola is R$7. I feel this is a necessary addition to the list because I can't be the only gringo who is so crazy about açaí that he wants to have a big box of it in the freezer ready to eat any time.
Nightlife in Belo Horizonte
Belo Horizonte has the highest concentration of bars per capita in the world or so they say. I'm not going to list all of the little bars in BH because you'll either stumble upon them if they're close to where you live or you'll be brought there by friends.
Guia BH – You can check this site out for things that are going on in Belo Horizonte.
Things to Do Around Belo Horizonte
Inhotim – Inhotim is a must see attraction if you're passing through Belo Horizonte. It is a beautiful botanical garden and park. Click on the link and just look at the pictures of the place.
Serra do Cipó – This is one of the most beautiful spots in Minas Gerais. Located 90 kilometers outside of Belo Horizonte it is home to countless waterfalls and other wonders of nature.
Ouro Preto – Ouro Preto is one of Minas' must visit cities. Check out our guide to Ouro Preto to learn more about this charming colonial city.
Gringo Ambassadors in Belo Horizonte
I've created a group on Facebook to facilitate friendships between helpful Brazilians and foreigners who are new in town. Join the Belo Horizonte Language Exchange group and make new friends.
Other City Guides
Not sold on Belo Horizonte? Check out some of these other posts about cities in Brazil.
A Guide to Living in Florianópolis