Word is starting to get out that Brazil is the best place in South America to move to and become an English teacher. Earlier this week I released a music video parody of Gangnam Style that talks about how great of a place Brazil is for teaching English. If you haven't already seen Brazilian Gringo Style, go ahead and take a look.
It is impossible to mention everything that makes Brazil such a great place to live in a short video, and some intangible things that make Brazil so awesome can't be shown, and have to be experienced. In this article we're going to take a deeper look at some of the lyrics in the video, as well as discuss positive things about Brazil that were left out of the song.
High Demand for English Teachers
Brazil's demand for English teachers is only increasing as it scrambles to get ready for the World Cup in 2014 and the Olympics in 2016. Gringo Style hinted at this demand with these lyrics:
"And don't think you can live here if you only speak in English."
English proficiency in Brazil is still relatively low, which presents several business opportunities for professionals who wish to come to Brazil and help people improve their English. Whether your ambition is to be an hourly English teacher, sell English learning materials online or open your own English school, you will find Brazil a market that is receptive to your offer.
On the other hand, life is difficult for the monolingual English-speaking foreigner who comes to Brazil and makes no effort to learn Portuguese. Speaking basic Portuguese is necessary in order navigate basic tasks like taking the bus, buying groceries and asking for help. It's ok to come here without speaking much Portuguese, but if you're going to stick around you need to learn as much as you can as fast as you can.
Students That are Fun to Teach
One thing that distinguishes Brazilians from any other people in the world is the warmth and affection that they have for each other and even complete strangers. Brazilians have an aura of happiness about them that makes them super friendly and chatty, and you'll find it hard to be around them without becoming infected with their joy and mirth.

"So come to Brazil! If you like teaching English, students here are super chill."
Teaching English to Brazilians is a lot of fun because in general they are outgoing and lighthearted. As you build relationships with your students they will become your friends and will invite you to do things outside of class. Going to parties and drinking beer with your students after class isn't at all an uncommon occurence.
Once you teach students who come from a culture that places supreme value on their interpersonal relationships, you wont want to teach anywhere else. I've never taught in Asia, but from what I've heard from English teachers over there is that you have to fight against cultural shyness and students who make classes awkward by being afraid of making a mistake.
Appreciation for Foreigners
A surefire way to put a smile on a Brazilian's face is to walk up to them and speak to them in accented Portuguese. Brazilians love talking to foreigners and will take an intense curiosity in your story when they meet you. People will go out of their way to help you if you get lost, and if you're alone they will insist that you join them even if you can't understand each other.
"And the girls here love guys with accents."

I want to make clear the intention I had with this line, because I know it is going to get confused. By saying that Brazilian girls love guys with accents I am suggesting that they have a preference for foreigners who speak to them in Portuguese as opposed to foreigners who speak to them in English. I'm not saying that Brazilian girls are easy, or that they will fall for you just because you were born somewhere else. Being a foreigner in itself isn't going to help you get girls, you have to be an interesting guy that girls would want to be with just as you would anywhere else.
In other places in South America you may experience animosity and hatred once locals find out that you are from the United States. In general Brazilians don't look at the United States as imperialist aggressors and you don't have to worry about someone wanting to kidnap you because you're American. At the very worst you'll sometimes find yourself in an argument with a Marxist because they feel that by calling yourself an American you are saying that South America doesn't exist.
Cultural Similarities to the US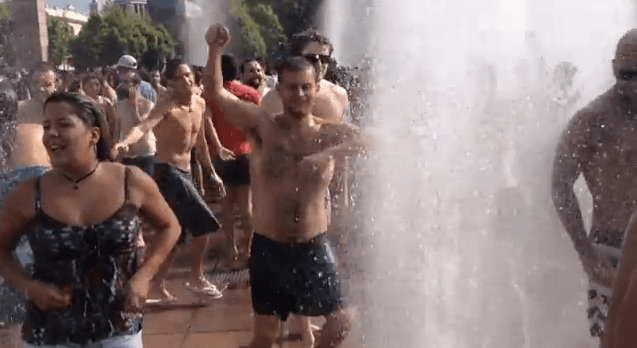 One benefit of teaching English in Brazil is that you will experience less culture shock than if you were to move to somewhere in Asia. Brazil was colonized by Europeans around the same time as the United States and bears a lot of similarities with its cousin to the north. Both countries have huge territories, are rich with natural resources and diverse sceneries and have had large waves of immigration that left their mark on the country.
Cultural difference between US and Brazil: Landlocked Brazilians demand that their city turn on fountains in a public plaza in order to simulate a beach environment.That's not to say that the US and Brazil don't have their divergences; Brazil is its own country with its unique history and defining traits. The way you conduct your affairs in Brazil is different than how you would do it in the US. The point I am making is that the learning curve in adapting to Brazilian culture is not as steep as it is in a place like China or South Korea, and you wont have to completely relearn how to walk.
There is so much more to say about Brazil, but for the interest of brevity I'm going to cut this discussion short with just these four things. I welcome you to share in the comments your favorite things about Brazilian culture and living in Brazil.