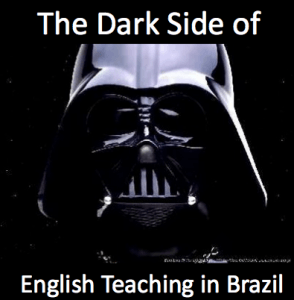 The clock turned 6:10.
My new student was supposed to show up at 6:00, but she was nowhere to be found.
I called her cell phone. No answer.
6:15. Still no word from the student.
I finally decided that the student wasn't going to show up. Feeling a little frustrated at being stood up, I packed up my things and went home.
Not Everything Is Perfect in Paradise
Teaching English in Brazil is a great job to have. I think Brazilians are the best students to teach to because they are generally very outgoing and communicative in the classroom. Teaching to students like this makes the job a lot easier because you don't have to twist their arm to get them to speak up and use what they have learned.
Though teaching English to Brazilians can be a fun and rewarding job, it does not come without its problems. I don't want you to get the wrong impression that you can just show up in the tropical paradise and everything will magically work out. It's not that simple. When adapting to a new city and culture anywhere, you are going to experience some growing pains. Today I want to give you an idea of the problems that are unique to teaching English in Brazil.
The Brazilian Calendar
The distinct Brazilian calendar is something that you need to take into account when planning out your year. Between Christmas time in December and Carnival in February, the country slows down with many people going on vacation and taking a break from schoolwork. Those students who do stick around are often less committed during this time.
If you are staying in Brazil for the long haul you will need to plan this slow season into your budget. It's a good idea to have some money saved up during this time in case you are unable to find extra students to fill in the gaps in your schedule.
If you are coming to Brazil for the first time, this would be a good time of the year for you to find a job. Many schools start looking in January for new teachers to start in March. Coming in January gives you a month or so to get acquainted to the city before you start teaching. Knowing that you wont start until March takes off the pressure of taking the first job offer that you find and keeps you from getting locked into a less than desirable situation.
Weird Hours that Students Want Class
There is a natural limit to how much you can teach per day based on the hours that students demand. Most students want class before they go to work, during lunch or after work. The hours between 6-9, 11-14 and 18-22 are the most common hours that students are looking for class. This leaves big gaps in your schedule, which could be a blessing or a curse depending on how you adapt to it.
These gaps can be a good thing because you will be able to run errands like grocery shopping during times when no one else is. You can also enjoy the use of gym equipment without having to wait in line. Or you can post up in a deserted café and get some work or reading done. If you teach close to where you live then you might enjoy being able to go home between classes.
The down side is that while you may only be teaching 4 or 5 hours in one day, it will be spread out over a long period of time and it could feel like you have a 14 hour day. If you live too far from where you work you could end up spending all day at your school. Sometimes you'll just want to be alone in a quiet room but you wont have any place where you can do that.
Travel Time Between Classes
Some schools have you teach classes on their premises, while other students prefer to have class at their office or home. This means you're going to have to travel between these places in order to meet your responsibilities.
Especially in larger cities like São Paulo and Rio where traffic is a problem, you can expect to spend a lot of time getting from place to place. As we talked about last week, a 7 hour day can turn into a 13 hour day because of traffic in São Paulo. It's not quite as bad in smaller cities like Belo Horizonte, but you can still expect to spend a decent amount of time on the bus or walking.
You're going to hate your life if you live really far away from where you teach, which is why its important that you give yourself a month to get acquainted with the city before you start working. By giving yourself time before you start teaching, you can make sure that you wont be working too far from where you live. You'll thank yourself later for doing this.
Dealing With Flaky Students
As I hinted at in the story at the beginning, sometimes students just wont show up. Ask any English teacher who has been around for a while and they will probably have plenty of stories to tell you about the unreliability of their students.
Brazilians have a flexible view of time and the question of showing up on time is not just restricted to the classroom. In social situations as well it is common for people to show up late without any explanation. Sometimes they don't bother to show up at all, or even give you a call to let you know they wont be coming.
The bright side to this is that any decent school will still pay you for a class if a student cancels within 24 hours of the class time. You should institute a similar policy with your private students to protect yourself against last minute cancellations.
Getting paid on time can also be a problem. The flexible view that Brazilian culture has towards time means that students will often be days or weeks late in paying you. There isn't much you can do when a student says they don't have the money, or that their boss was late in paying them other than accept their excuse and wait for them to pay you.
Motivating the Unmotivatable
The worst problem that you'll have to deal with is students who just aren't motivated to learn. These people believe that taking classes with a native English speaking teacher will be a magic bullet for them, that all they have to do is show up to class and they will become fluent in English. These students don't put any effort into their learning outside of the classroom, which means they don't do the homework that you assign them.
The greatest satisfaction that you can have as a teacher is when you can see the progress your students are making. Super motivated students who study outside of class will always have something fun and exciting to share with you, and you will be swept up by their positivity and enthusiasm. When you teach to unmotivated students it damages your confidence as a teacher and eats away at your enthusiasm for your job.
If you teach for a school you wont have much choice in the students that you teach. You may be stuck in an uncomfortable situation where you are teaching a student, or students who aren't committed to learning. You should try to make the best of these situations by teaching them normally and not letting them get you down.
Once you get established and have a lot of referrals for private students you can start to be more selective about whom you teach and you can weed out the bad apples.
Conclusion
When you look at the above list of problems, they might not seem like such huge problems. And really, they aren't. For each problem that you may face as an English teacher in Brazil, there is an effective counter measure or attitude change that can help you overcome it. Every industry has its positives and negatives, you just have to learn to accept them.
What is your least favorite thing about teaching English?