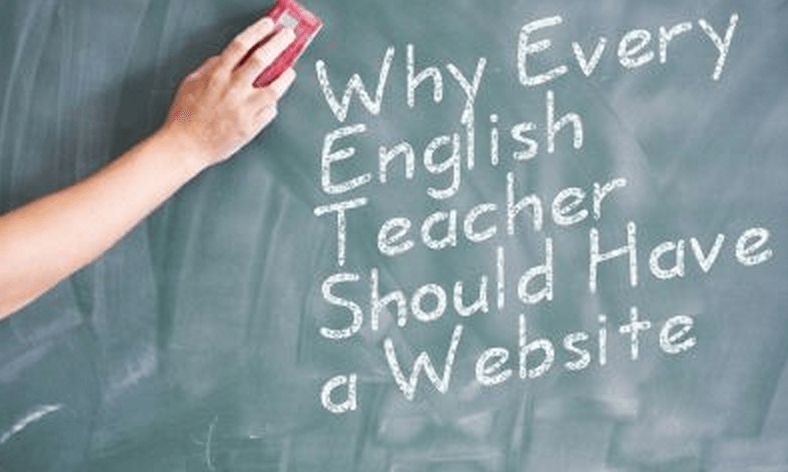 If you're an English teacher who is looking to get more private students then you should have a website. Having a website makes it a lot easier to get private students, and in this post you will learn some of the reasons why English teachers should have their own websites. If you don't already have a website you can follow the instructions in this post to learn how to set one up.
Get more private student referrals
Having a website makes it easier for your friends and current students to refer their friends to you. Being referred by someone who knows you is one of the best ways to get new students. If your students are really happy with the classes you teach, then they are going to tell all of their friends about you.
Conversations like this are be more common than you think.
Friend: "I had a job interview today for my dream job, but the position went to someone else. Its an international company and I have to be able to talk with developers in India, mas meu inglês é uma bosta vei."

Student: "You should take English classes with my professor de inglês. Ele é o cara!"

Friend: "That sounds very nice man. I really want to learn English with your teacher."

Student: "Ok I will send to you his phone number on Facebook."
Your students are trying to help you get new students by telling their friends about you, but are you making it easy for them to become new students? Just because you've been indicated by a friend doesn't mean that someone is going to actually call you. They don't know you and deciding to take classes with a foreigner is a big decision for some people.
Having a website makes it easier for new students to decide to take classes with you. With a website students can get a better idea of who you are and how you can help them. You become a real person to these prospective students instead of just a phone number.
Inform New Students About Your Classroom Policies
A teacher website gives you the opportunity to educate prospectives students about what its like to take classes with you. You can include on your site important information like where you will/won't give classes, your teaching methodology, when you are available, how much you charge, your background, your qualifications, testimonials and lessons you've created.
When a student calls you after seeing all of this information it is because they liked what they saw. They are familiar with your policies and your pricing schedule and they are fine with all of that. Posting this information publicly  build trust with your students and it helps to reduce friction that can occur later on.
Putting your prices online makes you stand out from the crowd in a big way. A ridiculous practice employed by many English schools in Brazil  is that they don't share information about the costs of their classes. They think that if  the students call them they have a better chance of convincing them to take classes with them. What they're really doing is just wasting everybody's time. Its better to be transparent with your prices.
Target a specific niche of English students
One of the key benefits that a teaching website provides you is that it allows you to target a specific niche of English students. There is a lot of competition from English schools and other private teachers who all offer more or less the same service. There aren't many unique practices being employed in the marketplace. Schools all offer the same basic services: Business English, Conversation Class, TOEFL English, Travel English, etc.
What almost nobody does is target a very specific type of clientele. For example: English for pilots, English for insurance salesmen, English for Neurologists, English for funded startups. Most people try to capture the larger market of English students, thinking that they are limiting themselves by going after a specific niche.
This is a mistake. Instead of trying to teach English to everyone, figure out a specific group you want to teach English to and direct your marketing efforts at those people. Think about it, if you are a pilot would you rather take English classes at Wizard or from someone known as the English teacher for Pilots?
Students with specialized needs want a specialist to fulfill their needs. Figure out who you want to teach and craft your marketing message towards them. Use your professional experience from previous careers to assist in your marketing efforts.
Niching down doesn't mean you have to target a specific profession. You can target other demographics as well. If you are a fan of a particular football team you can get students much more easily if you only teach to students who are fans of that team and no one else.
These are just a few of the ways that a website can benefit you as an English teacher. I hope you'll take this advice seriously and build a website to start getting students. In the next post I'll cover how to set up your website to make it an effective tool for getting private students.
In the meantime, I want you to think about what niche of students you want to target. What professional training do you have? What groups do you belong to? What sports do you play? Share your ideas in the comments or email me if you want feedback on your idea.