"I lock the door at 11pm on weekdays, you're not allowed to have parties, you can't have friends over, and I would prefer if you don't get up too early since I'm a light sleeper, and I need to be careful about my health."
The apartment search was not going so well. Because I'm not a legal resident of Brazil I can't rent an apartment in my name. I would also need 2 fiadores who would guarantee my rental contract and be responsible if I stopped paying. With these limitations I refined my search to shared apartments.
I looked online and found what seemed from the ad to be just what I was looking for; great price, centrally located, and close to the city's nightlife. But when I showed up I found out that the great location came with a tradeoff.
I came to Brazil to have more freedom, and living under such restrictions was not something I wanted to do. The lady showing me the apartment was nice so I searched for a way to politely tell her I didn't want to live with her.
"This isn't going to work out, I wake up at 5am every day and make a lot of noise blending my morning smoothie." She understood.
I crossed that apartment off the list and continued the search for a place to live.
How to Rent an Apartment in Brazil
Unless you are a legal resident of Brazil, then the options that you have for renting an apartment are limited. In order to rent your own apartment you need to be a legal resident of Brazil, you need to have 2 cosigners (fiadores) who take financial responsibility for you if something happens, and you generally need to make a commitment of several years. It doesn't sound easy in theory and its not any easier in practice.
For short term visitors without strong roots in Brazil its not going to be easy to find your own place. Renting an apartment in your name, by yourself is very hard to pull off. For someone who is new to Brazil without an established network, you will have to pursue other means of renting an apartment.
That doesn't mean that you wont be able to find a place to live, it just means that you'll have to share an apartment with someone. This isn't so bad since your goal is to learn Portuguese and you'll have someone around the house you can talk to.
Websites With Short Term Apartment Listings
There are several websites that you can use to find an apartment in Brazil.
AirBnb is good for finding furnished apartments for a few days, though it can get pricey beyond that. Often times people on the site speak English, but it's not always the case.
You can also try AluguelTemporada, VivaStreet and OLX for apartment rentals.
This is your best bet for finding an apartment to share. On Easyquarto you will find people all over Brazil advertising extra rooms that they have in their house or apartment. You'll find everything on this site from low end apartments in bad neighborhoods to rooms with king sized beds in the best neighborhood.
To get started on Easyquarto you need to first make an account.
Fill in basic information about yourself and what kind of accommodations you are looking for. Select "Procuro quarto – Sou uma pessoa" since you are one person looking for a room.
[Click pictures to enlarge]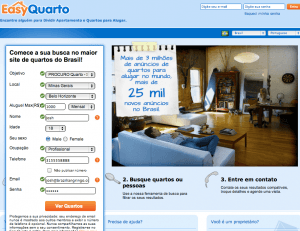 On the next page you fill out your profile with information about what you are looking for. Specify the location that you want to move and that you are either a professional or a student. People are going to see your ad and send you messages about their apartment. Don't worry too much about this though because they all have their ads listed on the next page.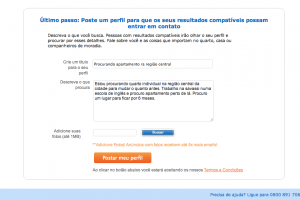 Now that you've filled out your profile they are going to ask you if you want to become a premium member. In order to see someone's phone number one of you has to be a premium member, and not all sellers take this step. Hold off on this until you see what's out there and if the apartment you like has a premium listing.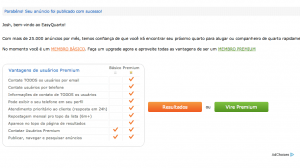 Now that you're all registered you can start looking at listings. I like to search by map because I want to live as close as possible to where I live. The area of the map that I have zoomed in on here in Belo Horizonte is the only place that exists in my opinion, and I wouldn't want to live outside of this area because it would be too far from everything.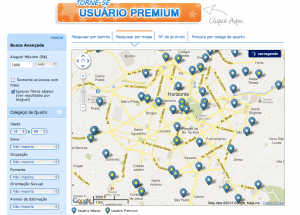 Once you see an ad you like go ahead and click on it. Some things that you might see written on the ads are "vaga feminina" which means that it is a female only residence. You'll also see the word república used in a lot of ads, which is more aimed at college students and is for shorter stays.
Repúblicas can be similar to college dorms in the US in that a lot of students live in tight spaces and pay little for rent. Other times it might be young professionals who divide an apartment in order to cut costs. You'll usually know by the ad which is the case.
You'll also see some of these ads written in English which will make your life a lot easier if you don't have someone to translate for you. The most challenging feat for a Portuguese language learner is to make a phone call after just a few weeks of practice in that language. Ideally you will have someone else make the phone call for you to avoid miscommunications.
You can send the same email to every apartment that interests you, but know that it could take a while for some of them to get back to you. In general, Brazilians prefer to talk on the phone rather than email. Likely one of the apartments that you're interested in will be a basic listing and you'll have to whip out your credit card to be able to see their phone number.
Arrange a meeting with the person and bring a friend to translate. Figure out what kind of rules they have, if they allow visitors, when they expect you to pay rent, if and if that amount is going to vary because of utilities. If there is good chemistry between you guys then seal the deal and move in.
Conclusion
Finding an apartment in Brazil can be a big challenge and it takes time. Make sure you plan ahead, are patient and persistent in your approach and let everybody you know in Brazil know that you're looking for help. Eventually you'll find what you're looking for.