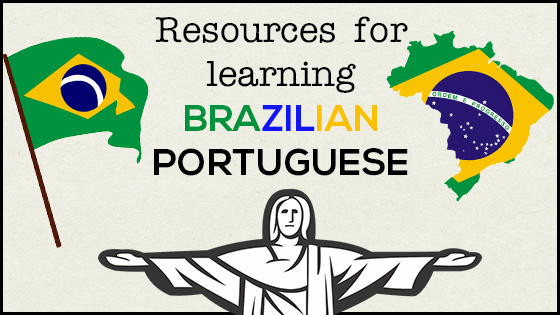 In this post you are going to get all of the resources you'll need to learn Brazilian Portuguese from 0 to fluent.
This list is written primarily with the self directed student who wants to learn to speak Portuguese at their own pace. If you're the kind of person who feels confident taking control of your learning experience and can mesh together your own study plan from a number of different sources then you'll feel right at home here.
This list, and most of this site for that matter, is written primarily for people who plan on going to Brazil in the near future. Whether that means you'll be taking just a short vacation to Brazil, whether you're going on an exchange program or if you plan on living in Brazil long term, you're probably going to use this page at some point in your efforts to learn Portuguese.
If this is your first time visiting this site I'd invite you to take a look around and see some of the other content that we have on the site. Brazilian Gringo was created to help people like you overcome the initial language and cultural challenges that every foreigner goes through when they move to Brazil.
With that introduction out of the way with, here's a table of contents that will help you navigate this page and find what you're looking for.
How to Get Started Learning Brazilian Portuguese
If you're like the majority of people on this planet, you probably have no exposure to the Portuguese language. You can't even say hello or thank you in Portuguese. If that sounds like your situation right now then you'll want to get started by learning some basic phrases.
At this stage in the game you shouldn't be too concerned with speaking Portuguese with perfect pronunciation. Though pronunciation is important to work on later, at the beginning at least you should just get used to the idea of speaking a foreign language.
Start by taking some basic phrases and say them out loud. You might get embarrassed or judgmental about how you sound, which is perfectly normal. It gets easier to speak Portuguese the more practice you get with it. Right now you're not speaking for other people, you're speaking for yourself.
To get started I would use the list at Omniglot to learn basic phrases. Learn to speak Portuguese by building your confidence one word at a time.
Recommended Courses for Learning Brazilian Portuguese
We'll break this section up into sections, free courses you can use to learn Portuguese online, as well as paid courses.
Learn Brazilian Portuguese Online for Free
There are a number of free courses that you can use to learn Brazilian Portuguese. Here are my top recommendations:
Duolingo – Duolingo is a language learning app that you can use on desktop or mobile. It's pretty good for learning vocabulary and learning pronunciation on the go. When combined with conversation practice with Brazilians or classes with a teacher this works out pretty well.
Paid Courses for Learning Brazilian Portuguese Online
There are only two courses that I feel confident telling people they should buy. I'm not saying other courses aren't good, but I just think that most of them don't offer anything unique that you can't get in a free course. The two courses below are different.
The Mimic Method Flow of Portuguese by Idahosa Ness – This course is entirely focused on teaching you how to sound like a Brazilian. This unique approach has you retrain your mouth to move in the way that Brazilians move when they speak Portuguese. I've used this methodology to improve my accent and sound more Brazilian. Be warned that The Flow of Portuguese has a high drop out rate for the simple reason that its hard work. But if you are willing to put in the work you will speak Portuguese with a better accent than 99.99% of foreigners. You can read a more in depth review here.
Semantica Portuguese – Semantica offers several different video series that teach Portuguese through engaging stories. There are different series for different levels. You can use Semantica to go from a beginner all the way to being an advanced speaker. Each episode teaches a certain aspect of the language, grammar, pronunciation, vocabulary, slang and culture. I think Semantica-Portuguese is the best Portuguese course on the market, and I may only be a little bit biased because I am the co-host of the second season. Read a more in depth review here.

Portuguese Acceleration Blueprint – This one is made by Kevin who runs the site LiveinBrazil.org. You have to like his style of teaching to get value out of this course. Check out his free video series and if you like his approach go for it. Otherwise you might prefer to stick with Semantica or one of the free options.
How to talk to Brazilians Online for Free
The best thing that you can do not only for your Portuguese, but also to improve the quality of your experience in Brazil is to connect with Brazilians. The more Brazilian friends that you have, the more enthusiastic you'll be about learning Brazilian Portuguese. Your enthusiasm for learning will spread to your Brazilian friends and they'll want to help you learn even more. This is the fastest way to learn.
There are a number of sites online that were created for language learners to connect with other language learners. There are a lot of different options out there, so take your pick or sign up for all of them. Whatever your approach is, I challenge you to get on Skype with a Brazilian in the next 7 days and say something, say anything, even if it's just 'oi, tudo bem?' You'll thank me later.
Where to Find Online Brazilian Portuguese Teachers
Once you're ready to take your Portuguese learning to the next level you'll want to enlist the help of a professional. Taking classes with a professional teacher will help you make faster progress in the language. I have a few recommendations for where you should find an online Portuguese teacher.
Brazilian Gringo Portuguese Video Series
I've produced a series of videos to address cultural aspects of learning the language, motivation and common mistakes that foreigners make when speaking Portuguese. I have a lot of fun making these videos, and most of the videos I make come from requests from blog readers. If you want to see me make a video, ask me a question via email or by leaving a comment and I'll probably make one for you.
Podcasts for learning Brazilian Portuguese
Podcasts are a great learning tool because you can use them to learn Portuguese in those moments when you might not otherwise be doing anything. These are great to listen to while you're in line at the supermarket in Brazil, or while commuting to your job in the US.
Recommended Portuguese Textbooks
Where to learn Brazilian slang
English-Portuguese Dictionaries and Sites with Phrases Lists
If you're just looking for some quick phrases, or are looking for an online dictionary to use, here are some sites for that:
Bab.La – A dictionary with translations from Portuguese into 23 languages, with the option of 3 side by side translations.
Blogs About Learning Brazilian Portuguese
Anything you expected to see here?
This list is constantly being updated and improved as I scour the web for the best resources for Brazilian Portuguese learners. If you have a suggestion for something to be added to the list leave a comment below.