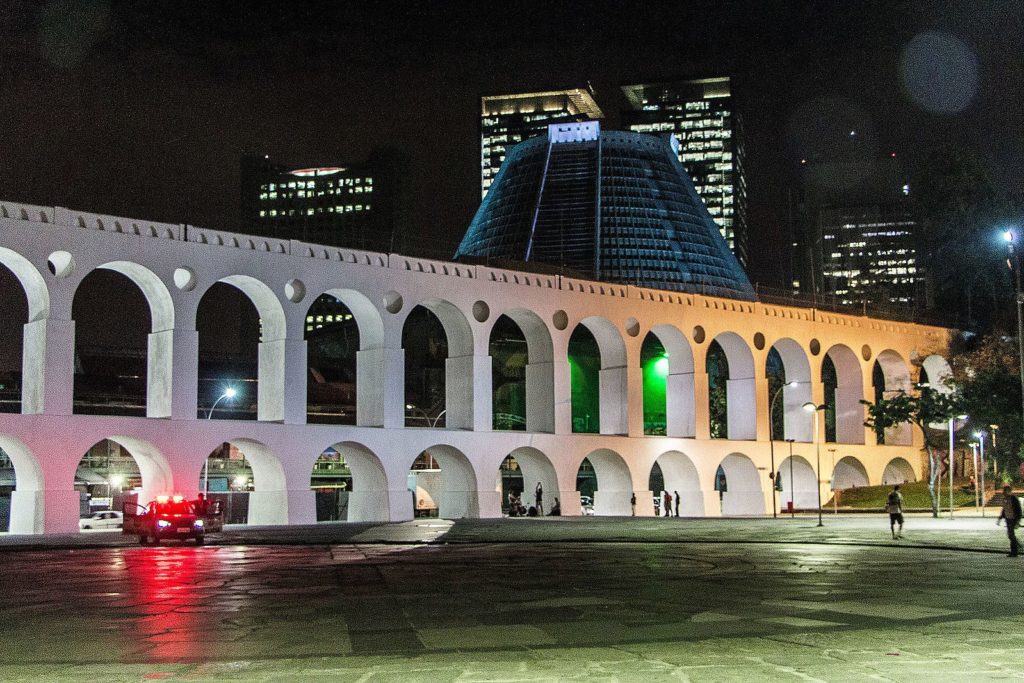 "Hey man, how's Brazil been treating you so far?"
"Pretty good. I've met a lot of cool people and am learning a lot about the culture," came the reply with a mild dose of hesitation.
I prodded him further by saying, "You don't sound too enthusiastic about that."
"Well, things are fine now. It's just that I got robbed on my third day here." His deflated tone of voice was starting to make sense.
"Was it at Lapa or at the beach?"
"I was at a street party in Lapa. A group of guys bumped into me and ran off with my phone when I wasn't looking. Good thing I left my passport at home or else I'd really be in trouble."
The Four Day Rule for Gringos in Brazil
After I'd heard this story told a dozen times I started calling it "the Four-Day Rule."
The gringos who get robbed during their first four days in Brazil usually aren't cut out for Brazil long term. Someone who gets robbed during their first four days is usually doing something that contributes to them having been robbed.
To be clear, we're not talking about the people who engage in illegal or illicit activities and we're not talking about the more extreme crimes that seemingly happen at random. There are certain crimes that happen with greater predictability depending on your behavior.
That's why I can say that if you get pickpocketed during your first four days in Brazil it's your own damn fault. You heard me correctly. It's your fault if you get robbed during your first four days in Rio de Janeiro.
You went into a country unprepared for the new reality you were going to face. You didn't take necessary safety precautions. You carried your valuables around in a careless manner. You broadcasted your foreignness, either consciously or unconsciously to those around you. You didn't enlist the support of locals to keep you out of trouble.
Long story short, you acted like an ignorant gringo and you paid the price for it. You can't just expect to walk around in a foreign country with no appreciation for the differences in language and culture and not expect there to be consequences.
If you got robbed, I'm sorry that this happened to you and that you have such a negative story to tell everybody about Brazil. But really though, given how often this kind of thing happens, you couldn't have expected that you could walk in unprepared and get a different outcome.
How To Avoid Trouble In Brazil
Being a willing student of Brazilian culture and Brazilian Portuguese can literally save your life. Above all else, you need to be humble when you go to Brazil. Understand your limitations. Accept that you're a foreigner and are at a disadvantage in social situations until you learn Portuguese.
If there's one thing that is a surefire way to make you a target for the bad guys in Brazil, it's to act arrogantly. Even if you believe you are being humble, the perception of arrogance is something that can cause you trouble.
Here are some of the things to avoid doing that may cause someone to think you're being an arrogant foreigner and make them want to rob you:
Speaking loudly in English at night
Walking down the streets drunk
Buying drinks for people. (Offer to fill someone's cup with your big bottle of beer, but never buy a drink for someone)
Standing out from your dress. (Better to dress like a middle class Brazilian than an obvious tourist)
Doing everything by yourself. (It's always a good idea to ask locals for feedback on your plans)
This goes along with all of the other basic advice that you may get from other travel websites about how not to get robbed.
Brazil is Not For Amateurs
Some detractors of this website have claimed that Brazilian Gringo paints an unrealistic image of Brazil, saying that we see things through rose colored glasses and are blind to the perils that are out there.
This is mostly because we don't share a lot of the negative things that happen in Brazil.
To the contrary, Brazil is obviously such a challenging and potentially dangerous place that it would be a full-time job for me to constantly point out every little thing that Brazil does wrong. If I spent all of my time complaining about how things are broken I wouldn't have any time left over to work on creating new solutions.
There are enough people in the world who complain about problems without ever doing anything about them. We're all about solutions here, which is why most of the content on this website is about helping people adapt to the culture and learn the language. If you commit to that process then you'll inevitably hear about problems from pretty much every Brazilian you talk to.
Brazil has always had its challenges and while it's hard to detach from the current reality and objectively assess the situation, things have been much worse in past episodes.
There's no shortage of bad news about Brazil. In fact most of the news that people hear abroad about Brazil is either loaded with stereotypes or it is overwhelmingly negative. Bad news draws more attention than good news.
We already know that Brazil is dangerous, that you should avoid certain neighborhoods, that politicians are corrupt and that people often behave in ways that benefit them at a detriment to society at large. This is not new information.
If the specifics are new to you, then you'd be well advised to hang around the Worldwide Expats in Brazil Facebook group so you can hear others talk about those kinds of things in English.
Heed the words of warning from fellow travelers who are not too different from yourself. Let their mistakes and wisdom guide your path so that your journey ahead may be filled with less danger and woe.
Think long and hard about moving to a country that has a reputation for being dangerous and bureaucratic unless you are absolutely certain in what you're doing. If you're unwilling to face the challenges then you'd be better off staying at home.
If you want to accept the challenge, you'd best start preparing by learning Portuguese.