A Springboard for Your Brazilian Music Journey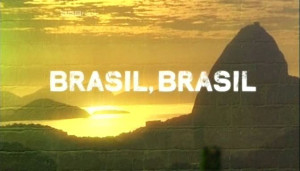 Have you ever wondered where to get started with Brazilian music? 
Brazilian music is diverse, spanning from the syncopated rhythms of samba to the introspective melodies of Bossa Nova. It's inextricably intertwined to the history, culture, and people of Brazil, so much so that you cannot understand one without the other.
If you want to understand Brazil, you have to understand its music. Naturally, the opposite is also true. If you want to understand the music, you have to have a grasp of the historical, political, and cultural environment as well.
For this reason, the BBC's documentary Brasil, Brasil is a great place to start. A three part series that explores the development and cultural influence of Brazilian music, it serves as a solid springboard for your Brazilian music journey.
Brasil, Brasil takes a deep dive into Brazilian music scene, as well as the corresponding cultural, political, and historical events, beginning with the emergence of samba in the early 20th century, all the way to present day Brazil.
In case you need further convincing to watch this documentary instead of one of the many Brazilian movies you could be watching, this article breaks down the documentary in three parts and includes:
An overview of some of the most important topics covered in the Brasil, Brasil.
Lesser-known facts about Brazil that will be new to most Brazilian Gringos.
A comprehensive list of all the musicians and artists mentioned in the documentary, as well as links to my favorite song by each artist.
For serious students, a list of suggested further readings.
I hope you enjoy the series as much as I did. And more importantly, seja bem-vindo a sua viagem com a música brasileira! I hope Brazilian music opens as many doors in your life as it does in mine.
"Samba pra mim, é Deus. Deus é o samba. Deus é a música. Se não tivesse o samba, não sei o que seria de mim."
Samba to me, is God. God is Samba. God is music. If I didn't have samba, I don't know what would have become of me.
—Riachão, sambista
Samba. The word exudes brasilidade. 
It is difficult to convey how fundamental samba is to Brazil. For many Brazilians, it borders on religion. Most gringos know samba for its relationship to Carnaval, bringing to mind Brazilians dressed in wild costumes and moving their bodies with a grace and energy that most of us earthlings could only dream of. Brasil Brasil offers a more nuanced view of the country's most famous genre.
Samba, like most good things, was born out of hardship. With roots in African candomblé, Salvador, and the favelas of Rio de Janeiro, samba was born as music of the poor, the marginalized. It is a music of the people, or as we say in Brazil, 'o povo'.
Over time, samba has experienced a rollercoaster ride beginning in the morros of Salvador and Rio, becoming a political tool for politicians to foster unity, and ultimately to Hollywood and the international stage.
The history of samba is exhilarating. I don't want to give too much away here. You will get a taste by watching Brasil, Brasil, or following along here on the blog over the coming months.
Five Fascinating Facts from the Samba section of Brasil, Brasil
1)   Many people think that samba is just samba. However, there are a multitude of different types, styles, and variations of samba. Brasil, Brasil mentions some of the most famous:
samba de roda
samba da chula
samba axé
samba de pé
samba-rock
samba sincopado
samba do morro
samba reggae
2)   Rio de Janeiro was the capital of Brazil for nearly 200 years. The capital did not change to Brasilia until the 1960's. What most people don't realize is that in 1808, the entire Portuguese court moved to Rio from Lisbon, fearing for their lives after Napoleon invaded Portugal. For the next decade and a half Rio was not only the capital of Brazil but also of the entire Portuguese empire.
3)   With the Portuguese crown, came significant Portuguese influence. One small, but bizarre example of this influence comes from the modinha.
"Modinha is a kind of song developed by a mad, intensely erotic priest to seduce young girls."
Yes, you heard right. The Portuguese brought with them intensely erotic singer-songwriting priest seducers. Nonetheless, the modinha is kind of beautiful. Take a listen and watch two swans stare at one another while the craning of their neck kind of makes a heart shape. Our erotic Portuguese ancestors would be creepily proud.
4)   On a more somber note, the documentary takes a look at the 4 MILLION Africans that were forcedly transported to Brazil in the 17th century, the largest forced migration in the world. In 1888, Brazil became the last official country in the world to abolish slavery. Oftentimes, the turbulent past of the multiracialism of Brazil is too quickly forgotten.
5)   Finally, samba apparently had a unique relationship with Nazi Germany. This was news to me. In the 1930's, the administration of Getulio Vargas developed close ties with European Fascism. In January 1936, there was a special version of the Radio Program Ouro do Brasil, which was broadcast directly from Brasil to Nazi Germany. The main feature of this particular broadcast was to showcase samba music. So even if just for an hour, Nazi Germany enjoyed the sounds of samba, songs written by Afro-Brazilians about the hardships of everyday life in Brazil. Who knows how history would have unfolded if samba played a greater role in European fascism.
Musicians & Artists Mentioned in this Episode
Virginía Rodrigues—Canto de Ossanha
Paulinho da Viola—Foi um rio que passou na minha vida
Leci Brandão—Cidadã Diversidade
Baden Powell—Tristeza on Guitar
Hermano Vianna (Brazilian writer)
Wilson das neves—O dia em que o morro descer
Carmen Miranda—Disseram que voltei americanizada
Further Reading:
The Mystery of Samba: Popular Music and National Identity in Brazil, Hermano Vianna
The Brazilian Sound: Samba, Bossa Nova, and the Popular Music of Brazil, Chris McGowan
Hello, Hello Brazil: Popular Music in the making of Modern Brazil, Bryan McCann
I'd love to hear what you have to say about Brazilian Music.
Is there a certain genre, artist or instrument you are particularly interested in?
As always, don't hesitate to join the conversation here on the site or reach out at foster@braziliangringo.com