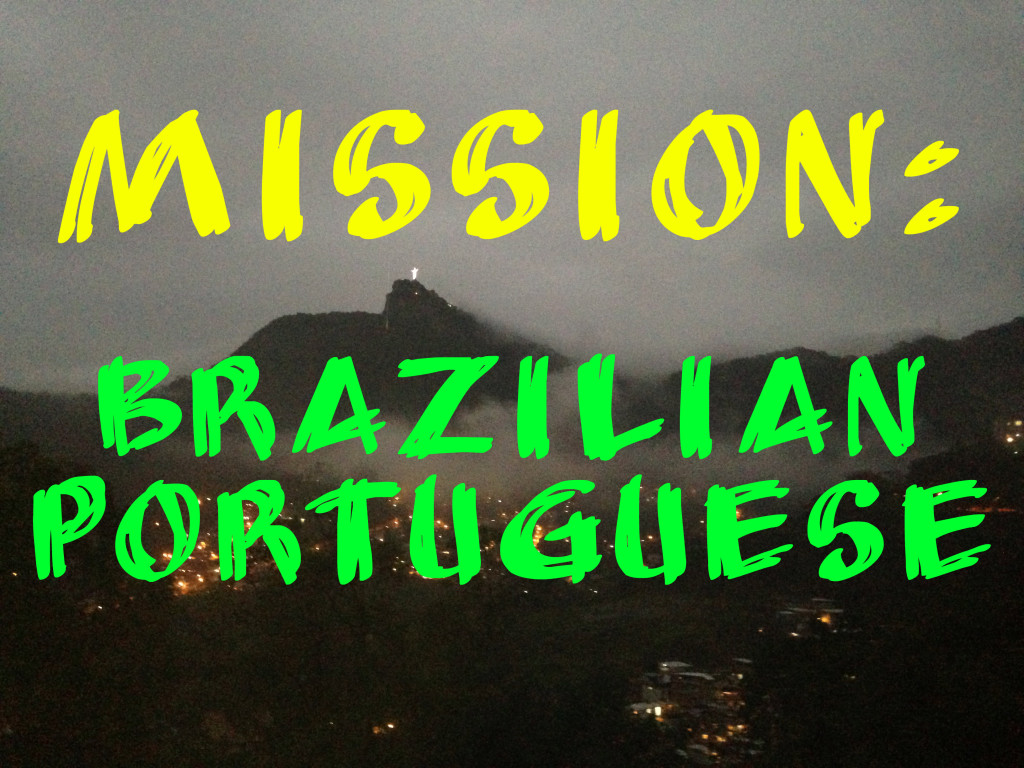 My goal is to achieve a level of fluency in Brazilian Portuguese as close to that of a native speaker as possible by May 1, 2014.
I will judge my progress based on how frequently Brazilians ask me where I'm from. Right now about 80% of Brazilians that I meet ask me where I'm from during the first 5 minutes of conversation. I want to get this number as close to 0 as possible. I want people to assume I'm from their town.
Why Try to Obtain Native Level Fluency?
As a language teacher I should be constantly seeking to improve my knowledge of foreign languages in order to be more useful for my students. To be a great teacher I have to be a great learner as well and should constantly be pushing the barrier of my knowledge.
Most people don't need to obtain native like fluency in a language. Most people would be fine obtaining a level of Portuguese that allows them to communicate on a high level. Stumbling occasionally for difficult words, speaking with an accent and making the occasional error are worthwhile tradeoffs in exchange for not having to invest hundreds of hours into overcoming these difficulties.
The more clearly that you speak a language, the easier it is for people to understand what you're saying. Its ok to make mistakes from time to time. Even native speakers misspeak, stutter and spew gibberish that nobody can understand. But if people consistently have a hard time understanding certain things that you say then you should reevaluate whether your level of fluency is really good enough.
I made a concentrated effort to learn Portuguese when I first arrived in Brazil and achieved fluency in about two months, thanks in a large part to my previous knowledge of Spanish. When I say fluency I mean that I was able to accurately express myself most of the time. Fluency in this case did not mean that I was speaking grammatically correct, with perfect pronunciation or making the same sentences a Brazilian would use. It just means I was able to communicate.
After I made this initial push I pretty much stopped studying. I picked up the occasional word here and there during conversation, and people would point out mistakes I was making which I would sometimes correct. But I didn't have the same focus on improving my Portuguese that I had in the beginning.
After spending a good part of the last three years in Brazil I almost feel like I'm Brazilian. In order to truly be Brazilian I need to be able to communicate in a way that is indistinguishable from a native born Brazilian.  Below are some of the things I'm going to work on in order to speak like a Brazilian by May 1, 2014.
My Current Level of Portuguese
I made a quick video explaining my mission in Portuguese. This video will serve as a baseline to show where my Portuguese is currently at. This video is more or less an accurate representation of my current level of Portuguese, maybe a little worse than it really is. Its a lot easier to speak to real people than it is to a camera.
How I'm Going to Speak Like a Brazilian
Speak Portuguese with a Mineiro Accent
The biggest giveaway that I'm not Brazilian is my accent. My pronunciation, sentence flow, rate of speech and word choice all need improvement in order to adapt my accent to be more Brazilian. A big improvement can be made early on fixing my pronunciation of words with lh and r sounds.
Going a step further, I want to speak Portuguese like a native of Belo Horizonte. BH is my favorite city in Brazil and the best way to show my adoration to the people from there is to speak like them.
Foreign language accent acquisition is process that isn't very well elaborated by language professionals, but luckily Idahosa Ness is pioneering this space. In order to pick up a Brazilian accent I plan on working with his Flow of Portuguese course for 30 minutes a day until I've perfected my accent.
Become a Grammar Nazi
My approach to Portuguese grammar up until this point has been: If Brazilians say it, I'll say it that way too. My knowledge of grammar has been acquired through conversations and borrowed from my knowledge of Spanish grammar. If you asked me the right way to say something I could tell you, but I couldn't tell you why.
To take my grammar to the next level I will read through an entire grammar book. Maybe 2.  I want to know all of the grammar rules like the back of my hand and be able to teach grammar to Brazilians. I'll know that I'm doing a good job if I have to hold back the urge to correct Brazilians when they speak informally.
Increase Specialized Vocabulary
My Portuguese vocabulary is centered around the conversations that I have in Portuguese. I don't have the vocabulary to discuss certain topics like law, economics, chemistry, biology, astronomy, Buddhism, transhumanism, etc to the level that I could in English.
I haven't learned the vocabulary associated with these topics because I don't have many Brazilian friends that like talking about these subjects. Then again I haven't sought conversation about these topics. Part of my process for increasing vocabulary will be to start more of these types of conversations in Portuguese.
Every week I will focus on a specific topic and will attempt to memorize 50 words related to that topic. For extra credit I'll make a video in Portuguese discussing that topic and post it here.
Increase Cultural Fluency
Knowing the mechanics of the Portuguese language isn't enough to make me speak Portuguese like a Brazilian. In order to truly speak Portuguese like a Brazilian I have to understand why Brazilians say the things they do. I'll need to dive deep into the Brazilian consciousness and understand how its history shaped the culture and the mindset of the people who live here.
To increase my cultural fluency I'll immerse myself more deeply into cultural activities and do more traditional Brazilian things. I'll also start digging through the mass of information that has been written about Brazil in search of cultural insights. For extra credit I'll share the most useful insights here on the blog.
Why try to get fluent in 3 months? Why not 2 or 6 or 12?
I'm setting a 3 month time limit on this goal because I want to push myself to accomplish a lot in a short amount of time. I think 3 months is a reasonable amount of time to be able to speak with a Mineiro accent and substantially increase my fluency in Portuguese. Once the 3 months are over I'm going to continue learning of course, but I want to language learners what is possible in a short time.
The idea for a three month fluency challenge comes from Benny Lewis, the Irish polyglot who challenges himself to learn as much of a language as he can in 3 months. Like Benny, I'm not promising to achieve a certain level of fluency in 3 months. What I'm doing is embarking upon a personal mission to improve as much as I can in 3 months.
What's your Mission?
How do you feel about your current level of Portuguese? Why not start your own 3 month challenge and make 2014 the year that you become fluent in Portuguese?
If you're just getting started, I recommend checking out the Portuguese resources page. If you're looking for a course to guide your learning, I would recommend buying Semantica Portuguese and the PAB8 instead of Rosetta Stone or Pimsleur Portuguese. If you're really dedicated to speaking Portuguese with a Brazilian accent you should use the Mimic Method.
To show that you are serious about learning Brazilian Portuguese declare your intentions publicly.  When you write down your goals and declare them publicly you are more likely to achieve them.
What level of Portuguese are you going to achieve in the next 3 months? What are you going to do every day to get there? How will you know once you've achieved your goal?
Share your answer down below.
Boa sorte!