Eric Velouria emailed me a few months ago asking if São Paulo is a good city to teach English in.
Now that he's been in São Paulo for a month I'm the one who wants to ask him questions! Whereas a lot of teachers seem to struggle to make it work in São Paulo, Eric has hit the ground running and is already making R$6800 a month.
Eric has agreed to share his story so that other teachers can learn from his experience and find similar success in São Paulo.
Why did you decide to teach English in São Paulo? 
Teaching English has been my career for the last decade. I started teaching in 2001 as a back-packer in China and eventually moved to Beijing in 2003 when I decided to take the job seriously. In Beijing I studied Mandarin intensively and taught in private schools, public schools, freelanced and did corporate training. I returned to Canada in 2007, took my CELTA and taught English for a couple of years in downtown Vancouver. This is where I first taught Brazilians.
In 2009, I returned to China, but this time to Shenzhen, where I opened my own training center Jiahua Language School, which teaches both Mandarin and English to adults. I loved having my own school and being that successful, young entrepreneur; however, I found myself working 12 hours a day, 7 days a week, every week. After about 5 years of this, I decided I needed a break.
With the memory of my Brazilian students from Canada still in my head, I decided to pass off my duties to my business partners and take a much-needed leave of absence to spend some time in Brazil. I landed in Rio on December 4th.
What did you do to prepare before you came?
Very little. The time between when I decided I needed a break in China until the time I landed was under two months. The only prep I did was to read your blogs on this site (which were very helpful), network with some people on Facebook, and watch the Rio De Janeiro episode of ScamCity on YouTube.
What did your first 2 weeks on the ground look like?
Incredible. I just spend time doing touristy stuff in Rio and relaxing. I spent most of my time on beaches in Copacabana, climbed Corcovado, and interviewed with a few schools there. After crunching some numbers, Rio did not seem like an ideal place for me to save money from teaching. The city is comparatively expensive and there are too many wonderful distractions. After 2 weeks in Rio, I decided to go and check out Sao Paulo. I first stayed with a friend in Barueri for a week or two, then moved to Lapa in Sao Paulo on Dec. 26th.
How did you fill up your teaching schedule?
This is easy if you are smart about it. First off, the industry is booming here and there are lots of schools looking for teachers. If you are an experienced teacher, schools can fill up your schedule quickly.
After arriving in Sao Paulo, I was interviewed at 5 schools and started taking on students from 3 of them (I avoided the Callan Method schools, and I would suggest others do the same). The schools started to give me students and I started arranging my schedule.
In another blog you wrote, you said, "Every teacher should have a website," and so I made one using Squarespace: Ericinbrazil.com. I then advertised my site on OLX.com (free) and various Sao Paulo Facebook groups (free) and I started getting private students as well.
With privates, a teacher can earn twice as much per hour as they can with a school; however, schools here have helpful policies that are enforced with legal contracts. One common policy is that if the student cancels within 24 hours of class time, you still get paid. In my experience, this happens quite a lot, 33% of the time with one of the schools I teach at.
My students are doctors, lawyers and consultants in capital markets; they are quite busy. So what I do is I fill up my schedule, and when a student that was given to me by a school cancels, I call one of my private students and tell them that the slot has opened up for them and I teach them at that time. This way I am getting paid for two classes at the same time. Using this method I teach about 28-30 hours a week, but end up getting paid for up to 36.
What's it like teach English to people from São Paulo?
Great. They really want to learn in the most effective manner, so they are always pushing me to up my game. They can tell the difference between a backpacker and an actual qualified teacher, so if you want to do well in this city, you should come with a good teaching resume. Overall, they are extremely friendly and very respectful.
How would you compare teaching English in Brazil to teaching in Asia?
Firstly, in China, 95% of my teaching was in a classroom of 6 – 8 students. Here, all my classes are one-on-one or in pairs. This has taken some getting used to.
Secondly, Brazilians are very talkative. Chinese students tend to be more timid and a bit shy about making mistakes. In China, the teacher really has to do a good job making the student feel comfortable enough to open their mouth to speak. Not the case with Brazilians. They will be comfortable with you in about two seconds, and they talk a lot! From a teaching standpoint, this is terrific.
Lastly, the biggest difference is their overall average English level. The average student in China was at elementary level, around IELTS band 3 or 4. Here, students are mostly intermediate, around IELTS band 6 or 7. As the students are at a much higher level, this does require the teacher to be more professional and have a deeper understanding of the language.
How did you find an apartment in São Paulo?
OLX.com. In your blogs, you mention all the difficulties in finding a place to live. CPFs, three month, deposits, difficulties connecting Wi-Fi, etc. However on OLX I found a place with a roommate quite easily. I saw an ad (in English) from a Brazilian who had a room to let, and I took it. No deposit, no contract, nothing. I can stay as long as I want and he just requires I give him 30 days' notice if I plan to move out. I just pay month by month, and give my landlord an extra R$140 a month to cover Wi-Fi, electricity, water, gas, etc. It was completely hassle free.
How much do you make and what are your expenses? 
With my current schedule I earn about R$6800 a month teaching, however my goal is raise that to R$8000. My plan for that is to simply lower the amount of students I accept from schools and increase the amount of private students I teach.
I may hire a freelance agent to help me with this as I did during my time in Beijing. A local who knows where to advertise and who can handle the marketing side of things that I as a foreigner am not familiar with here in Sao Paulo.
My expenses are about R$3000 a month.
What does your routine look like now?
Now it is only my fifth week in Sao Paulo and I have just recently competed my teaching schedule. In addition to teaching, I am spending a lot of time catching up on my reading, checking out jazz clubs, hiking, making friends and learning more about the city and its history. I wouldn't yet say I have a fixed 'routine', but I am thoroughly enjoying every day.
For other teachers coming to Sao Paulo, I would again stress the importance of schedule management. If you want to maximize the amount of free time in your routine, plan wisely. Sao Paulo is a very large city and you don't want to waste your time in the metro all day. Book your students in areas that are reasonably close to one another so you can enjoy Brazil to its fullest.
Two things that I do want to start doing soon are learning Brazilian Ju Jitsu and getting started with my Portuguese!
How's your Portuguese? How important is Portuguese knowledge in your daily life?
I have been a bad student. I can count to ten and say a few words and sentences only. I really need to learn more. I have been procrastinating and making excuses to delay learning. It is very important for daily life and I struggle with some simple issues. I really need to make this a priority.
I have signed up for Semantica-Portuguese. I took the first few lessons and really enjoyed them. I will soon dedicate a few mornings a week to listening to the lessons and then practice what I have learned in the afternoon as I go about the city.
What's the most useful Portuguese phrase you've learned?
Uma coxinha por favor!!!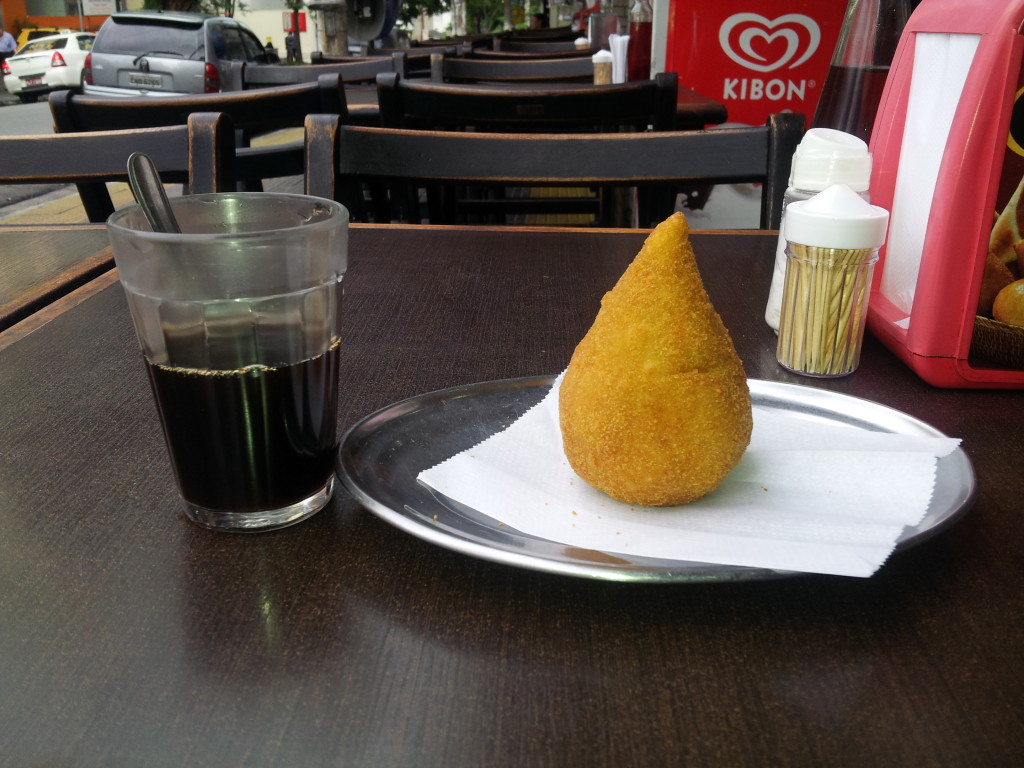 What is your favorite thing about Brazil?
The people. They are so friendly. In China it was really hard to make friends with the locals, but here it is super-easy. The culture is very similar to North American culture, so it is easy to fit in and get along. I also really enjoy the weather and the nature. The fact that I can get freshly squeezed fruit juice on any corner is also really great.
What has been your experience with crime in São Paulo?
Zilch. My students say, "Teacher, you need to be careful, there are dangerous people in the streets!" but I have had no problems. I have met people who have been robbed at gunpoint, so the danger is obviously there, but I am not worried at all. I'm not going to go to the wrong area at the wrong time.
Many people have lived in Sao Paulo for many years and have never had a problem. Others get trouble on a monthly basis. I think that is due to where these people go and what they do in their free time. Use your common sense, listen to the valid advice of locals and you will be fine.
What advice would you give to someone who wants to teach English in São Paulo?
I have read on many sites that Sao Paulo is nothing more than a 'break even' city for teachers. That is not true. Don't take a full time job from a school for R$3000 when they tell you that is the going rate or that that is all you can make. It's not. Freelance with a few schools, get some privates, take the time to organize well and you could easily get double that.
Stay out of the fancy bars and restaurants and you will save even more. You will have more fun at the local corner shops with your Brazilian friends anyways. With the money I earn in the next 5 months I will use it for a lengthy trip to the Amazon, and still have enough left over to visit Canada and do some other travelling.
Anything else you'd like to add?
I would like to give special thanks to you, Josh. Braziliangringo.com is a great site, and it is what helped me make my decision to come. Josh's advice is excellent and if it were not for the info here, I may not have ended up in Brazil and I would have missed out on all the great experiences I have had thus far and the ones that are yet to come.
Inspired by Josh, I have started to blog about my own 10 years' experience in China for those considering to live and work out there: Chinagoodandbad.com. I do not have much time to work on it, but it is a project I will continue to work on in my spare time. Check it out and give me any feedback you have! If you want to study Mandarin in Shenzhen, you can visit my school's site Jiahuaschool.com. Say you heard about us from this blog and we'll give you 15% off.