Have you ever seen someone speak Portuguese so well that you're convinced that they're Brazilian, only to find out later that they've only been studying for a few months?
Or maybe you've met someone whose been living in your country for a few years and still speaks English with a massive foreigner accent (assuming you live in an English speaking country)?
Why is it that some people can achieve near native like pronunciation in a few short months whereas others can live in a country for years and never quite get the pronunciation down?
There is something drastically different that the latter group does that the former almost never does that allows them to get almost shocking results.
In this article we're going to examine what exactly is it that allows you to achieve these results as well as the language course that can help you get there.
Overview of the Mimic Method: Flow of Portuguese
The premise of the Mimic Method is relatively simple: language learners should focus on pronunciation and the individual sounds of a language first, and then only after they have a solid base with the sounds to learn grammar, syntax, and vocabulary.
Created by Idahosa Ness, the Mimic Method is a language learning company that specializes in sound education and helping people learn pronunciation through music.
Whereas most language courses will have you conjugating verbs and memorizing vocabulary from the start, this course says that you should hold off on those activities until you understand the sounds that go into the language.
To understand why this course is so different and can promise more impressive results in less time than other approaches we need to take a deeper look at what's inside the program.
Here's a breakdown of what's inside of The Mimic Method's Flow of Portuguese Course.

Price: $247.00
The course is dividing into roughly four parts.
    Rhythmic Phonetic Trainer Primer (RPT Primer)
    Sound System Primer
    Nasal Bootcamp
    Music Lessons
Rhythmic Phonetic Trainer Primer (RPT Primer)
The RPT Primer is based on a technique created by Idahosa that attempts to translate musical learning techniques to language learning. In Idahosa's words, "instead of learning how to produce musical notes with your fingers, the RPT primer teaches you how to produce musical notes with your speech organ."
Sound complicated? Maybe just a little. That's why Idahosa offers a free course via email to help explain how this works. (Sign up on the homepage.)
The RPT Primer begins with a brief introduction to sounds in general, explaining how the course will focus on syllables and phonemes, or individual sounds, rather than entire words and phrases.
The second part of the primer focuses on rhythm, in which Idahosa guides you through a series of exercises where you clap along with him while chanting da-de-da-de. It is a little hard to see where he is going with this at first, but it makes sense once you click on to the next part.
Once you have a grasp of sounds and rhythm, Idahosa attempts to combine the two in what he calls the Construction unit. In this section, he uses a couple of verses from the theme song of Cops in order to practice rhythm and pronunciation. If you're wondering what singing "bad boys, bad boys, whatcha going to do," has to do with learning Brazilian Portuguese, it's easier to learn how to use the Rhythmic phonetic system in English before you start doing it in Portuguese.
The final step of the RPT Primer is to memorize the verse, record yourself singing it, and upload that recording to SoundCloud. Then Idahosa provides feedback on your recording, leaving timed-comments at the precise moments where you make errors.
Sound System Primer
The Sound System Primer is an introduction to all of the sounds that exist in the Portuguese language, with an emphasis on sounds that do not occur in English. The Sound System Primer is divided into six parts:
    Vowel Awareness
    Portuguese Oral Vowel Tuning
    Consonants
    Nasal Vowels
    Phonetic Notation Key
    Submission
Vowel Awareness
In this section, Idahosa gives a brief overview of what vowels are and how to make them. He gives a couple of audio examples to help illustrate his point.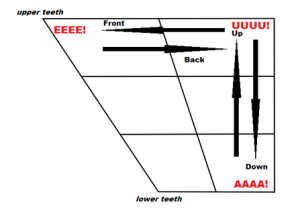 Oral Vowel Tuning
In this section, Idahosa explains oral Portuguese vowels and how to make them. I found this section particularly helpful as he goes into detail on the subtle differences between vowel sounds.
He illustrates each sound with a symbol from the International Phonetic Alphabet (IPA), trying to separate each sound from its written representation. The introduction of IPA notation could be a complex addition for those without a base in linguistics.
Consonants
In this section, Idahosa briefly explains what consonants are and how to make them. Then he teaches Portuguese consonant sounds that usually prove difficult for native English speakers. This section was helpful because the differences are very subtle and few non-native speakers are cognizant of the differences. I found it particularly useful in distinguishing Portuguese d's and t's.
Nasal Vowels
Here Idahosa gives a quick introduction to nasal vowels and how they are different from oral vowels. Then he provides a series of drills that aim to illustrate the distinct sounds. At this point, nasal vowels are still pretty complex, but he dives deeper into them in the Nasal Bootcamp.
Phonetic Notation Key
In this section, he reviews all of the IPA symbols associated with each sound. He reinforces the importance of separating the language learner's association with sounds and letters, and suggests that learning IPA is a way to circumvent this association. Although his logic is sound, learning IPA is a difficult and somewhat cumbersome task. Despite agreeing with him, I found this section pretty hard to get through.
Submission
Finally, you pronounce all of the vowels you have learned and submit them for corrections using SoundCloud.
Nasal Bootcamp
This section of the course focuses on nasal vowels. It starts with a brief introduction to nasal vowels, what they are, and how they differ from oral vowels. Then he explains nasal awareness, incorporating a few examples in English to help you get a sense of what they are.
Finally, the nasal bootcamp runs through a series of nasal drills in which you alternate between oral and nasal vowels. This section is especially challenging and requires a good deal of practice and patience.  Like the previous sections, you submit a recording of these drills for correction.
When it is all said and done, the three introductions took me about two weeks to complete, for a little less than half an hour a day. There was a steep learning curve, the process was pretty tedious, but I did feel like I learned a good bit about Brazilian Portuguese pronunciation.
Song Lessons
Now we get to the core of the program—learning Brazilian songs in order to perfect your accent. All of the songs are based on the introductory lessons and follow the same format.
For each song you first run through the rhythm (again clapping and chanting da-dee-da). Then you learn each syllable of a couple of verses. Each syllable is written out in IPA notation and he makes the sound for you to repeat.
Next you combine the rhythm and the syllable to construct the verse. Again, repeating and clapping along with Idahosa.
Once you have the construction down, you memorize, record, and upload the verses for correction.
The entire course consists of ten songs, which vary in musical style and increase in difficulty throughout the course.
Strengths of The Mimic Method
Here are some of the positive aspects about this course
You learn A LOT about pronunciation
I agree with Idahosa that generally language learners do not spend enough time focusing on pronunciation. This course will make you focus more on the sounds you are making and how you are making them.  That is hugely important. After completing the course, I did not speak with a perfect accent, but I was much more mindful of the different sounds in Brazilian Portuguese and possessed a decent command ofthem.
The incorporation of Brazilian music
Music is a hugely powerful tool for language learners and I applaud Idahosa for using music to teach. I enjoyed learning about the songs, it made memorizing them easier, and ultimately Brazilians appreciated the fact that I could sing along to a handful of their songs.
Personalized feedback
The use of SoundCloud to offer personalized feedback is a pretty novel innovation on Idahosa's part. Having someone correct your mistakes was not only effective, but also motivating because I knew someone was there to track my progress. Often, Idahosa would provide encouraging comments on my progress, which I thought was a nice touch.
You are learning from one of the best
Idahosa is quite the polyglot with an extremely impressive understanding of phonetics. His Carioca accent is spot on, which you can get a sense of by checking out this video of Idahosa rapping in EIGHT different languages.

Weaknesses of The Mimic Method
Overly technical for the average language learner
There is a caveat that accompanies learning from the best. Idahosa is a phonetics expert and oftentimes his explanations and techniques are either not completely clear or simply too tedious for the average language learner.
For example, while I agree with the merits of learning IPA phonetic notation, I think most language learners will find that to be a monotonous and unhelpful practice. Especially introducing this concept at the beginning of the course could cause students to quickly lose interest.
Furthermore, although I appreciated the personalized feedback, it was often either too vague or complicated to be helpful. For example, he often gave feedback like "don't round your lips quite so much" or "make your 'o' just a little more".
Tedious and tiresome
I think one of the most important aspects of a language-learning program is that it should be fun. Especially one that incorporates music. While I did enjoy the Mimic Method, there were many times when I just burned out because all of the close attention on rhythms, articulators, IPA notations, etc. I have the feeling that most people would experience burn out in this program as well.
No vocabulary or grammar
This is a pronunciation course and Idahosa is up front about that from the beginning. Still though, Brazilian music provides such good insights into culture, vocabulary, and interesting grammatical structures that there is the opportunity to teach a lot more with this course. You'll have to supplement this course with a subscription to Semántica to really get fluent.
Sounds Complicated. Does this actually work?
Admittedly, Idahosa's method is a bit complicated and not for the average learner. Most people simply will not make it to the end of the course given how much work it takes to complete. That being said, you don't have to complete every lesson in order to get benefits.
If you'd like to see the results of using this course, you can check out some of the videos that Josh made as he was going through the Mimic Method Portuguese.
Already quite fluent in Portuguese at the time, Josh went through the Mimic Method for a month and showed his results before and after.
Here's Josh before Mimic Method. After a week. After a month.
Who is this course for?
Idahosa says this course is for any Portuguese learner, from beginners to advanced speakers. While everyone may be able to find some value in this course, I think it is especially suited for two groups of learners.
Language learners who are musicians. With a musical background, I enjoyed a lot of the rhythmic and musical approach to the language. However, other friends of mine suggested just could not quite get their head around the musical approach. It is not for everyone.
Really motivated students who really want to improve their pronunciation. I took this course right before moving to Rio, and the desire to improve my pronunciation was a huge help for pushing me through the entire course. I do not think the average student would be able to sustain motivation for several months unless they were exceptionally bullish about improving their accent.
Convenience
For all intensive purposes, the Mimic Method is pretty convenient. It can all be done on mobile; you can even record your SoundCloud submissions on your phone. Then you can listen to and practice whenever you want. However, I do think it is easier to do it all from your desktop.
Authenticity and Cultural Relevance
The Mimic Method is both an authentic and culturally relevant program for learning Brazilian Portuguese. All of the songs are Brazilian, and they vary widely in genre. You will learn some of the classics, as well as some lesser-known artists. This process will, even if in just a small way, improve your cultural intelligence of Brazil.
Will this product help you better connect with Brazilians?
Yes, I really think it did help me connect more with Brazilians. My accent improved a decent amount, which generally makes Brazilians more receptive to continuing conversations. Also, I learned a good bit about Brazilian music, which comes up in conversation quite often and is usually greatly appreciated by Brazilians.
Can you rely entirely on this course or should you use it in combination with other courses?
Definitely cannot use this course by itself. Even if you have a decent grasp of Portuguese pronunciation, you still need a way to expand your vocabulary and improve your grammar at the same time. Whether another program or moving to Brazil, this course works best when supplemented with other resources.
Click here to check out Mimic Method, the Flow of Portuguese.