If you're going to be staying in Brazil for longer than a few months it would be a good idea to register for a CPF number (Cadastro de Pessoas Físicas) . The possession of the CPF is not required, but it is absolutely a prerequisite for a series of operations like opening bank accounts, to get or renew a drivers license, buying or selling real estate, taking loans, applying for jobs, getting a passport or credit cards.
As with anything involving Brazilian bureaucracy, the process is often not straightforward or very well documented. My experience getting a CPF was pretty straightforward and I have documented the steps below so that you can get one for yourself.
Step 1: Obtain a CPF Application
The application for a CPF number can be obtained at any Correios (Post Office), Banco do Brasil, or Caixa Economica Federal. I recommend going to the Correios located at Avenida Afonso Pena, 1270 because it is right next door to the Receita Federal, which is where you go for Step 2. When you walk into the Correios you will need to grab a senha, which is one of those little tickets they give you with a number, just like at the DMV. There is a little machine by the door that dispenses these. Make sure you press "Outros Servicios" because if you get a senha for the wrong reason they will make you wait in line again. The Correios is run with the efficiency of the American DMV, so expect a long wait. Go during non-peak hours to beat the crowd.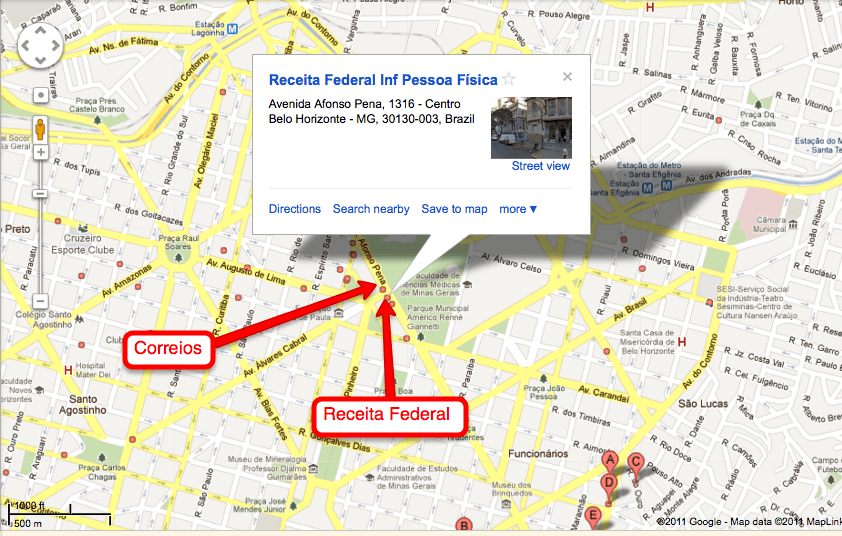 Securing the application is a straightforward process that shouldn't take more than a few minutes once you actually get to see an attendant. Tell them you're a foreigner and want a CPF, "Eu sou estrangeiro e quero um CPF." They will ask you for your Passport, the address where you are staying, your phone number and your mother's name. Some people have needed to show proof of residence in the form of a utility bill but they didn't ask me for that. After taking this information from you they will print out the application on yellow receipt paper and send you on your way. The cost for this document is R$6.75 at the time of writing.
Step 2: Wait in Line at the Receita Federal
After you have your CPF application you will need to go to the Receita Federal located at Avenida Afonso Pena, 1316. Go to the second floor and tell the women at the help desk that you are a foreigner and you want a CPF; she will direct you to where you can get another senha. After you have the senha you can wait in line in an area that is reminiscent of the DMV. There were about 15 people in line when I got there and I waited almost an hour and a half. This will be the most exhausting and painful part of the application process, so make sure you bring something to pass the time.
Step 3: Obtain CPF Number
Once you survive the long wait you are almost done, you just need to go over your information with an attendant there. Tell them "Eu sou estrangeiro/a e quero um CPF," hand them your passport and your CPF application. They will pull up your information on the computer and review it to make sure it is all correct. Some people have cited the need for an additional interview in which they are asked questions about their work situation in Brazil, but this was not my experience. This shouldn't take more than a minute or two and then they will print out a piece of paper with your CPF number that you can use immediately. Take it outside and have it cut and laminated for R$1.80.
Congratulations, you are now the proud owner of a CPF number and can open up a bank account, get a driver's license and formally participate in the Brazilian economy.