Note: I'm very pleased to lend the stage today to Zack who wrote this guest post sharing his journey of how he came to eventually find success as an English teacher in Florianópolis and in Rio de Janeiro.
My story may sound familiar as I am one of the growing number of gringos who are trying to find a successful life in Brazil. Being successful in Brazil is much harder than any other place I've been to before, having already lived in Italy and Spain.
What makes this country so difficult is being able to get quality information, make enough money to have a comfortable life and staying legal in the country. It's very important to have good contacts to do any of this.  Once you've reached a comfortable lifestyle though it's really special and all the more rewarding.
Making all these things happen is not easy but with determination and a smile on your face anything is possible. It has been a tough but rewarding journey, and today I would like to share with you the story of how I found success as an English teacher in Brazil.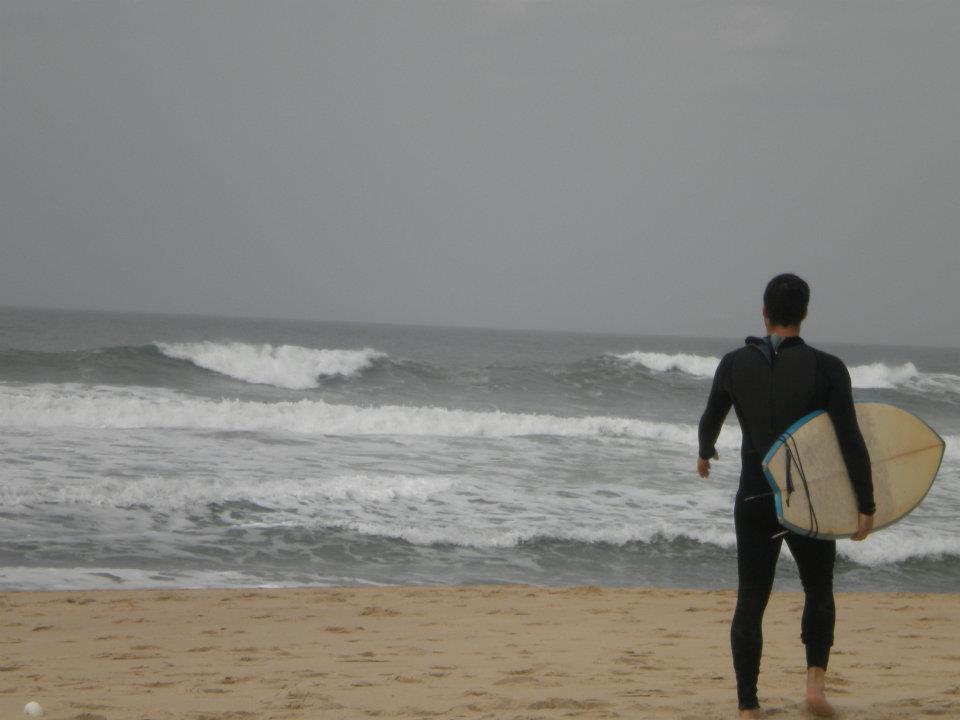 Where to Live in Brazil?
While living in Barcelona 4 years ago working as an English and tennis teacher, I decided that I wanted to move to Brazil. I was also working in a hostel at the time and there were tons of Brazilians that passed through there. I hadn't chosen a place to live yet I asked every single Brazilian that passed through the hostel where he would recommend a gringo who is after the following things should go in Brazil: healthy lifestyle, surfing, easy to find English teaching jobs, safe, good weather and friendly people.
Every single Brazilian that I asked said FLORIANOPOLIS. Without thinking twice I bought a one way ticket. That was a mistake because it is better to get a two way ticket just in case when you enter the country they tell you that you have to have a return departure and make you buy it on the spot.
So my big plan was to start in Florianopolis, learn the language and then move to Rio. This was a great decision as Floripa (as the locals call it) prepared me for the hustle out here in Rio. You can live well in both places but it all depends on how much you want to make and what type of lifestyle you want. Floripa is much more laid back whereas Rio has more hustle to it. You can make better contacts and make more money in Rio but I highly recommend starting out in Floripa to prepare yourself for the Brazilian hustle.
Visa Situation
Because of my previous experiences in Spain (most of my friends came on a tourist visa and overstayed) I assumed Brazil would be a good option to do this. After speaking to my sister I was informed that if you get a student visa you can renew several times without having to leave the country (and that it is always better to stay legal in case you wanted to get a job). That is true to a certain extent in Brazil, but after living here so many years (first on a student visa then on a work visa) there isn't much difference other than the fact that it gives you more security and peace of mind.
I have never heard that overstaying your visa can lead to anything bad other than paying a fine and having to stay out for 6 months if you were to return on the same visa. But getting a new visa would allow you to return the following day even. The benefits of the student visa other than the peace of mind are that you are allowed to study in federal and private universities which help you learn the language and meet people and make contacts for jobs (the most important aspect of any adventure in Brazil!)
So what I did and what I recommend to everyone is to get a student visa before you go for a Portuguese course in a Federal University as they are cheaper than private institutions and will give you the visa too.
This is almost true for everywhere in Brazil except Rio, because of all the gringos that have abused the privilege to study and have paid for Federal Universities but have not attended class. The Federal University UFRJ (Unviersidade Federal de Rio de Janeiro) has made it much more difficult to get a visa and successfully study at this university, so I would recommend trying another school if your plan is to go to Rio.
Getting back to the story, in Florianopolis I studied at UFSC (Universidade Federal de Santa Catarina) which is substantially easier to get into, although it took 25 emails and 3 phone calls made by my Brazilian friend to get the correct documentation sent to me in Barcelona to get the visa. Here you can study for 2-3 years straight going through all the Portuguese courses from levels 1-5. You can also get a certificated afterwards which looks good on your resume.
After studying in Floripa for a year I made the move to Rio. I decided to do a post graduation course in digital marketing at ESPM. There are also great courses at IBMEC or FGV. If you are seriously planning on establishing yourself in Brazil and doing other things than just teaching English, studying at one of these institutions is your best bet. They are reasonably priced (US$8000) and get you in touch with some of the best professionals in the market.  They also get you a visa for 1-2 years.
After working at a digital marketing agency for one year I finally am getting a work visa, which are very difficult to get!. It's almost impossible to get a work visa by teaching English, as most schools do not want to commit to hiring a gringo. Your best bet is to make contacts through the university and get a work visa through a company.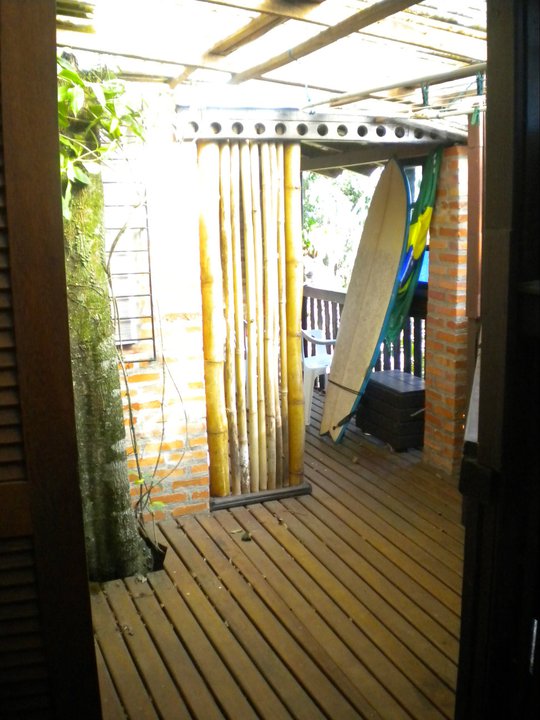 What About the Living Situation?
I highly recommend signing up for couchsurfing a great social network that allows you to socialize and find locals to stay with. Do make a complete profile with pictures, references and fill in as much information as possible. This will increase your chances of meeting the right people. Also hosting people where you live currently is the best way to make good contacts as they will write about their experience staying at your house. Always give before you get :))
So the best advice for any traveller is to sign up for couchsuring and couch surf for 2 weeks-1 month until you find a place. You can ask the people you're staying with which are the best neighborhoods of the city to live in and advice on pretty much anything that you would need.
After Couchsurfing in two different places in Floripa I then moved to Lagoa (a great place to live as it is close to some of the best beaches). You can also live in Trinidade (really close to the university and student housing) or Rio tavares (located in the south of the island close to amazing surf but far away from Lagoa and the university). Your transportation situation (bus, car or hitchiking) will help you to determine where you should live. You can find places here classificados UFSC or even drive around and look for signs on homes where you would follow up by calling them.
When I moved to Rio I did the same thing and ended moving to Copa. The best way to find places are through the following links: bom negocio viva anuncios OLX   Easy Quarto   Airbnb  REI Moradias Moradias no Rio  Rio REP. I am giving you many more links because Rio is a truly difficult place to find a nice room. Also living in Zona Sul (Copa, Ipanema, Leblon) is a good option but also very expensive, a single room will run you between R$1200-2000. You can find slightly cheaper places in Botafogo, Flamengo, Catete or Lapa and even cheaper in Tijuca.
It all depends on what kind of lifestyle you want. There is a good market for English teaching in all of these places so don't worry about trying to live in the best and most expensive neighborhoods. You can also live in one of the many pacified favelas (Vidigal or Babilonia) in the south zone without a problem and rent for at least half the price you could find elsewhere.
What About Transportation?
Because the bus system in Floripa is horrible (it takes 1-3 buses to get to most beaches) I HIGHLY recommend buying a scooter. I bought mine at Skina motos because it is better to buy at a store than off of someone as they is no guarantee. A scooter will run you at R$3000-4000 (honda biz which is the cheapest yet still quite expensive) but well worth it. Then you can sell it when you leave for about the same price using classified ads online such as bom negocio or viva anuncios. I used another one but I can't remember it now (it was in the centre of the city and quite famous).
In terms of a drivers license you actually don't need one to buy it and if the police stop you if you show your drivers license 99 times out of a 100 it'll be fine. Also you may think that driving a scooter is dangerous (well it is) but not as dangerous as a big city, during my stay in 1 year nothing had happened to me as I drive quite safe and most drivers are very forgiving (unlike in Rio or Sao Paulo).
If you think scooters are too dangerous you could get a car, but they are much more expensive and usually present more problems than scooters (in terms of repair). You can also just take the bus or hitchhike but do remember that your Floripa experience will be much less satisfying than if you were to have a scooter. When I was living there I would surf one or two beaches per day and then go hiking in the woods. Travelling by bus you would at best do 1 beach…….
In Rio the transportation system is much better so there really is no need to buy a scooter. Buses and metro are more than enough and you can also rent a car to do weekend trips.
What About Jobs in Brazil?
One of the biggest holdups people have about moving to Floripa is the job situation. Because there aren't so many schools and because of seasonal timing it can be difficult to find jobs. I handed out more than 150 CVs in my first week in Floripa and got a couple of interviews from that. I was very lucky because one of the schools just had a spot open up. The school has a great structure and a good flow of students. It was called UPTOYOU languages. Because it is quite small they don't always have openings but if they do it is well worth it!
And pay?
In terms of pay, most schools paid R$20 4 years ago so I can imagine that they pay between R$25-30 now. On top of working for a school I highly recommend putting up an ad here: bom negocio and viva anuncios and Classificados UFSC and OLX. You can charge anywhere between R$30-R$50 per hour. In Rio the wages are slightly higher where you can make anywhere from R$30-40 per hour in a school and R$50-70 per hour teaching privates.
In Rio I thought it would be the same as Floripa but it is actually quite different. Instead of teaching at physical schools like in Floripa the best option is to work for schools that have in-company and in-house private classes. Although travelling from student to student can be quite difficult they pay much better than schools. You should only agree to take classes that are close to where you live so that you can bike from class to class or even walk.
I also recommend trying to get private students from posting ads online and making flyers and putting them up around the city. The best scenario is a mix of the two, working for a school and getting your own students. This guarantees that you will have a steady income while at the time having some extra income from privates. Out of all the schools that I worked for I found Language plus to be one of the best and most professional. They always have students and have a great system set up for you to get started. I have been working there since I arrived in Rio 3 years ago and would recommend it to new teachers.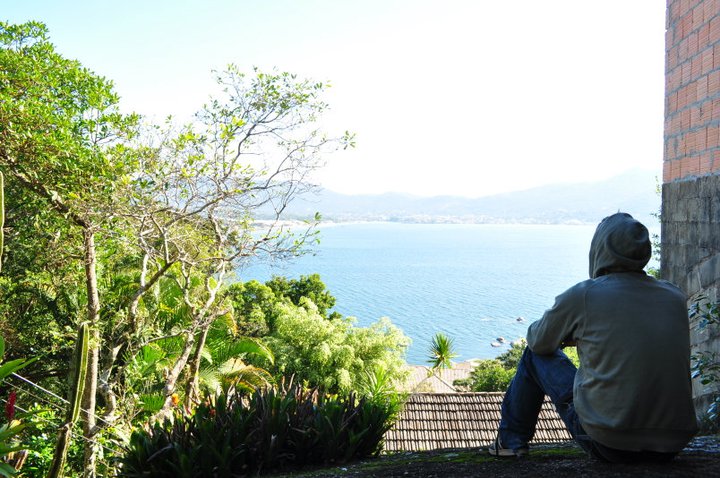 What about getting a bank account?
If you have a student visa you can get a bank account, (something very important to have!). On a tourist visa this is not possible. So I HIGHLY recommend getting a cpf and a bank account within the first week that you arrive. I got a student account at Santander but Itau is also a good bank to look into.
Conclusions
Remember that Brazil is a very challenging country to live in due to language and cultural barriers as well as high prices, but if you feel you are up for the challenge then give it a try. I would also like to note that if you just want to party and have a good time then Europe is a better option because its cheaper and easier to make money there. In Brazil there is a great nightlife but you'll be working harder to be able to afford it.
If you have any questions you can email me here.
Cheers,
Zack
Read next: 15 Lessons Learned from a Year of Teaching English in Rio de Janeiro